Custom Firefighter Badges for Sale in the USA
As a renowned national institution, we recognize the courage and sacrifice of America's brave firefighters by offering a diverse array of custom firefighter badges available for purchase all across the United States. Our badges are meticulously crafted, reflecting the dedication, grit, and professional ethos that define our nation's firefighters. The level of detail and robust materials used in each badge signifies the rigorous standards upheld by these everyday heroes, no matter if they're seasoned professionals, volunteers, or a member of a junior brigade.
Our extensive collection encompasses an array of designs that cater to all styles, whether you seek tradition or modernity. The badges range from classic shield emblems to contemporary insignias, ensuring a badge that aptly symbolizes the honor and commitment every firefighter invests in safeguarding their community. The custom badges we offer are not just symbols of service but personal statements of bravery, perseverance, and dedication to the noble cause of protecting lives and property.
What is a Firefighter Badge?

A firefighter badge is more than just a piece of metal or an accessory to a uniform. It symbolizes heroism, courage, and dedication, embodying the firefighter's unwavering commitment to public service. Each element of the badge, from its emblem to its inscriptions, encapsulates the essence of firefighting, serving as a timeless symbol of honor and duty. The design of each badge is steeped in tradition and significance, conveying the firefighter's role and rank within the department. The badges are more than identification; they are a solemn oath made visible, a constant reminder of the sacrifices firefighters make to ensure the safety and security of their community.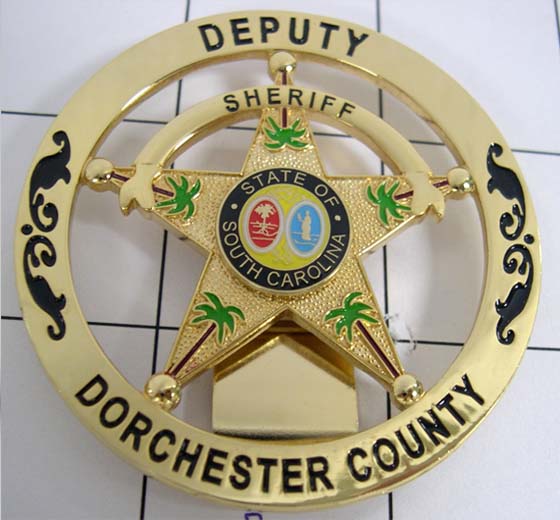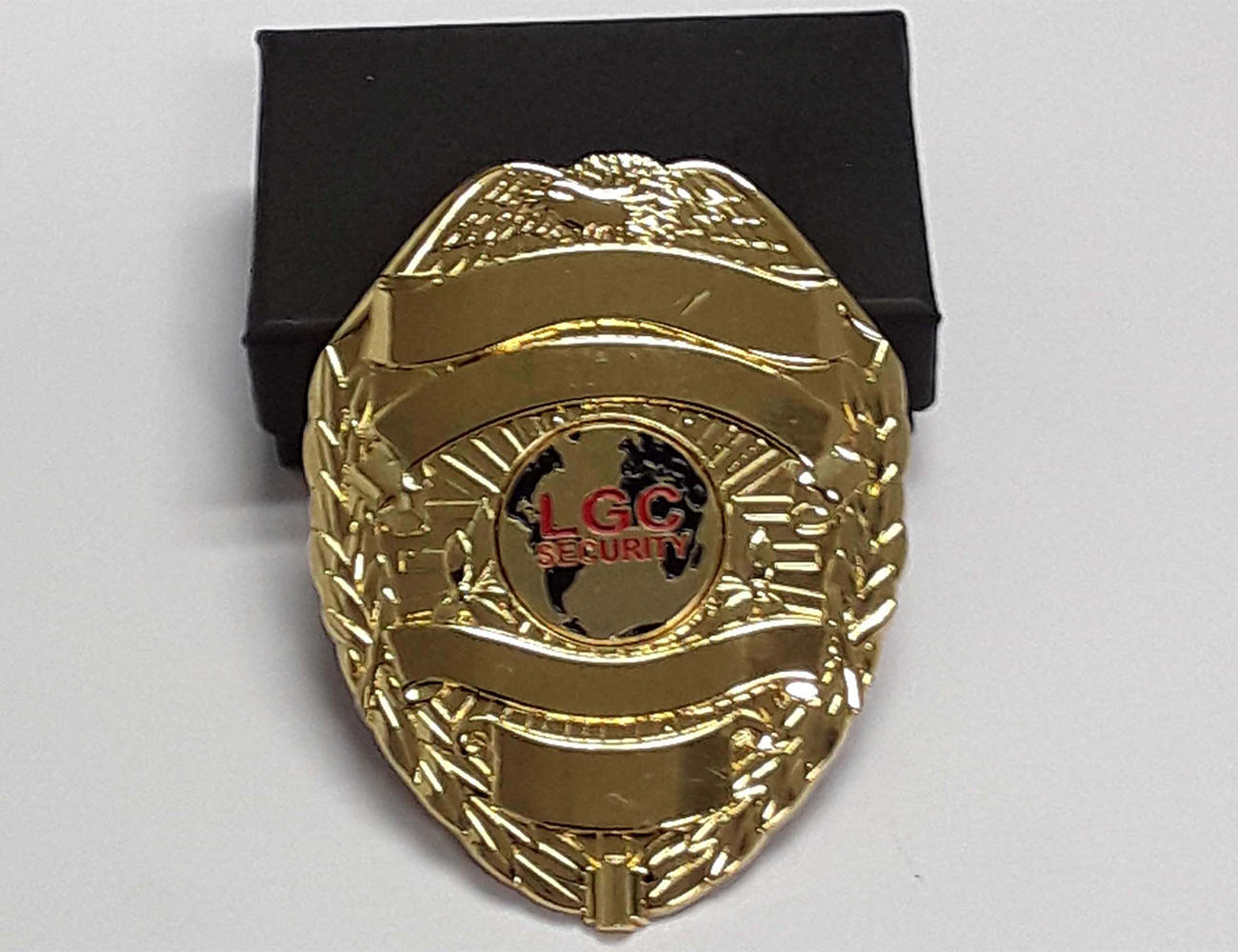 Customize Your Firefighter Badge

Personalization is at the heart of our service. We offer a comprehensive customization process for your firefighter badge, transforming each piece into a unique testament to your service. Whether you prefer a traditional shield design or something more modern, our expert designers will work with you to create a badge that encapsulates your vision. We can incorporate unique elements such as station number, rank, or a personalized inscription to ensure your badge is yours. This collaborative process ensures that every badge we produce is as unique as the individual who wears it, combining craftsmanship with personalization to create a badge you can be genuinely proud of.
High-Quality Personalized Firefighter Badges at Wholesale Prices

Quality can come at a lower price. We offer premium personalized firefighter badges at wholesale prices, ensuring affordability without compromising quality. Our badges are crafted from durable materials such as brass, nickel-silver, and zinc alloy, promising longevity and resilience in adversity. Each badge undergoes a rigorous quality inspection before it reaches you, guaranteeing that it meets the highest standards of craftsmanship and design. We understand the financial constraints that can come with equipping a department, and that's why we are committed to offering our top-tier badges at prices that accommodate all budgets. Your service is invaluable; your badge should reflect that without breaking the bank.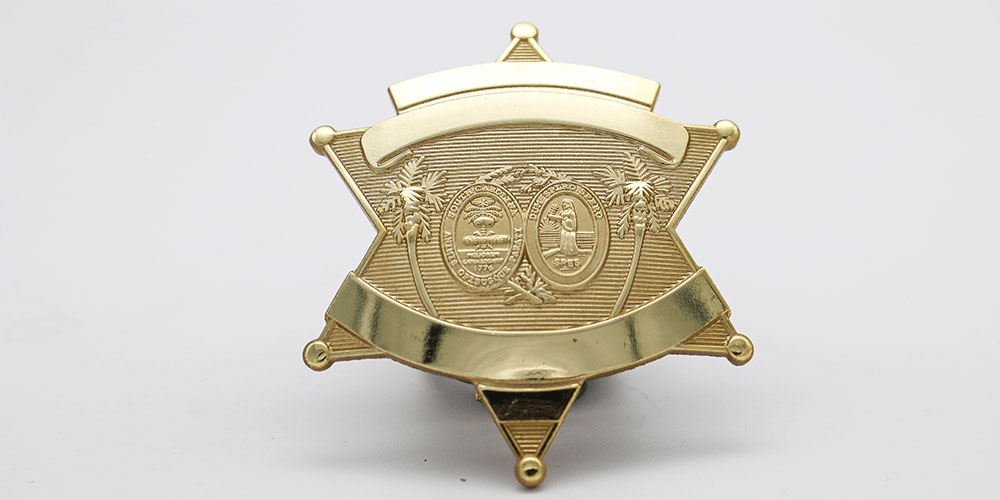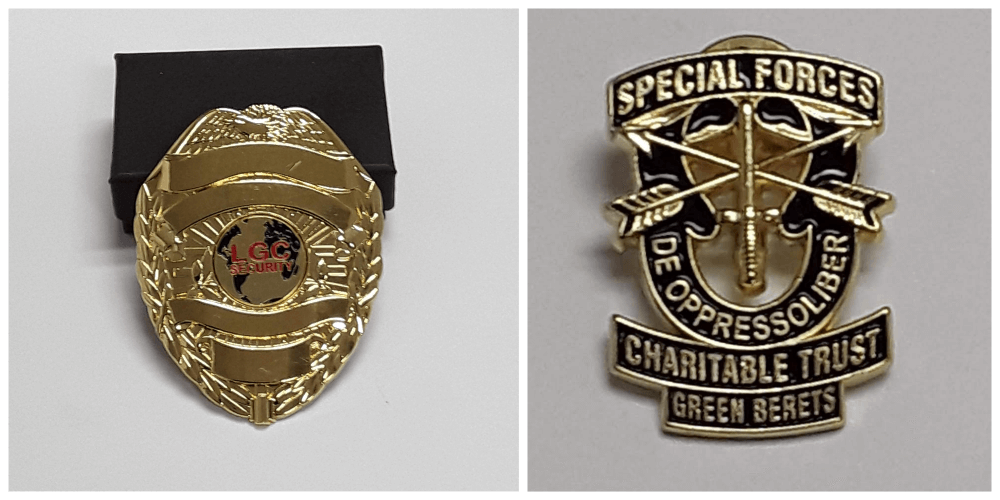 Significance of Firefighter Badges

A firefighter's badge is a tangible representation of their dedication and courage, symbolizing the service they have pledged to their community. It's more than a form of identification; it carries the weight of the firefighter's oath and is a testament to their readiness to risk their lives to protect others. Moreover, badges play an essential role in fostering unity and a sense of belonging within the department, further strengthening the bond among its members. They serve as a reminder of the shared purpose and joint mission that binds firefighters together in their noble pursuits. This symbolism and emotional connection give a firefighter's badge its true significance.
Materials and Styles of Custom Firefighter Badges

We offer various materials and styles for our custom firefighter badges to cater to various tastes and needs. Materials range from traditional options like brass, silver, and gold to modern alternatives like acrylic, glass, and eco-friendly PVC. If you prefer a more natural aesthetic, we also offer wooden badges.
The badge style is customizable, including magnetic, pin, engraved, printed, and even 3D designs. Our collection of styles spans the spectrum from classic shield and star designs to more contemporary shapes. We offer wallet, hat, and button styles if you want a badge that doubles as an accessory. We offer engraved and photo badges for those who prefer a more personalized touch. No matter your preference, we can create a custom firefighter badge that perfectly suits your style and role.
Protective coatings are often applied to ensure the longevity and durability of custom badges, such as clear lacquer or epoxy. These coatings provide a layer of protection against scratches, tarnishing, and other potential damage.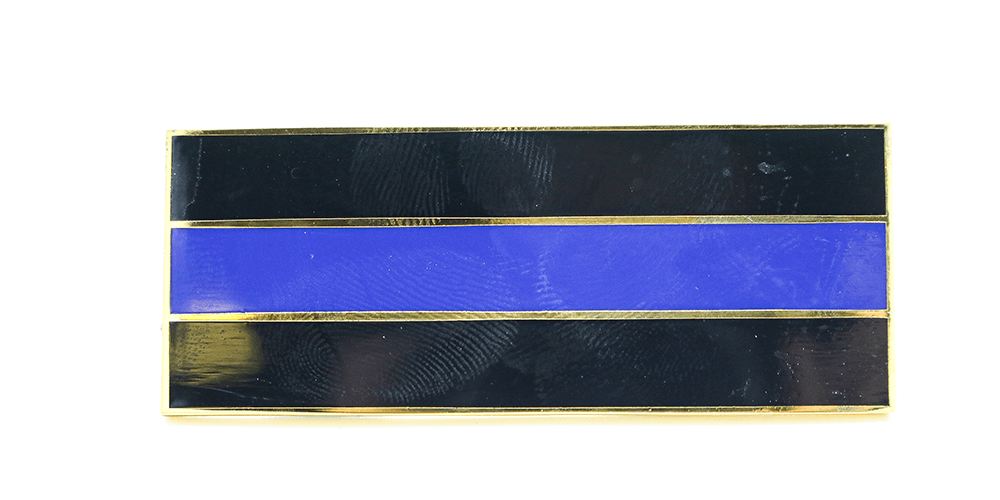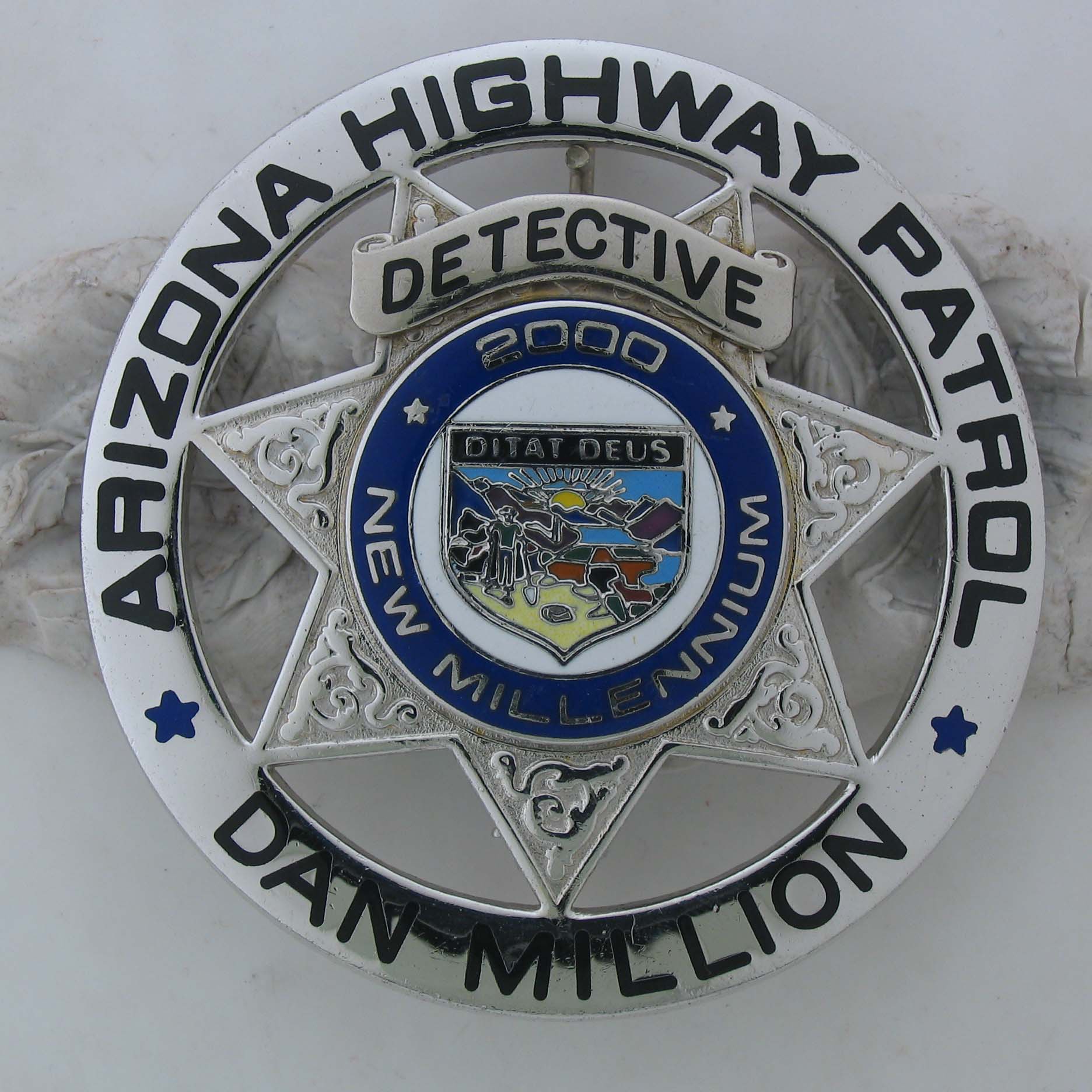 Types of Firefighter Badges

The world of fire policing is just as diverse as firefighting, and so is our range of custom fire police badges. We offer various types, including enamel, lapel pin, military, and even complete custom badges, ensuring we cater to every need. Our badges can also be personalized with a name, number, or photo, and we offer unique designs for retired officers. We provide wooden badges for those who prefer a touch of tradition, while those looking for a modern flair might opt for a necklace badge.
All our badge types extend to fully customized options for those desiring something unique. Our badge customization isn't just limited to design – it extends to personal touches too. Whether engraving a name or number, adding a photo, or incorporating special insignia for retired officers, we ensure each badge tells its own story. Our collection also pays homage to the roots of fire policing with traditional wooden badges, perfect for officers with a penchant for classic aesthetics.
For the modernist at heart, our necklace badges bring a contemporary edge to the mix. These stylish pieces make a bold statement while ensuring the wearer's credentials are always close at hand. This rich diversity underscores our commitment to providing a badge for every officer, every style, and every need. It's not just about identifying officers but celebrating their unique journey within the fire policing community.
Replica Firefighter Badges

Need help finding your badge or falling in love with a vintage design? We've got you covered with our replica firefighter badges. We can meticulously recreate your original badge or any design you fancy, allowing you to carry on the legacy of a treasured badge or replace a lost one without compromising on quality or design.
Customized Firefighter Badges for Everyone Firefighting attracts a diverse group of individuals, and we believe that every firefighter deserves a badge that reflects their unique identity. We have badges for everyone from retired to volunteer, junior to lieutenant, and even school firefighter programs. We also cater to the specific needs of various departments, such as the US Army and Air Force firefighters. We offer custom badges for men, women, and children, ensuring that everyone, regardless of their role or age, can wear a badge they're proud of.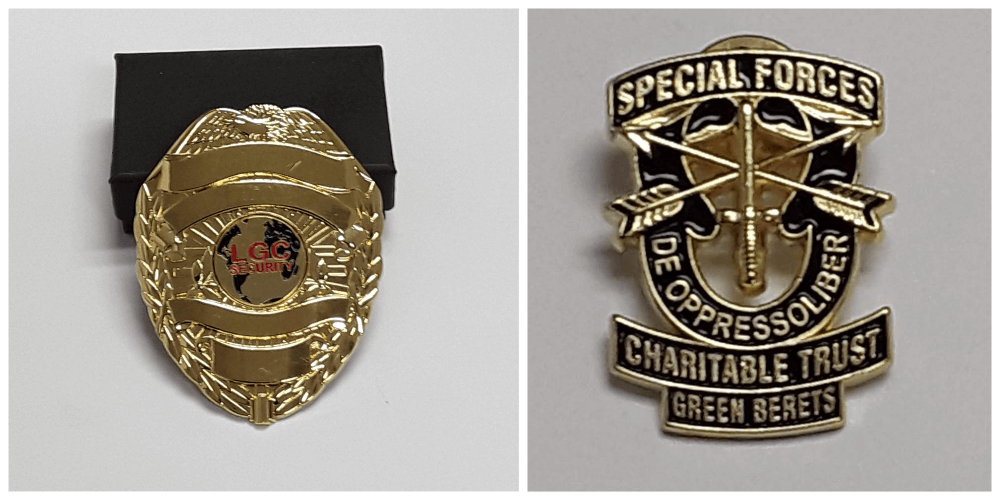 History of Firefighter Badges
Firefighter badges have a rich history that dates back to the early days of firefighting. They started as simple symbols to identify firefighters but have evolved into sophisticated pieces that not only identify but also honor the bravery and service of these heroes. As firefighting has evolved, so too have the badges, reflecting the changing roles and responsibilities within the department while still honoring traditions. Today's badges blend past and present, combining historical symbols with modern design elements, a testament to firefighting's ever-evolving yet enduring nature.
Fill out our form to get a free quick quote.
The Journey to Your Custom Firefighter Badges

Begin by Selecting Your Badge:

Initiate your creative journey by choosing the badge you wish to bring to life. Whether it be a fire police, military, security badge, or any other, your selection sets the path toward your unique emblem.
Connect with Our Dedicated Team:

Engage with our skilled cohort of designers and artisans who will assist in bringing your vision into reality. This group of creative minds will delve deep into your specific needs and preferences for your custom badge.
Unleash Your Ideas or Let Us Innovate for You:

If you come bearing a design concept, our team is ready to receive it. Alternatively, if you require creative inspiration, our team will summon a wave of inventive ideas tailored to your needs.
Meticulous Design Review and Approval:

Our team presents a detailed design concept of your custom badge for scrutiny. This stage allows for open feedback and modification requests to ensure the design aligns with your vision.
With your satisfaction paramount, we await your final approval before moving to production. Our team double-checks to ensure the design complies with your expectations and requirements.
Artisanal Production of Custom Badges:

Transitioning your approved design into a tangible badge involves using high-grade materials and skilled craftsmanship. The outcome is a visually stunning badge that augments your uniform and reflects your identity.
Quality Assurance and Inspection:

Before shipping, our team conducts a rigorous quality control inspection. This ensures that your custom badges meet our high standards and exceed your expectations.
Secured Shipping and Delivery:

Post-inspection, your custom badges are carefully packaged and shipped to your chosen destination. They're ready to adorn your uniform and proudly proclaim your role upon arrival.
Embrace Your New Custom Badge:
Your unique custom badge is now in your hands. Wear it with pride, knowing it symbolizes your distinctive identity and the invaluable role you perform.
Superior Fire Police Badges
We are committed to utilizing only the highest quality raw materials for all our products. Give us a try – you won't be disappointed!
Swift, No-Obligation Quote
We provide fast, free quotes for all orders. Fill out our quote form or contact us for an immediate, no-obligation estimate.
Complimentary Artwork
We provide free artwork alongside each quote and samples upon request. We ensure you can visualize your product before production begins.
Proudly Made in the USA
Our badges and other products are proudly manufactured in South Carolina, USA. Please place your order directly from our factory for unrivaled quality.
Reasons to Opt for Our Custom Firefighter Badges

Expertise:
We take pride in our team's rich experience and creative prowess in designing and crafting high-grade custom badges, especially for firefighting and fire policing.
Tailored Service:
Our personalized approach ensures that every badge we create accurately reflects the individual or organization it represents.
Quality Material:
We handpick top-tier materials for our custom badges, ensuring durability, aesthetics, and longevity.
Detail-Oriented Craftsmanship:
Our artisans meticulously design each badge, emphasizing even minor details. The result is a wearable masterpiece that you can carry with pride.
Swift and Comprehensive Customization:
Our efficient process makes badge customization a breeze, allowing you to design the perfect emblem to suit your needs.
Choose us for your custom firefighter and fire police badges. Experience the distinct advantage our expertise, personalized service, and commitment to quality can provide.
Swift and Comprehensive Customization:
Our efficient process makes badge customization a breeze, allowing you to design the perfect emblem to suit your needs.
Thorough Quality Control:
We ensure that each custom badge surpasses our stringent quality standards and meets your expectations before shipping.
Unwavering Customer Support:
Our customer-centric approach continues beyond post-production. We are always prepared to answer queries, resolve concerns, and offer assistance throughout the journey.
Frequently Asked Questions
What are the standard materials used in crafting firefighter and fire police badges?
Firefighter and police badges are traditionally crafted from robust metals like brass, nickel, silver, or zinc alloy. These metals often receive a gold, silver, or nickel plating finish to enhance the aesthetic appeal and offer protection against wear and tear.
Can our department opt for a custom badge design?
Many badge manufacturers facilitate custom design options, empowering you to curate a badge that perfectly mirrors your department's distinctive identity. Customization could include a selection of a unique shape, including your department's emblem, or opting for a specific finish.
How do we kick-start the design process for our custom badges?
Begin by establishing contact with a trustworthy badge manufacturer. They usually house a dedicated design team to assist you through the process, offering design templates or crafting a custom design in line with your department's needs and tastes.
What is the usual timeframe for crafting custom badges?
The production timeline for custom badges can fluctuate based on the manufacturer, design complexity, and order volume. On average, expect a turnaround time of 4-6 weeks for custom badge orders. However, expedited services may be accessible for an additional charge.
Can we integrate our department's logo into the badge design?
Many badge producers can seamlessly integrate your department's logo into the custom design. It's best to supply a high-resolution logo image to achieve optimum results.
How do we select an appropriate size for our badges?
The size of your badges should align with your department's preferences and uniform regulations. Standard badge sizes generally measure 2-3 inches in height, but manufacturers might accommodate custom sizes upon request.
Can we personalize each badge with the officer's name, rank, or badge number?
Indeed, most badge manufacturers provide personalized engraving or numbering options, allowing the inclusion of individual officers' names, ranks, or badge numbers on each bespoke badge.
Is there a minimum order quantity for custom badges?
Minimum order criteria may differ from one manufacturer to another. Some may stipulate a minimum order of 25-50 badges, while others may have no such prerequisite. Clarifying this aspect with your chosen manufacturer before confirming an order is crucial.
How should we maintain and care for our custom badges?
To ensure your badges maintain their luster, cleanse them regularly using a soft cloth and mild soap, steering clear of abrasive cleaners or chemicals that might mar the finish—store badges in a cool, dry environment to ward off corrosion when not in use.
What is the expected cost of a custom firefighter?
The pricing of custom badges hinges on the intricacy of the design, materials utilized, and quantity ordered. For an accurate estimate, contact your badge manufacturer with your specific requirements.
The Talent and professionalism can not be beat! Shop small business and get Big results from this family owned business! Billy is Awesome!
Would recommend to anyone! Digital Jewelry sure my team was very well taken care of. THANK YOU!!