Championship Chains: Custom-Made Chains in the USA
As the leading authority on custom championship chains in the United States, we cater to your tastes and preferences, fashioning unique mementos that stand the test of time. When you order championship chains directly from our factory, you benefit from significant cost savings without compromising quality or design. We are synonymous with victory – we are the champions' choice! Our chains can be customized with your preferred text, name, number, logo, or year. Offering high-quality, competitively-priced options for individuals and teams alike, our personalized chains are designed to become cherished parts of everyday lives.
What are Championship Chains?

Championship chains have transcended fashionable accessories to powerful victory and personal achievement symbols. They've become a stylish way to celebrate triumphs and showcase the wearer's unique personality. Our seasoned team, with their decades-long expertise and knowledge, utilizes the finest metals to create these chains. Focused on intricate details and perfect curves, we craft chains that don't just look good but feel exceptional.
We offer custom championship chains in many metal choices, ranging from solid brass to gold and chrome plating. Our meticulous manufacturing process enhances the metal's inherent shine, resulting in a mirror-like reflection. Especially the chrome and gold variants leave a lasting impression, transforming you into the center of attention at any gathering. Your championship story unfolds as you enter, turning heads and drawing admiration.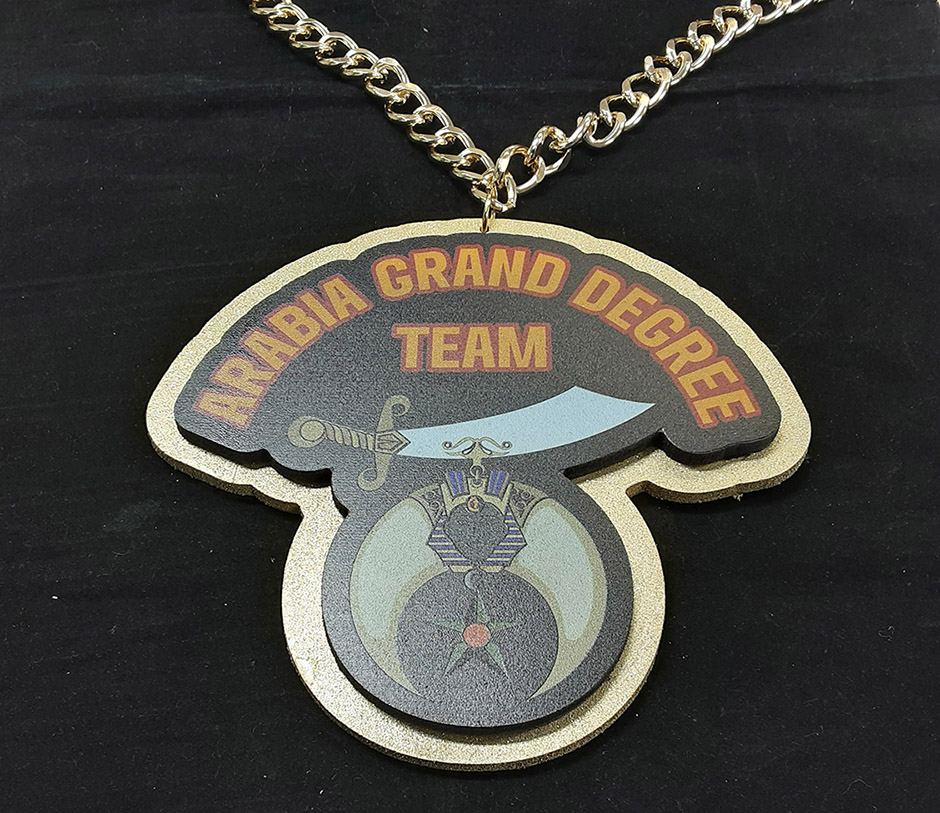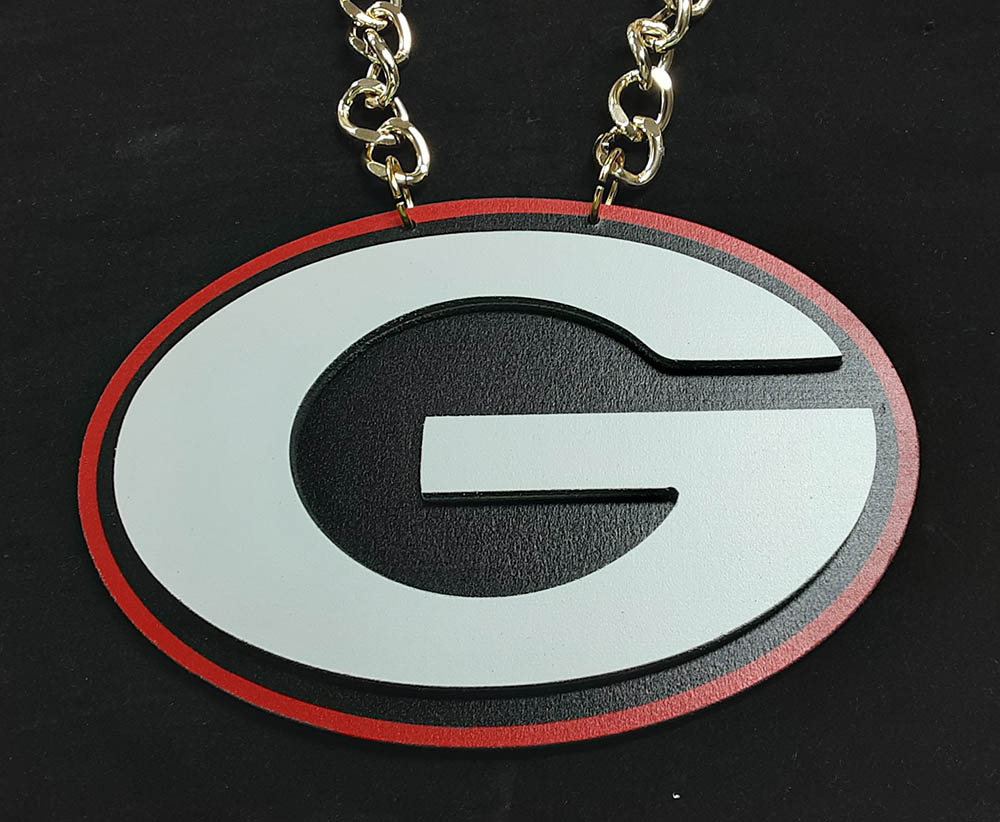 Personalize Your Championship Chain

Personalization is the key to owning a truly unique piece of jewelry. We offer a selection of pre-made templates to customize these championship chains. You can modify them with your information (logo, name, team, year, text, or any other data) or even opt for complete customization. We aim to translate your ideas into tangible art pieces, bringing your vision to life.
Every chain we craft is made with materials from premium sources. Each stone is handled with extreme care and precision, ensuring that our chains are perfect for every occasion, whether a gift for your CEO, spouse, or children or a token of appreciation for teams, players, fans, and coaches at sporting events.
High-Quality Chains at Low Cost

Our custom championship chains are crafted from solid brass metal with custom plates, designed to bring authenticity and add a wow factor to your personality. Every piece is crafted with a focus on details, ensuring your chain is flawless when it finally reaches you. Our streamlined customization process allows you to engage directly with our professional team of designers, and we provide virtual mock-ups as well. We believe in providing an authentic experience, helping you prepare for your moment in the spotlight.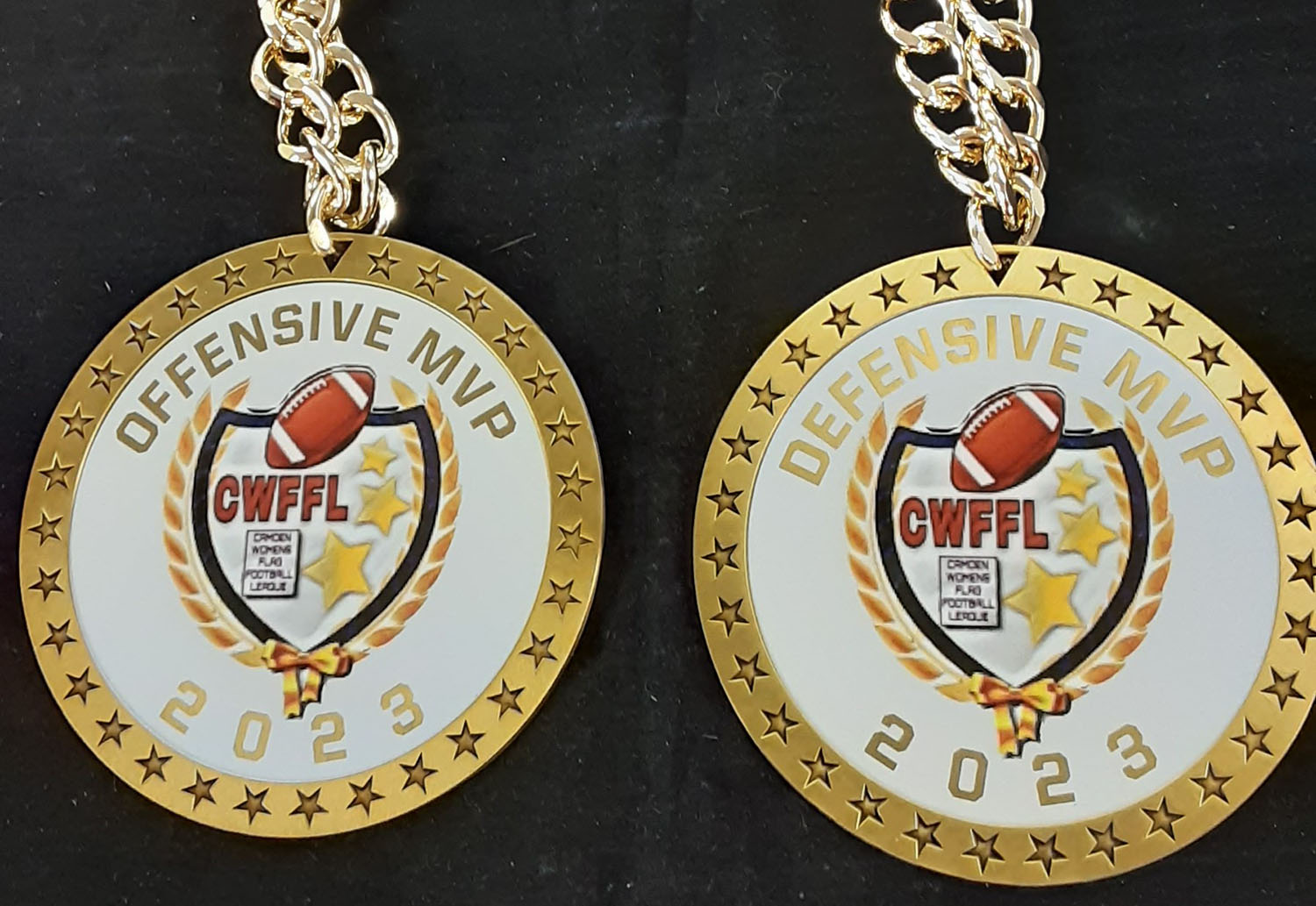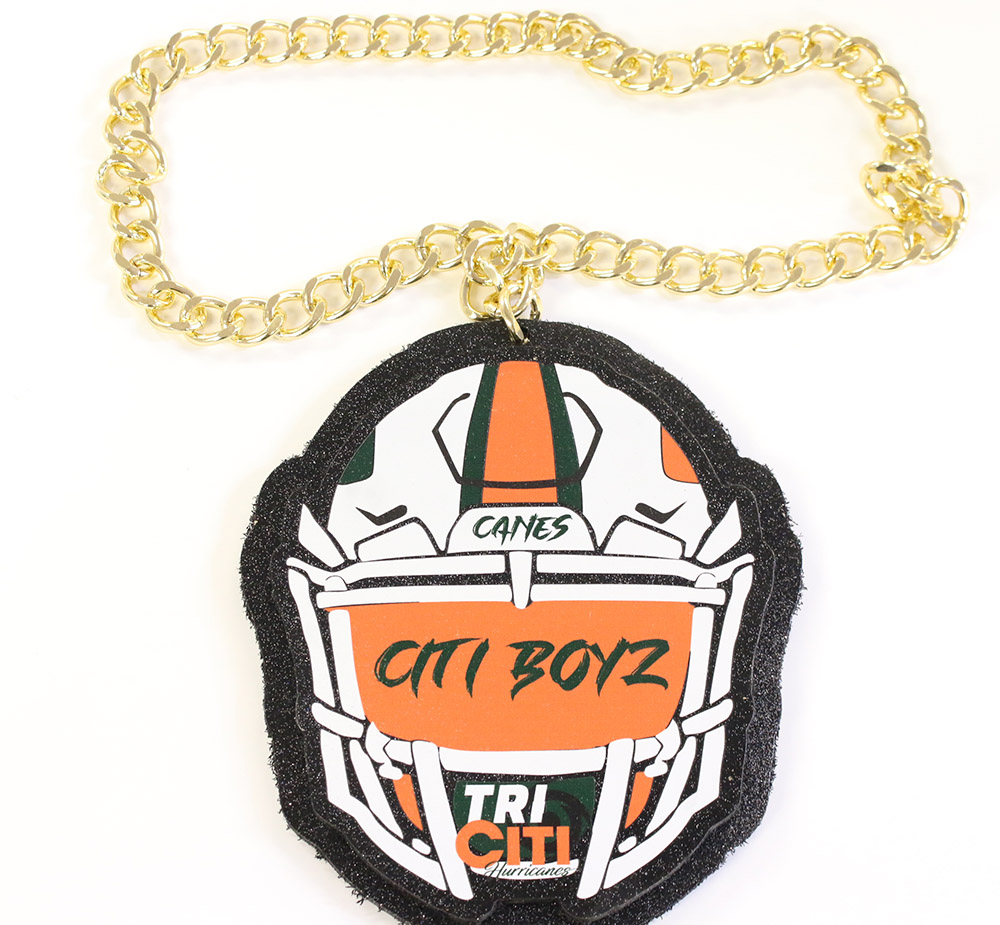 Championship Chains for Everyone
Our championship chains aren't just restricted to champions and sports teams; they're for everyone who wants to celebrate big or small victories or express their style. These chains make thoughtful gifts for birthdays, anniversaries, graduations, or to show someone you care. You can customize them with names, logos, dates, or any significant message, making each chain unique and special. They're perfect for men, women, and even kids, allowing everyone to enjoy the allure and prestige of owning a championship chain.
The Ultimate Accessory for Every Sport: Championship Chains

Championship chains are trendy and versatile, cutting across different sports. Be it basketball, football, baseball, hockey, golf, soccer, or even esports. Our championship chains testify to hard work, resilience, and victory. They're the perfect way to celebrate individual achievements or teamwork, instilling a sense of pride and boosting team spirit. Each chain is designed to reflect the unique aspects of the sport, making it a cherished keepsake for players, coaches, fans, and even parents.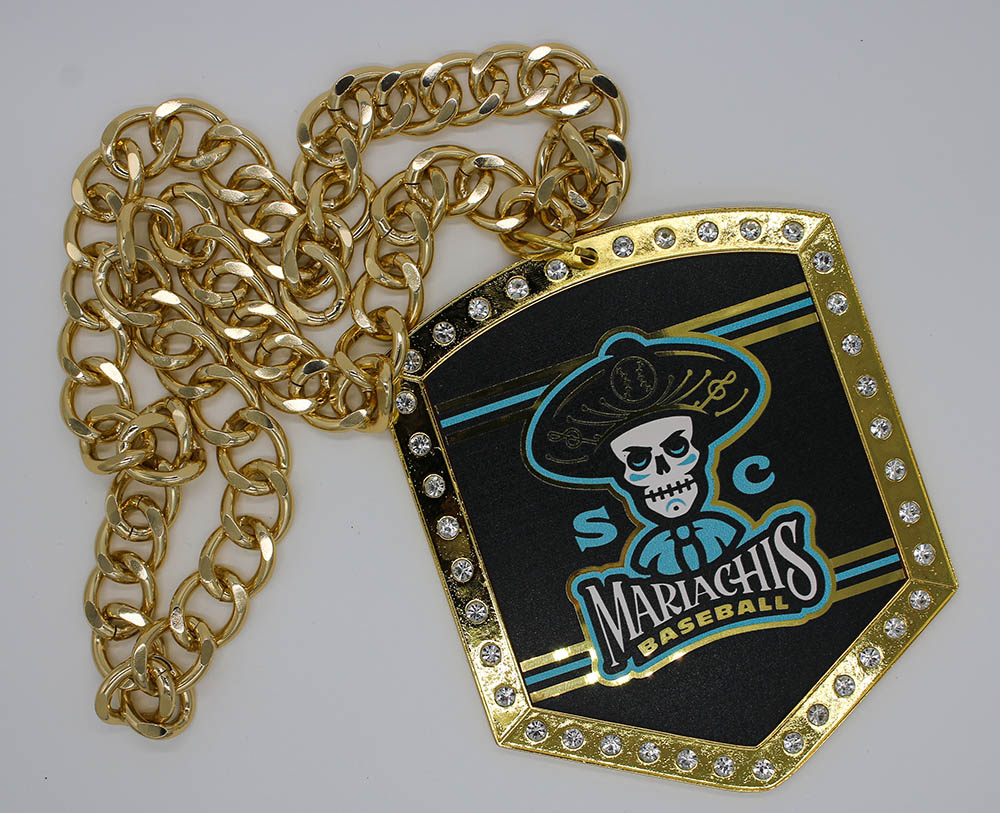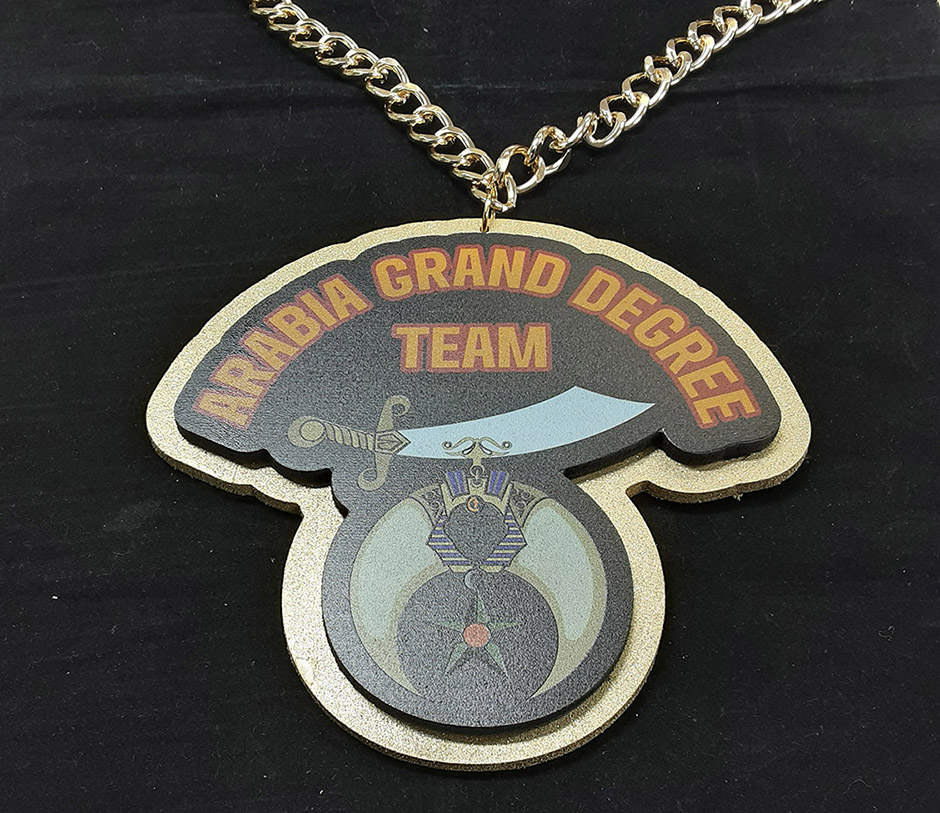 Custom Chains for Teams and Individuals
Our meticulously crafted championship chains are more than just accessories – they're symbols of victory for both teams and individuals. Made from high-grade metals and tailored to your specifications, they're an enduring testament to your success. We cater to various budgets without compromising quality and offer substantial bulk discounts for teams. With us, celebrating your victories becomes an affordable yet priceless experience.
Championship Chain Materials and Styles

When it comes to crafting championship chains, a blend of superior materials and a variety of styles are pivotal. The choice of materials, from solid brass to gold or chrome plating, significantly shapes the chain's aesthetic and durability. Brass is the primary material of choice with its lovely golden hue and durability. It's easy to work with, allowing for the creation of detailed and sophisticated designs. For a more luxurious appearance, gold or chrome plating can be employed. These coatings bestow a shiny, premium finish, with chrome adding a sleek, modern touch with its high-gloss, mirror-like finish.
Style and personal tastes dictate the final product, from the chain to the pendant shape. The chain type, such as Cuban link or box chains, dramatically alters the look and feel of the piece from a softer to a more masculine look. The pendant design offers a canvas for creativity, with possibilities ranging from classic shapes to custom symbols or logos. If glamour is the goal, including stones or crystals adds a touch of sparkle, while personalized engravings imbue the chain with uniqueness. Ultimately, the blend of materials and style forms a championship chain that's not just an accessory but a tale of triumph.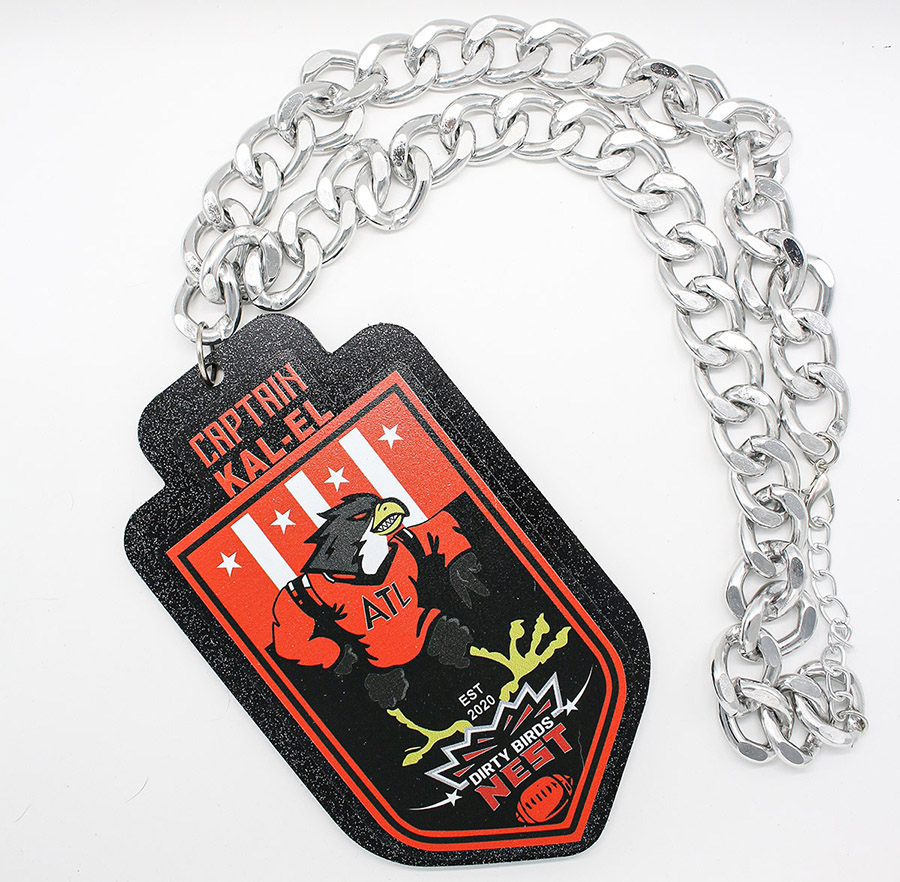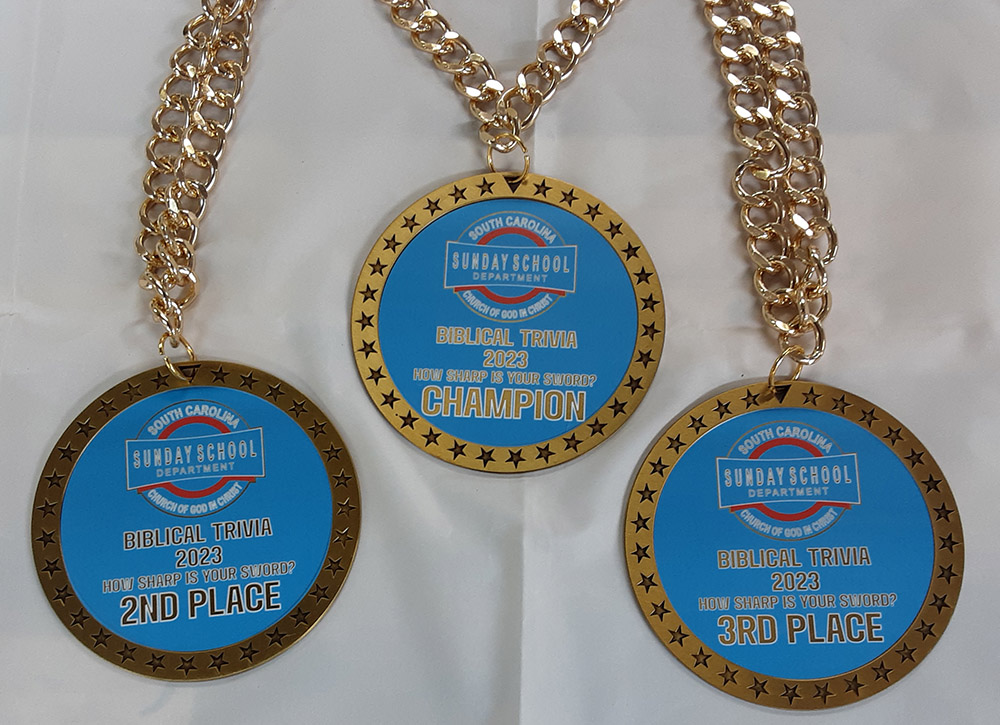 The Manufacturing Process: A Blend of Artistry and Technology
Our process begins as soon as the customer approves the design. We carelessly ensure the championship chains are robust and resilient, reflecting your strong character. We also offer pre-made template designs for quick personalization. For those in a hurry, we have designs with blank spaces at the center of the chest plate, ready to accommodate your image, logo, or name.
Types of Chains: More than Just Accessories

We offer a diverse array of chains based on the materials used, the length and color of the chain, and the work done on them. The size of our custom chains ranges from 16 to 20 inches, and they are available in colors like gold, white gold, silver, pink, red, and black. We craft gold and rose-gold chains, sterling silver chains with Cuban links, and other metal chains like bronze, tungsten, and copper.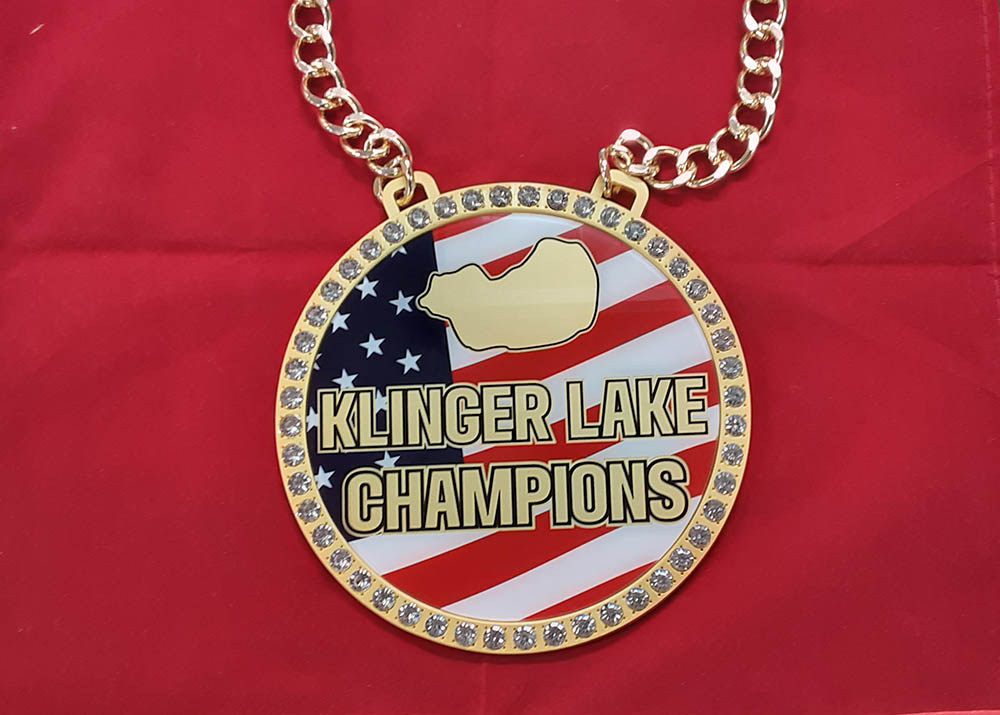 Fill out our form to get a free quick quote.
Our Design Process: Crafting the Perfect Product

The design process begins with an initial conversation, where we understand your unique needs and preferences. We believe in co-creation and work closely with you to design a product that reflects your personality.
Based on your input, our design team brainstorms various concepts and ideas for the chain. We consider the latest trends, your style, and the occasion for which the chain is designed.
Once we have a preliminary design, we share it with you for approval. We incorporate your feedback and refine the design until it aligns with your vision.
Our skilled artisans then bring the design to life, employing their craftsmanship to create a product of unparalleled quality. Every curve, cut, and engraving is done precisely to ensure a seamless finish.
We take quality seriously. Each product has a rigorous quality check to meet our high standards. We ensure our products are flawless, from the material to the final finishing.
Once the product passes our quality check, it will be delivered. We pride ourselves on our quick and reliable delivery system. Each chain is packed with care and delivered to your doorstep, ready for you to enjoy.
High Quality Championship Chains
We provide the grade A quality championship chains in the USA, Canada, Dubai and all around all the globe.
Get a free quick quote for your championship chain. We also provide free artwork.
Quickly customize your chains with our premade templates. You can also share your designs with us for a complete custom championship chain.
All of our championship chains are designed and made in SC, USA. We are the best championship chain maker in United States.
Our commitment to excellence and attention to detail set us apart when it comes to custom championship belts. Here are some reasons why you should choose us:
We are committed to providing products of the highest quality. Our dedication to perfection is evident in every chain we craft.
Customization at Its Finest
We believe in the power of personalization. Our chains are not just pieces of jewelry but reflections of your personality. We ensure every detail, regardless of size, aligns with your preferences.
Factory Direct: Save Time and Money
By ordering directly from our factory, you can save time and money. We cut out the middlemen, which allows us to offer you top-quality products at competitive prices.
We take pride in being a USA-based company. All our products are designed and manufactured locally, supporting local artisans and ensuring superior quality.
Quick and Reliable Delivery
We understand the excitement of receiving a new piece of jewelry. Therefore, we strive to deliver your product quickly without compromising safety or quality.
History of Championship Chains

Championship chains have a rich historical narrative rooted in ancient civilizations, where they symbolized power and status. Their modern conception, however, is a product of the 20th century, heavily influenced by the hip-hop culture's ostentatious jewelry trends. The popularization of these chains as a symbol of victory in sports is credited mainly to the Miami Hurricanes' introduction of the "Turnover Chain" in 2017. This trend rapidly permeated various sports leagues, leading to a surge in demand for customized chains that cater to unique identities. Championship chains transcend sports and fashion today, serving as universally recognized tokens of achievement, unity, and individual style.
Frequently Asked Questions (FAQs)
What materials do you use to make the championship chains?
We use a variety of metals, including solid brass, gold, sterling silver, bronze, tungsten, and copper. The choice of material depends on your personal preference and budget.
Can I customize the chain with my logo, name, or text?
Absolutely! Our chains can be fully customized with your preferred text, name, logo, or year. You can even add gemstones for an added touch of glamour.
Do you provide discounts for bulk orders?
Yes, we do provide bulk discounts. The discount varies depending on the quantity of the order. Don't hesitate to contact our customer service for more information.
How long does it take for the chains to be made and delivered?
The manufacturing process generally takes around 2-3 weeks, depending on the complexity of the design. Once the chain is ready, it will be shipped and delivered within 3-5 business days.
What is the length of the chains?
Our custom chains typically range from 16 to 20 inches in length. However, we can adjust the size based on your preference.
Can I see a preview of the design before it's made?
Yes, we provide virtual mock-ups of your design for your approval before we start the manufacturing process.
Are these chains suitable for children?
Yes, our chains are suitable for everyone, including children. We ensure that all our products are safe and comfortable to wear.
How do I care for my championship chain?
Please avoid direct contact with chemicals like perfume or lotion to keep your chain looking its best. Clean it regularly with a soft, lint-free cloth.
Are your products made in the USA?
All our championship chains are proudly designed and manufactured in the USA.
What if I want a complete custom design?
We are more than happy to create a fully custom design for you. Please share your idea with us; our professional designers will bring it to life.
The Talent and professionalism can not be beat! Shop small business and get Big results from this family owned business! Billy is Awesome!
Would recommend to anyone! Digital Jewelry sure my team was very well taken care of. THANK YOU!!