Championship Rings: Custom Championship Rings for Sale in the USA

Championship Rings for Men, Women, Boys, Girls, Kids, Coaches, Players, and Teams
Xpress Championship Rings
Individual / Team Championship Rings
Minimum Quantity: No minimum quantity.
Description: Our Express Championship Rings are designed for minor volume league or team orders with quantity discount price points to provide you with the best value for your budget. All championship rings are fully customized to your desired specs.
Contact us today to confirm pricing and delivery times.
League Championship Rings
Usually based on 250 rings or more Typical delivery time is 21-45 days on new designs.
Minimum Quantity: 300 or more. (Lower quantities considered)
Description: These League Championship Rings are designed for higher volume league orders with quantity discount price points to provide you with the best value for your budget. All championship rings are fully customized to your desired specs.
Contact us today to confirm pricing and delivery times.
Individual/Team Championship Rings: Typically 7-21 days delivery time
Minimum Quantity: 1 ring or more
Description: Our Extreme Series Championship Rings line is designed for discerning, elite athletes. If you can imagine it, we create it! Individual MVP or National Champions. We can do it all for you at an affordable custom manufacturer price. Fully customized to your desired specs.
Contact us today to confirm pricing and delivery times.
Fill out our form to get a free quick quote.
Custom Championship Rings at Wholesale Prices in the USA

We provide high-quality custom championship rings for teams and individuals at wholesale prices in the USA. We offer quick and complete customization with top-notch customer service support. We make high-quality, unique, and memorable sports and replica championship rings for all budgets in a wide variety of styles. Digital Jewelry has been serving the USA since 1955 and still provides the best services.
We have all types of custom championship rings, including Raptor Championship Rings, NBA, Fantasy Football, Lakers, LSU, Chicago Bulls, Toronto Raptors, Kobe Bryant, Lebron James, Michael Jordan, One Ring Girl, Drake, Warriors, Alabama, Phil Jackson, Bill Russell, Football, Miami Heat, NFL, Basketball, Blues, Cavs, Golden State Warriors, Larry Bird, Shaq, Washington, AFC, Cowboys, Gary Payton, Alabama National, Bulls, Chiefs, Clemson, Dallas Cowboys, Dennis Rodman, Eagles, Patriots, Nationals, State, High School, Youth, Astros, and many more champ rings.
We have quality craftsmanship with decades of experience. As a championship ring manufacturer, we value handcrafted quality products and services to our clients. Our rings are handcrafted in our exclusive premium metals: Titan Steel Base Metal, Silver, Gold, Platinum, Tungsten, Bronze, Sterling Silver, Brass, Plastic, and any other metal of your choice.
We use only the highest quality AAA-rated cubic zircons that look and sparkle just like genuine diamonds. Inside ring engraving is also available to clients looking for that extra personalization.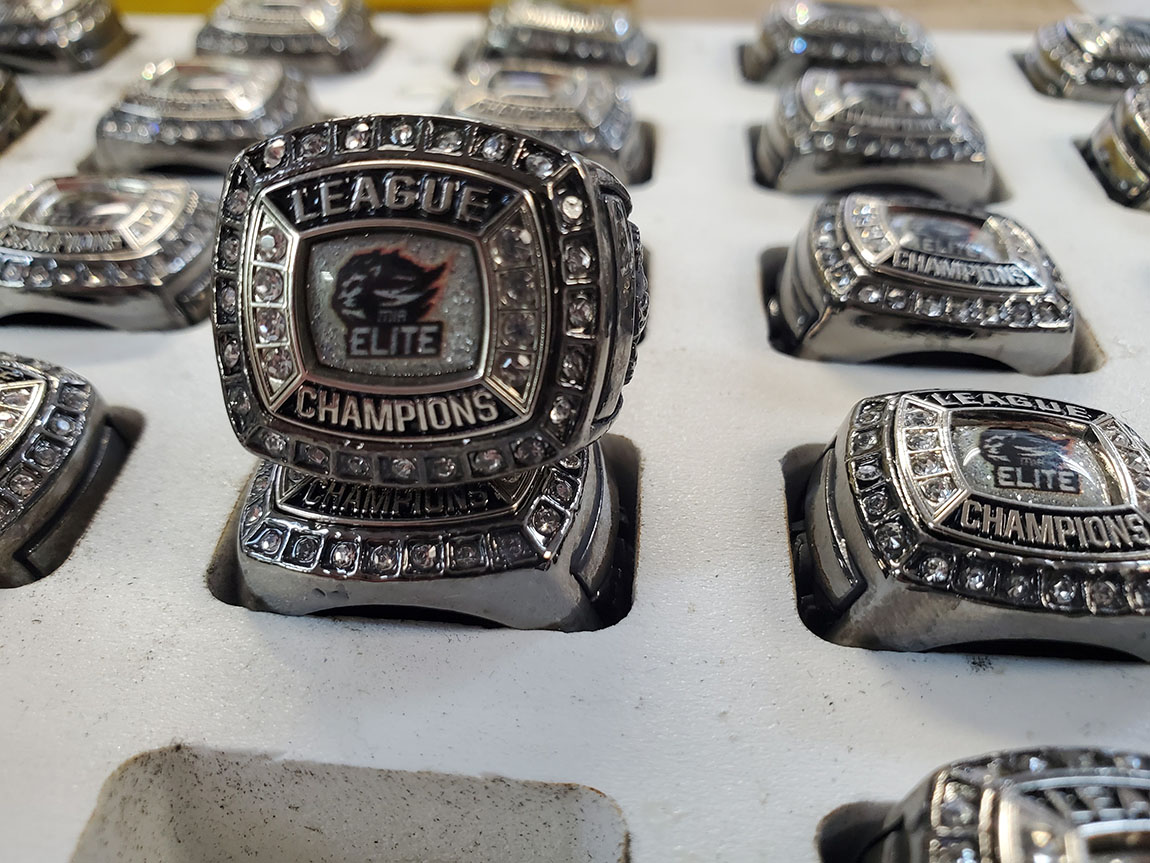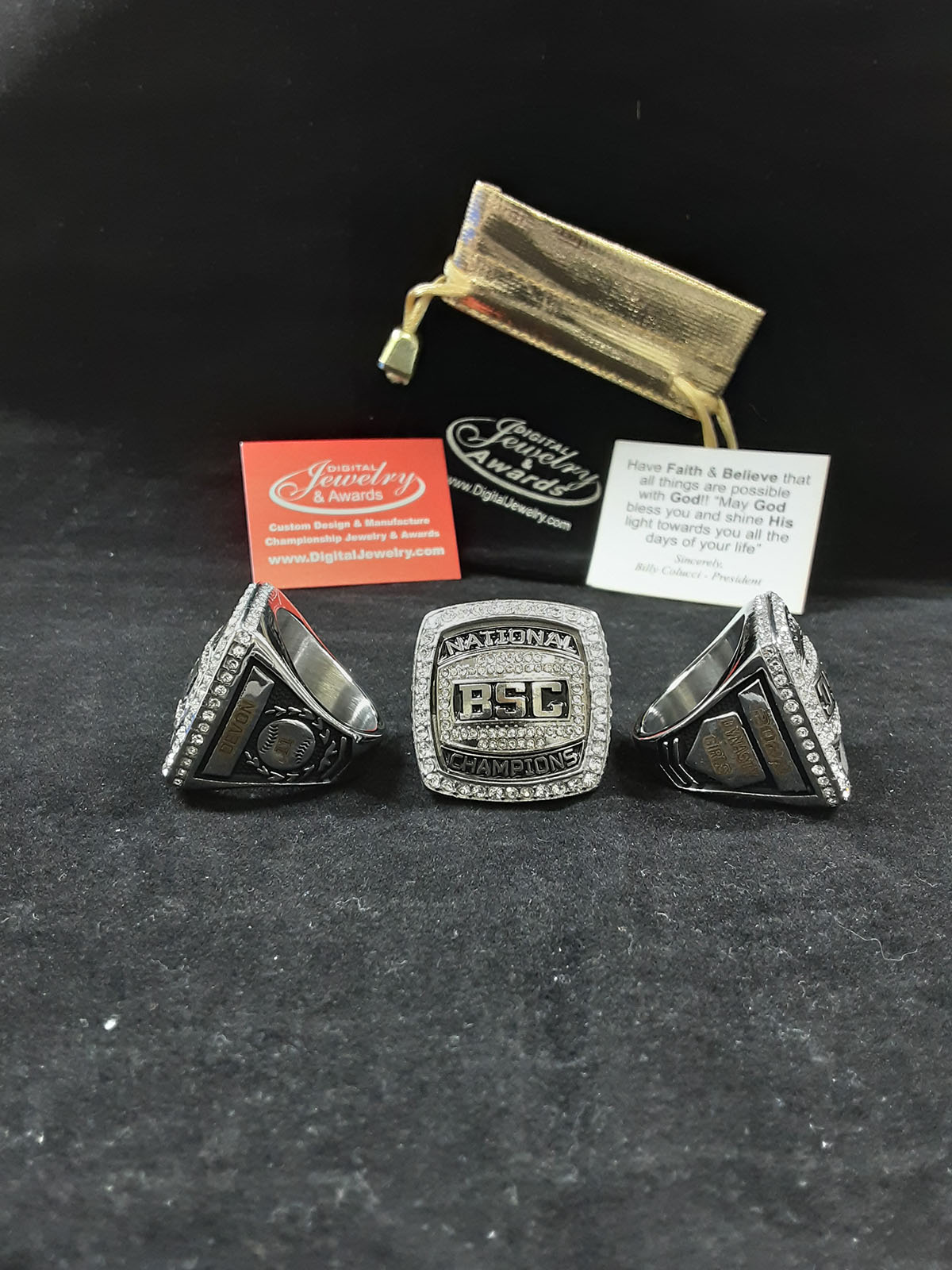 Quick and Completely Customized Championship Rings

Customize your premiere sports or replica championship rings with our easy and quick customization. Personalize these rings with your logo, name, or text. We have four categories, as described earlier.
Choose the one that best fits your needs. You can quickly customize premade templates (top, shanks, sides, etc.) or go for complete customization. Share your ideas or design with us for complete customization, and we will make it a reality.
We design and manufacture customized national, state, youth, high school, college, NBA, soccer, football, champion and finalist rings, championship crystal gold and silver rings, champion 2.0 rings, premiere engravable rings, gold and silver deluxe rings, complete custom rings, league rings, replica championship rings, fantasy football, Toronto Raptors, Lakers, all sports and many more championship rings.
Finding the best championship rings to address your sports event needs is challenging. We at digital jewelry have made it easier for you by providing a wide range of custom rings, from quick customization of premade templates to complete customizations. We are here for all of our customers. If, at any stage, you need any changes in your rings, we are here for you. This is quite a bold guarantee and reflection of our confidence in these champion rings. Furthermore, we encourage you to check out our gallery for all design options.
You can design and customize all types of championship rings, including champion and finalist rings, sports championship rings, custom replica rings, championship crystal gold and silver rings, champion 2.0 rings, premiere engravable rings, NBA rings, custom replica rings, championship ring store, custom replica championship rings, replica world series rings, Chicago bulls, lakers, Big 12 Oklahoma Sooners rings, Dallas Cowboys, Alabama, Celtics, Notre Dame, championship fan rings or any other customized champion ring, then you are on the right spot!
Design Your Championship Ring Online in the USA

Design your championship ring online the way you want. Our championship-style rings can be easily customized because of our finely-tuned, proprietary processing methods. All we need is your:
logo/artwork
player number/name
event name to engrave
We design free artwork and ship samples if needed. Artwork designing may take up to 24 hours.
You will love our champion 2.0 ring design. We constantly add more designs to our collection of infamous rings. Explore our arsenal, where you opt for different variants of sports rings, including fantasy football, baseball, hockey, state, youth, national, high school, league, fantasy, and many more.
We make unique custom championship rings engraved with their name, the championship title, and the team logo. We are the choice of champions. Champions, athletes, coaches, and youth starters have proudly worn our rings for generations. We can guarantee our quality as each ring is carefully designed using only high-quality raw materials.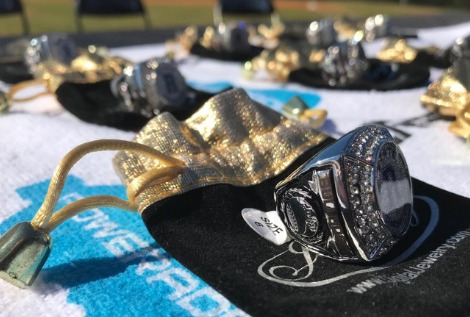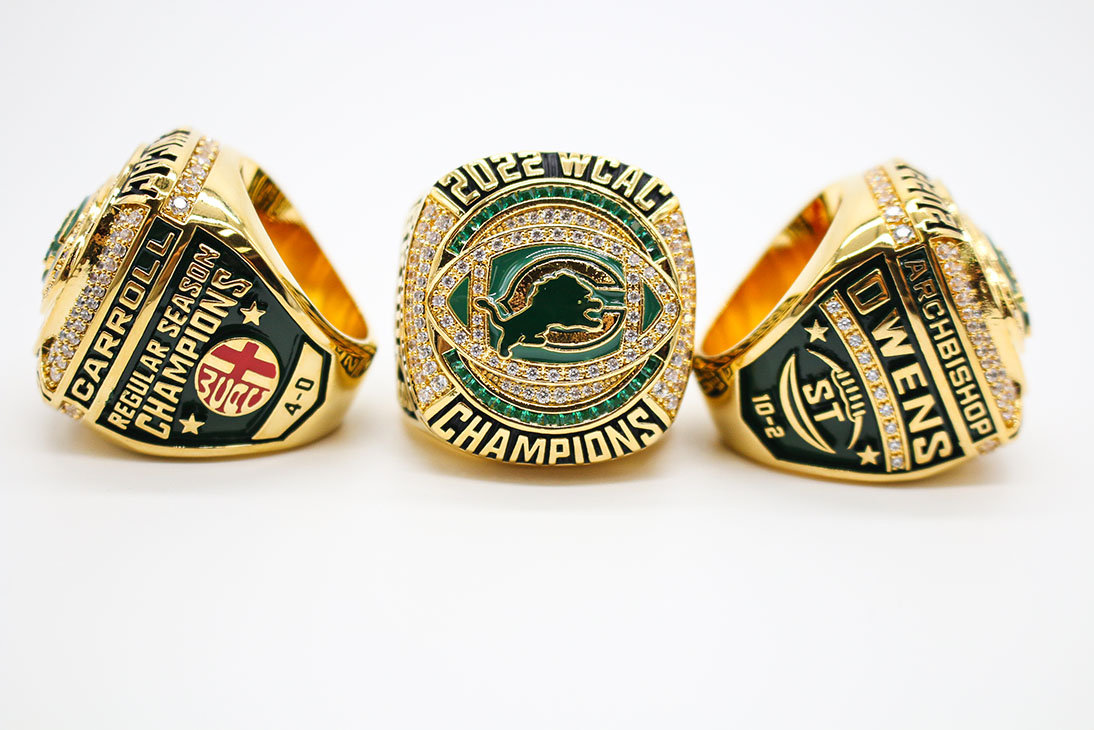 High-Quality Custom Championship Rings at Low Cost
We proudly offer top-notch custom championship rings at competitive prices, with no minimum order requirement. We do not offer cheap rings, as we uphold an unwavering commitment to our superior quality standards. As a leading manufacturer of customized championship rings in the USA, we boast unmatched flexibility to meet any deadline – place your order today, and your ring could be on its way by tomorrow!
Diverse Range of Sports Championship Rings
Our expertise spans the full spectrum of sports. Whether you're looking for football, basketball, softball, fantasy football, lacrosse, or hockey rings, we've got you covered. With us, you can expect superior quality at pocket-friendly prices.
Celebrating National Champions
We take pride in celebrating and uplifting our national athletes. Our national champion rings are thoughtfully designed to celebrate the achievements of athletes across all age groups – from kids and youth to adults.
Custom Replica Championship Rings
We're skilled in crafting a wide variety of custom replica rings. Let us know what you envision, and let our experts handle the rest. You can rest assured that quality is guaranteed.
State Champion Rings Tailored to Your Victory
We celebrate our state champions with customized state champ rings! We offer both quick customization options and in-depth personalization. For more details, feel free to give us a call at 803-760-7099. We're here to bring your vision to life.
Designed and Crafted for the Champions!
The climax of any sports season, that decisive moment of victory, is forever immortalized when you raise your championship ring high. As you revel in the joy of this achievement, our team of skilled designers stands ready to bring your dream to tangible reality with meticulously designed and crafted champion rings. At Digital Jewelry, we strive for innovation without boundaries because we understand these rings aren't just accessories – they're for champions!
Our cutting-edge championship rings are crafted with acute attention to detail to ensure unparalleled quality. We closely monitor every specification – size, name, logo, or league year – and provide these features are beautifully represented in 3D laser-engraved designs on your championship rings. Using only AAA-grade raw materials, precious gems, gold, and diamonds, we strive to create a masterpiece that immortalizes your achievement. We spare no effort in perfecting every aspect of your ring. We aim to celebrate your hard-won victory with the best-personalized championship ring designs, absolute customer satisfaction, and prompt delivery.
To get a sense of what your championship ring might look like, take a moment to explore our gallery, showcasing our most popular custom championship ring designs. If any design resonates with you, you're more than welcome to place an order. We always value our client's input, integrating it into the design process to ensure utmost satisfaction.
With Digital Jewelry, the process is straightforward. You can opt for quick customization (our express series) or go all-in on an utterly bespoke ring (our extreme series) to manifest your unique vision. At Digital Jewelry, we're not just creating rings – we're turning dreams into reality.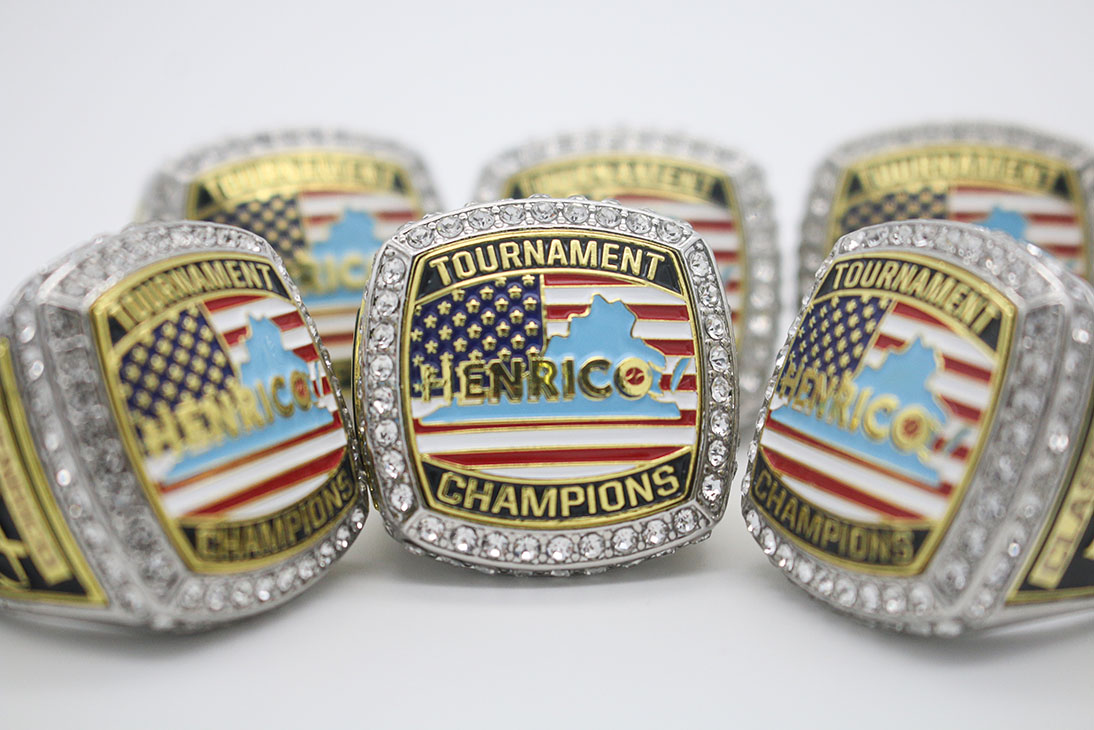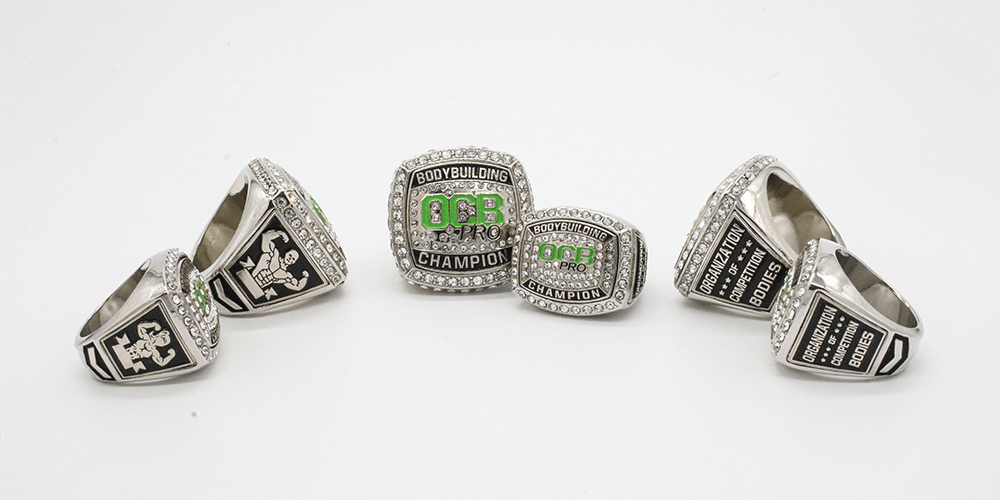 What is a Championship Ring?

A championship ring serves as a tribute to the pinnacle of athletic success. It's not just an ornate piece of jewelry; it's a powerful emblem that encapsulates countless hours of rigorous training, commitment, and the relentless pursuit of victory. Crafted with precision and excellence, these rings commemorate champions' achievements across sports, from the high school level to the professional leagues.
Each championship ring embodies the spirit of the team or the athlete it represents. Crafted from prestigious materials like gold or silver and adorned with intricate engravings and gems, these rings reflect the prowess and fortitude of those who don them. They are a testament to an athlete's hardships, victories, and exceptional journey to glory.
Championship rings are more than just decorative accessories. They are symbols of an athlete's or a team's triumph over challenges, their unwavering determination, and the exhilarating thrill of emerging victorious. These rings echo the chant of victory, forging the legacy of champions in precious metal and gems.
Importance of Championship Rings
Championship rings carry a profound significance in the world of sports. They are not just adornments, but the embodiment of an athlete's or team's hard-won victory, relentless dedication, and enduring resilience. They encapsulate the high of triumph and the unity of a team, the sweat and tears, and the indomitable spirit that defines a true champion.
These rings serve as tangible reminders of a glorious past, bringing back memories of hard-fought battles and triumphant victories. For the athlete, they hold personal significance, a token of their talent, perseverance, and personal achievement. For the team, it signifies their collective effort, camaraderie, and the shared joy of their accomplishment.
The value of championship rings extends beyond their material worth. These rings become priceless mementos that athletes hold dear, cherishing them for a lifetime. They serve as constant reminders of their accomplishment and inspire them to continue striving for excellence, to push their boundaries, and never to stop pursuing their passion for the sport.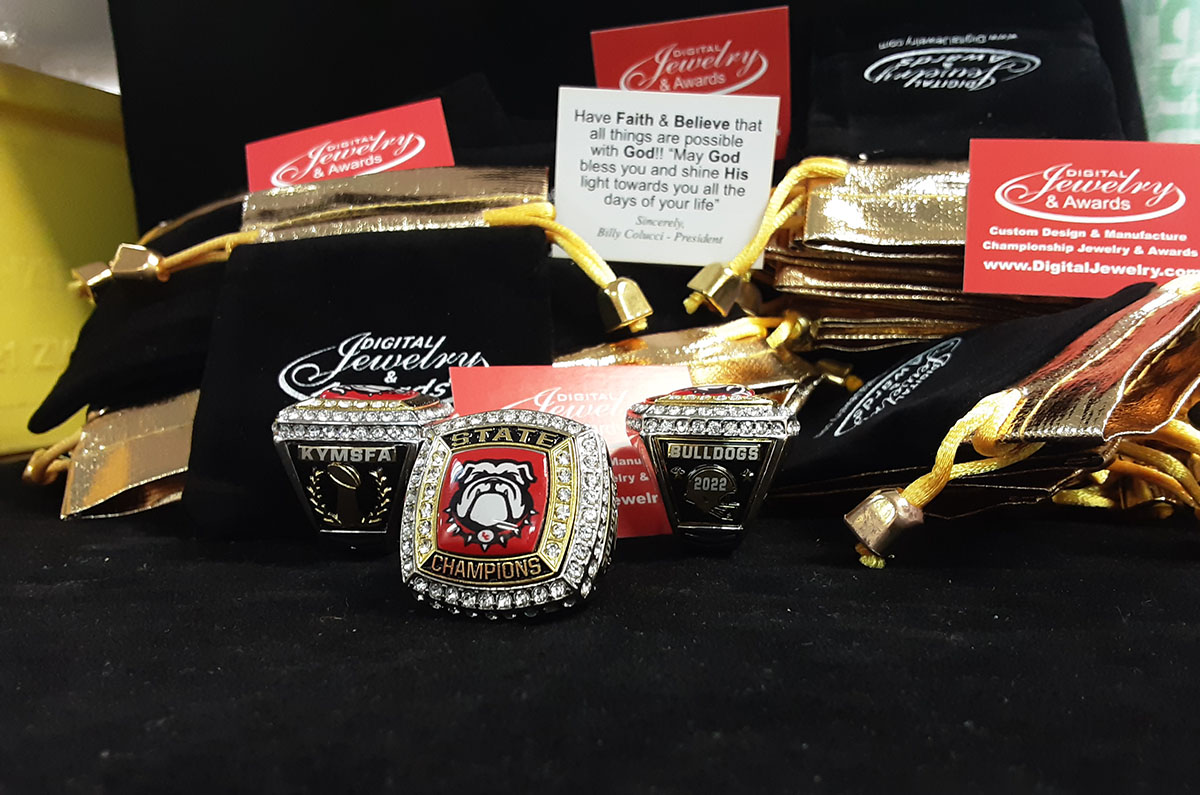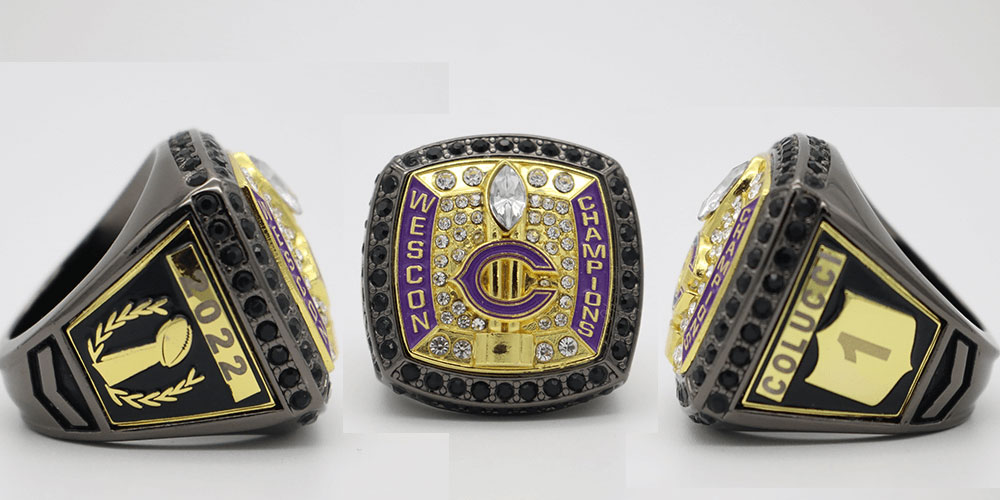 Championship Ring Styles, Shapes and Designs
Championship rings come in various styles, and shapes. Each ring is designed meticulously to reflect the team or athlete's unique journey. Each ring tells its story from classic designs crafted in gold and studded with diamonds to contemporary styles using alternative materials like titanium or tungsten. The design elements often incorporate team logos, championship years, and personal engravings.
While maintaining a traditional aesthetic, championship rings have evolved to adapt to the changing trends. The designs have grown more intricate over the years, incorporating a more comprehensive range of materials, colors, and personalized details. The constant endeavor is to create rings that are visually appealing and encapsulate the passion and commitment of the champions they honor.
The choice of materials plays a significant role in determining the style of championship rings. Precious metals like gold and silver and precious and semi-precious gemstones have always been popular choices. However, in recent years, alternative materials like titanium, tungsten, and ceramic have gained favor for their durability and contemporary appeal.
Easily Personalize Your Championship Ring
Our expertise allows you to personalize your championship ring with ease. Choose from various options, including the ring's shape, color, and gemstones or diamonds. Whether it's a special engraving or a unique symbol that represents your journey, we make it possible to create a championship ring that is truly your own.
Each ring should be as unique as the champion it represents. Therefore, we work closely with you to understand your preferences, ideas, and the story you want your ring to tell. Our skilled artisans then bring your vision to life, crafting a personalized ring that captures the essence of your championship journey.
We know that your championship ring is not just a piece of jewelry but a symbol of your achievement. It's a memento of your journey, struggles, and ultimate triumph. That's why we strive to provide you with various personalization options, so your ring reflects you as a champion.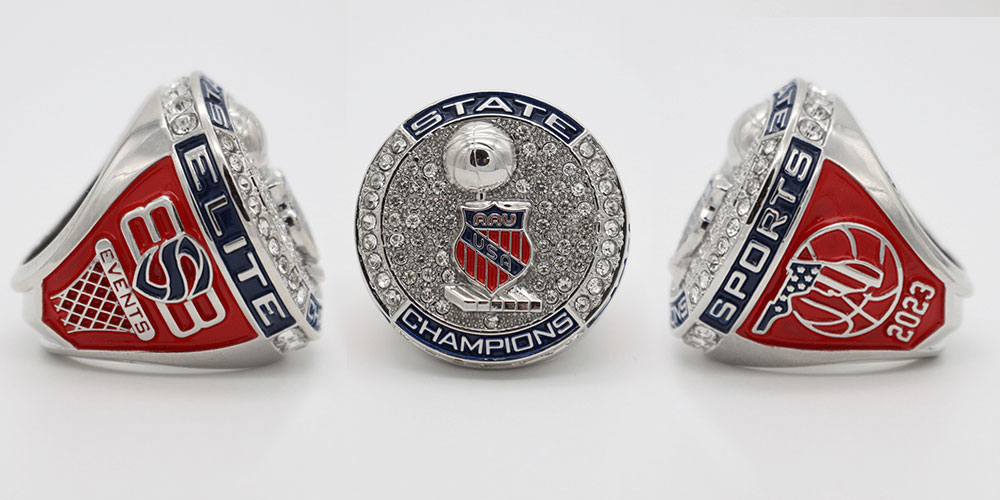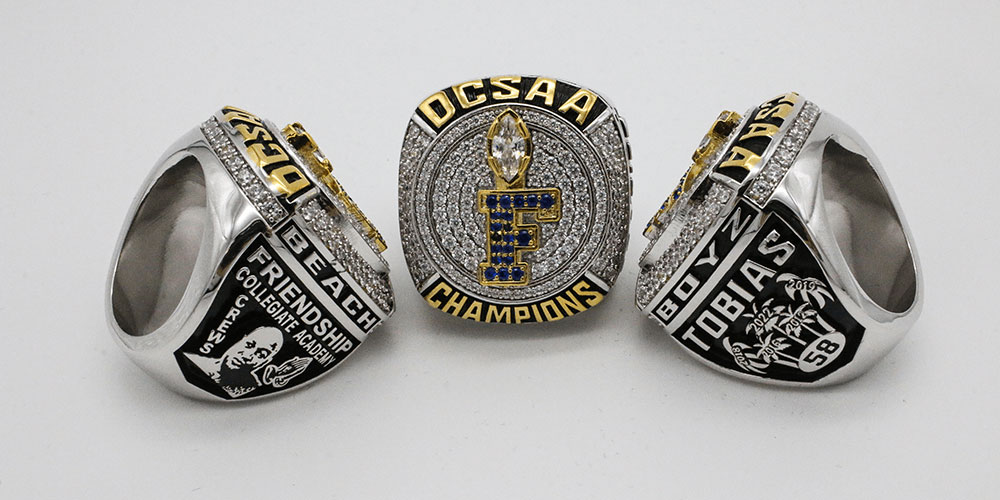 Trending of Championship Style Rings
There is an exciting blend of tradition and innovation in the world of championship rings. While traditional elements like team logos and championship years remain constant, we are witnessing a shift towards more personalized designs. Using alternative materials like titanium and ceramic, along with various types of gemstones, has given the championship ring design a modern edge.
Technological advancements are also shaping the future of championship ring designs. 3D printing technology, for instance, allows for intricate designs and a higher level of customization. This trend is expected to grow in the coming years, offering more unique and personalized championship ring designs.
Despite the introduction of new trends, the classic elements of championship rings continue to hold their charm. After all, these rings are not just about following trends but celebrating individual journeys and shared successes. So while we see an increase in modern design elements, the traditional aesthetic plays a significant role.
High Quality Traditional Championship Rings

Traditional championship rings have long been a tangible embodiment of athletic excellence. These premium quality rings, often meticulously handcrafted and engraved, bear the markings of countless victories, unforgettable triumphs, and the undying spirit of the athletes they represent. Their designs, steeped in a rich history of sportsmanship, serve as a testament to every champion's sheer grit and determination.
While these rings predominantly feature elements like team logos and the year of victory, the intricate hand engravings lend them their distinct charm. Such engravings often include player names or jersey numbers, commemorating their contributions to the team's success. These personal touches make each ring a treasured memento, reminding the athletes of their journey to victory every time they glance at it.
The appeal of these traditional championship rings lies in their aesthetics and the history they represent. Each high-quality handcrafted piece, with its personalized engravings, paints a picture of the sweat, dedication, and sheer joy of winning. Even in an era where advanced technologies like 3D printing have gained popularity, these traditional championship rings continue to hold their value, treasured for their timeless charm and legacy.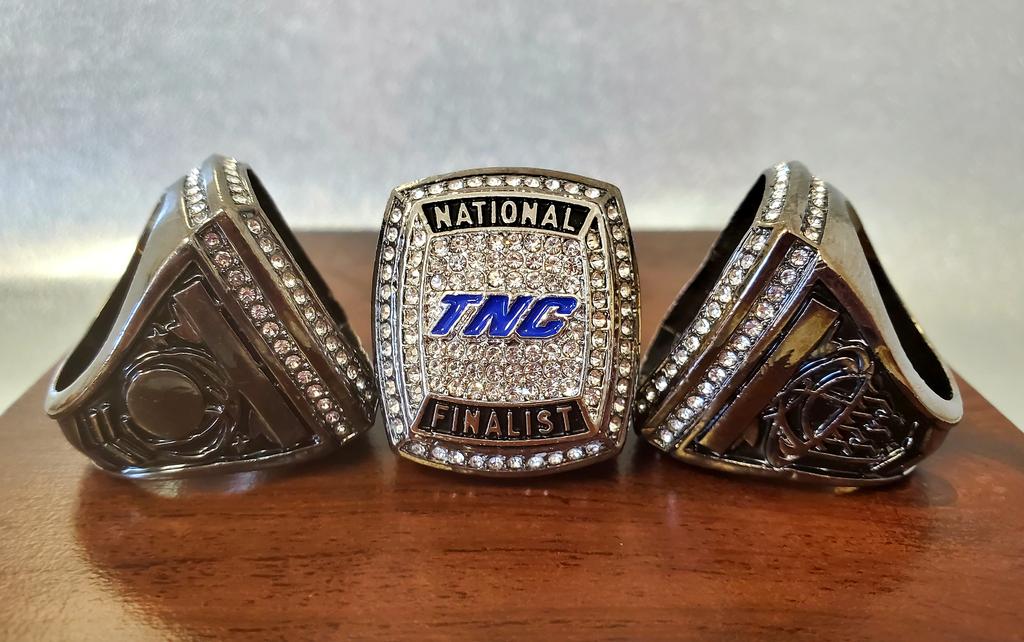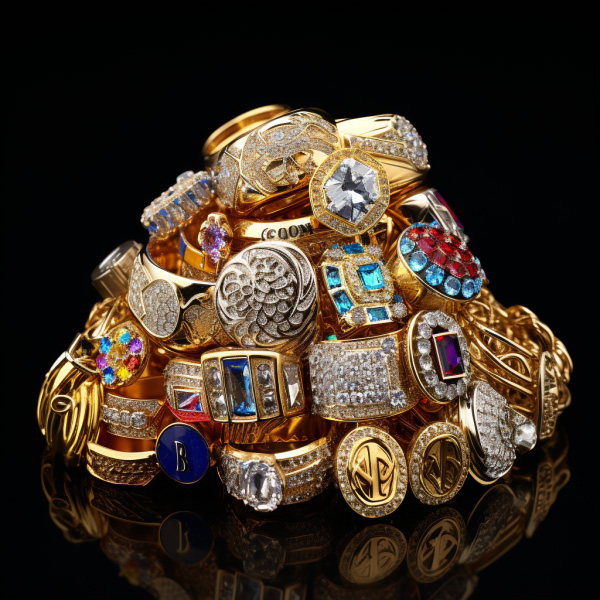 Engraved, Carved, and 3D Printed Championship Rings

Engraved championship rings exemplify the longstanding tradition of commemorating athletic prowess. The art of engraving allows for intricate detailing, wherein each letter, number, and symbol is carefully inscribed onto the surface of the ring. Whether it's the player's name, jersey number, the team's emblem, or even a motivational quote, engraved rings create a truly personalized symbol of achievement.
On the other hand, carved championship rings bring an extra layer of depth and dimension to the design. The carving process creates a sculptural quality, where designs are inscribed on the surface and have a tangible feel. This relief-style approach offers a distinct sense of grandeur and adds an element of tactile pleasure, allowing the wearer to see and touch their triumphs.
Technology innovation has ushered in the era of 3D printed championship rings, revolutionizing the world of sports memorabilia. This cutting-edge technology offers infinite design possibilities, enabling intricate geometric patterns and complex structures that were once impossible with traditional methods. Besides giving designers unlimited creative freedom, 3D printing also allows for rapid prototyping and cost-effective customization, making championship rings more accessible to all levels of sports achievement.
Thus, whether it's the classic allure of engraved rings, the depth of carved ones, or the modern marvel of 3D printing, there's a championship ring for every athlete's taste, uniquely reflecting their journey to victory.
Why Should You Buy Our Championship Rings?

Our championship rings are a testament to your victory, combining superior craftsmanship and personal touch. Each ring is crafted with meticulous attention to detail, ensuring a quality piece that captures the essence of your achievement. With us, you're not just buying a ring but investing in a tangible symbol of your triumph.
We are committed to delivering more than just high-quality championship rings. We aim to provide an experience that reflects your journey to victory. With a wide range of customization options and a team of skilled artisans, we ensure your ring tells your story, embodying your unique journey and the spirit of victory.
Choosing our championship rings means choosing a lifetime keepsake that honors your hard work, determination, and success. With a rich history in jewelry making and an unwavering dedication to quality, we promise rings that meet your aesthetic expectations and celebrate your achievements. We are proud to craft rings that truly capture the essence of your championship moment.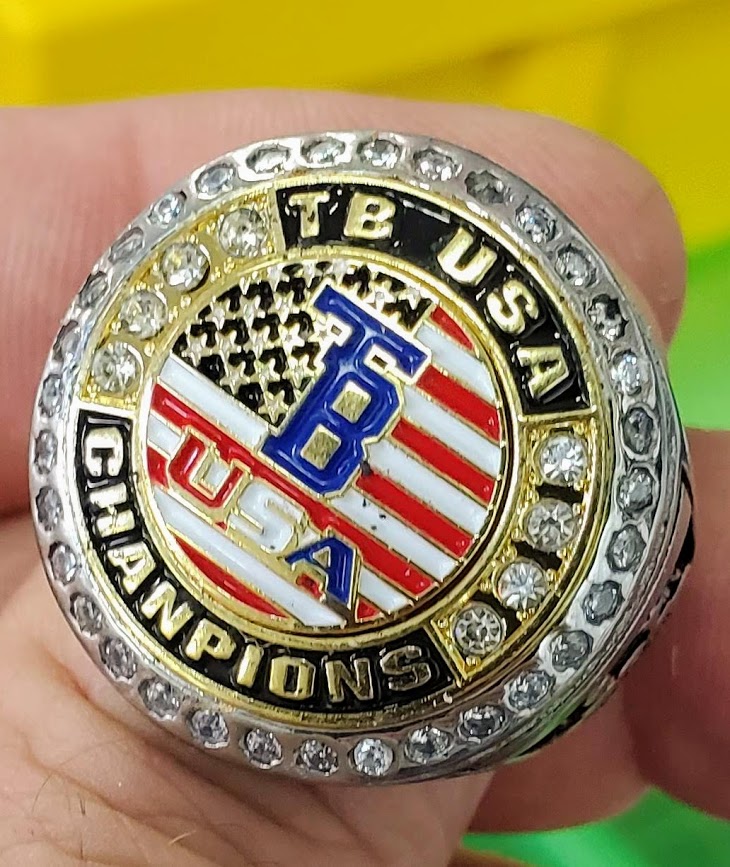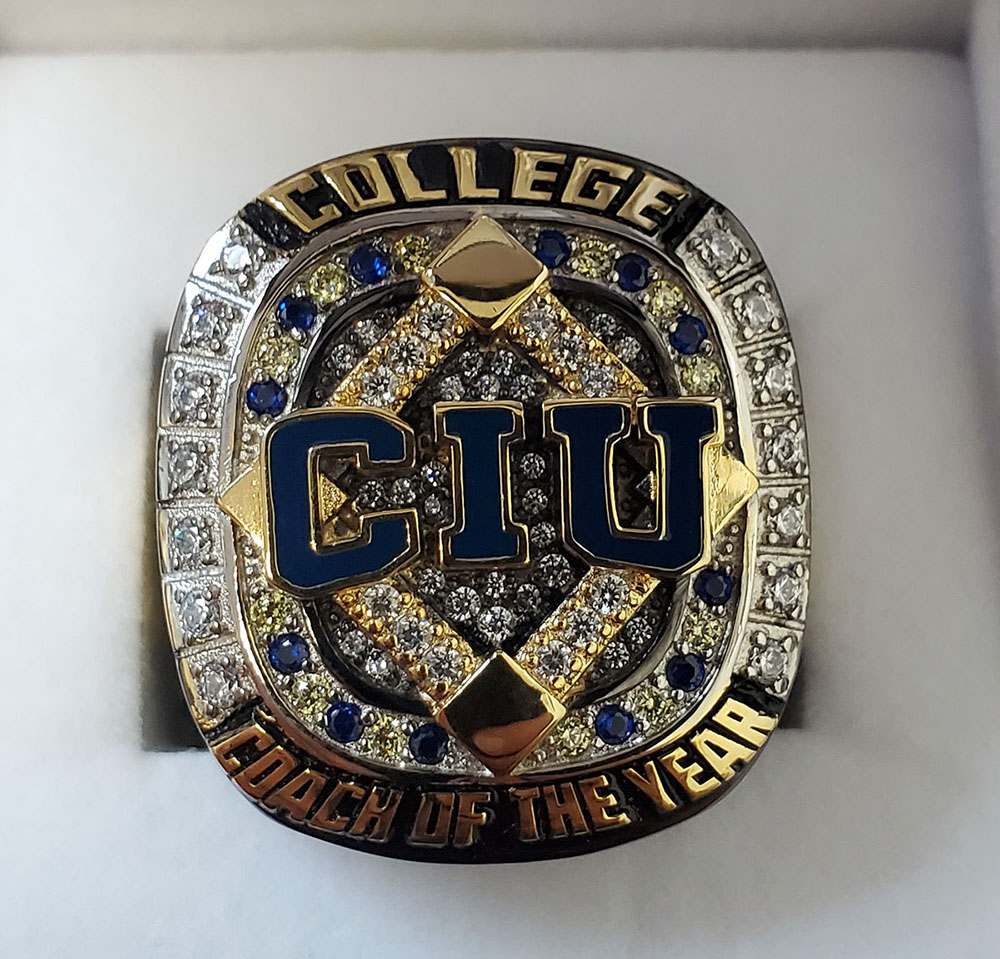 Championship Rings for Everyone

Championship rings transcend gender, age, and role within a team, making them accessible to individuals from all walks of life who have contributed to sporting excellence. These rings are designed to cater to everyone, ensuring that each person's achievements are celebrated and honored.
For men, championship rings are crafted with designs that embody strength and power, allowing professional athletes, coaches, and team staff to proudly wear rings that symbolize their accomplishments and dedication to their sport.
Similarly, women's championship rings are designed to be elegant and feminine, reflecting their achievements on the playing field. Whether it's an individual athlete, a team member, or a coach, women can wear championship rings that celebrate their skills, leadership, and significant contributions to the sport.
Championship rings also extend to boys and girls participating in youth sports, recognizing their early successes and fostering their passion for the game. These rings come in various sizes and designs, giving young athletes a sense of accomplishment and motivation to continue their athletic journey.
Even the youngest athletes can be acknowledged with championship rings specially designed for kids. These rings are smaller to ensure a comfortable fit and often incorporate playful elements that engage young athletes, creating lasting memories and a sense of pride.
Coaches, who play a vital role in shaping a team's success, are remembered. Championship rings for coaches honor their leadership, strategy, and guidance. These rings can be personalized with their name, team name, or special symbols representing their coaching accomplishments, acknowledging their invaluable contributions to the team's achievements.
Championship rings are genuinely inclusive, recognizing the contributions and accomplishments of individuals from diverse backgrounds and roles within the world of sports. They are a powerful reminder of the dedication, teamwork, and perseverance required to achieve greatness in any capacity.
Championship Ring's Material

Championship rings are crafted using various high-quality materials that ensure durability and visual appeal. Here are some commonly used materials in the manufacturing of championship rings:
Gold: Gold is among the most popular and prestigious materials in championship rings. It exudes luxury and elegance, often adorned with intricate engravings and embellishments. Yellow gold, white gold, and rose gold are common choices, depending on the desired aesthetics.

Silver: Silver is another favored material for championship rings. It offers a sleek and contemporary look, complementing various design styles. Sterling silver, often combined with other metals for added strength, is commonly used to create silver championship rings.

Precious Gemstones: Championship rings often incorporate precious gemstones such as diamonds, rubies, sapphires, and emeralds. These gemstones add brilliance and splendor to the rings, enhancing their overall visual impact. The type and arrangement of gemstones can vary based on the design and personalization preferences.

Non-Precious Gemstones: In addition to precious gemstones, championship rings may feature non-precious gemstones, including cubic zirconia, crystals, or synthetic rocks. These alternatives provide a similar aesthetic appeal at a more affordable price point.

Metals with Plating: Some championship rings feature base metals, such as brass, copper, bronze, tungsten, titanium, or stainless steel, with plating in gold or silver. This technique provides a cost-effective option while maintaining an impressive appearance.

Alternative Materials: In recent years, alternative materials like titanium, tungsten, and ceramic have gained popularity in championship ring manufacturing. These materials offer durability, unique design possibilities, and a contemporary look.
The choice of material depends on factors such as budget, desired aesthetics, and personal preferences. Each material brings distinct qualities, ensuring that championship rings are visually striking and built to withstand the test of time.
Currently, the triumphant team's style and design choose the NBA Championship rings, and the league bears the cost according to the norm. In North American pro teams, a playoff league championship is the most worthy part of the season.
Other championship rings, like state championship rings or customized ones for youth, kids, or high school, are made from iron, stainless steel, and alloys. Instead of diamonds, these custom-made rings are made from zircons that look and sparkle like diamonds but don't carry the cost.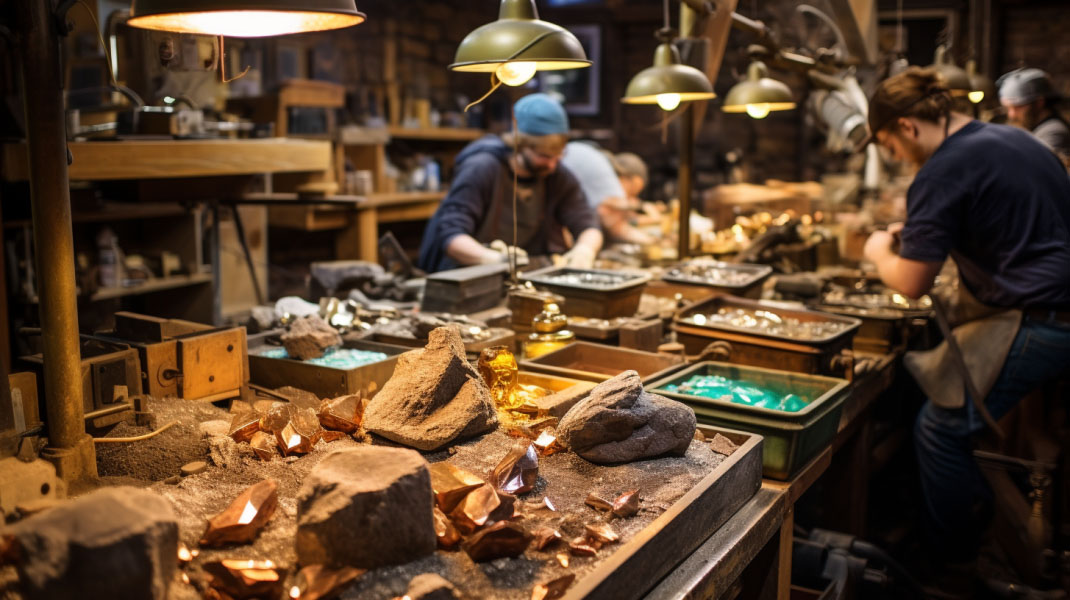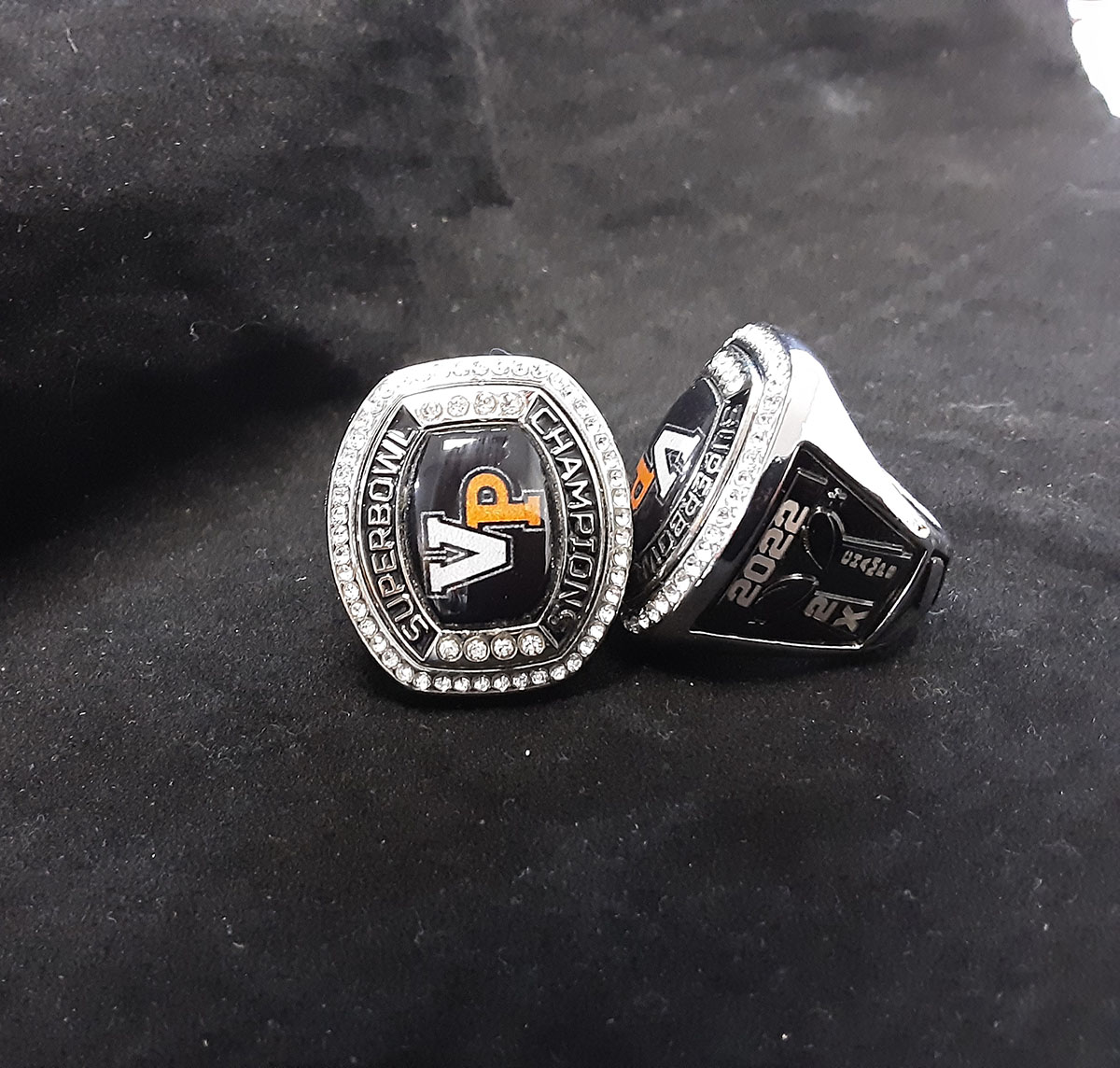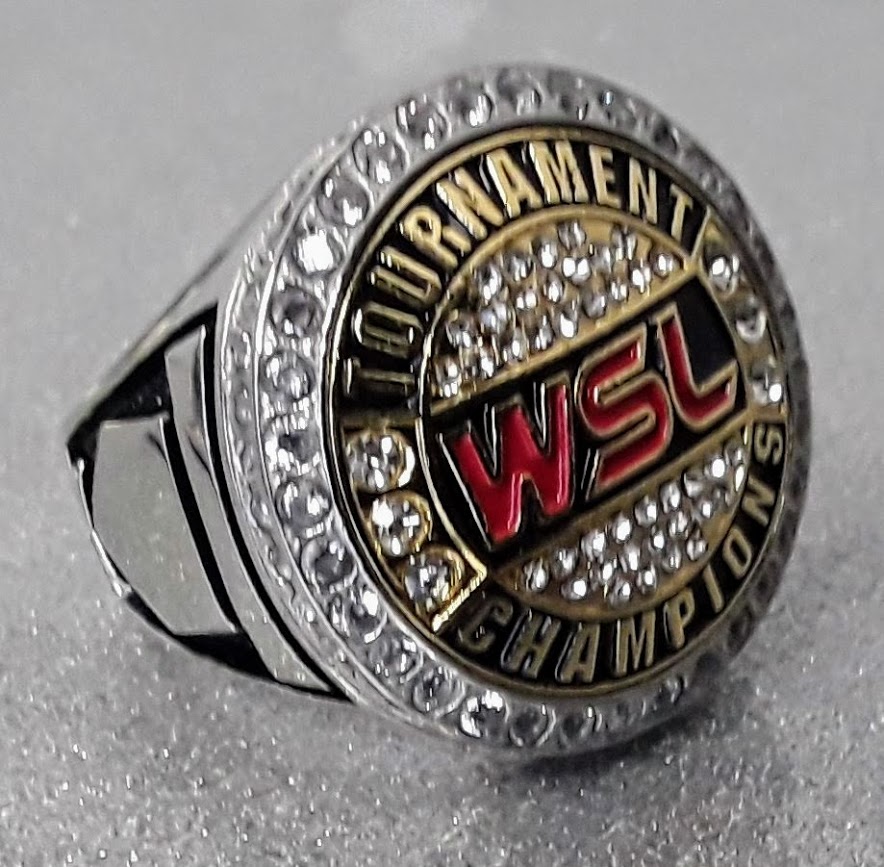 Customized Championship Rings for Teams and Individuals
Championship rings are not limited to teams alone. They also recognize the exceptional achievements of players who have significantly contributed to the sport. Here's how championship rings cater to both groups and individuals:
Team Championship Rings
Team championship rings celebrate the collective efforts of athletes who have achieved victory together. These customized championship rings are customized with the team's name, logo, championship year, and other personalized details. Each team member receives a call to symbolize their shared accomplishment and the bond they formed throughout the season.
Individual Championship Rings
Besides team rings, individual championship rings are awarded to standout players, MVPs, top scorers, or athletes who have achieved extraordinary feats. These customized rings highlight the individual's exceptional performance and serve as a personal memento of their journey to success.
Both team and individual championship rings carry immense significance, representing the dedication, skill, and perseverance required to reach the pinnacle of sporting excellence. Whether it's a team's collective triumph or an athlete's individual brilliance, championship rings honor the achievements and inspire future generations to strive for greatness.
Personalized Rings for Every Occasion and Milestone
Are you searching for a unique present that speaks volumes about your thoughtfulness? Lean on our imaginative team of experts with the requisite skillset and insight to bring your design ideas to life. Our personalized ring offerings span a broad spectrum – from engraved couples and wedding bands to sports rings and engagement pieces. Additionally, we offer engraved promise rings, customized rings explicitly crafted for him, and the quintessential championship rings. Our design and production process is meticulous, ensuring that each piece of custom jewelry is of superior quality.
High school, college, or graduation rings are also part of our specialties at Digital Jewelry. We always propose a gemstone that perfectly mirrors your personality, reflecting your unique spirit on your big day. Our range of graduation rings is skillfully crafted with attention to every minute detail, resulting in a seamless design that makes your milestone celebration an unforgettable event.
So, no matter the occasion or the recipient, you can trust us to craft a personalized ring that captures the moment's essence and creates a lasting memory. With Digital Jewelry, every ring is more than a piece of jewelry; it's a story waiting to be told.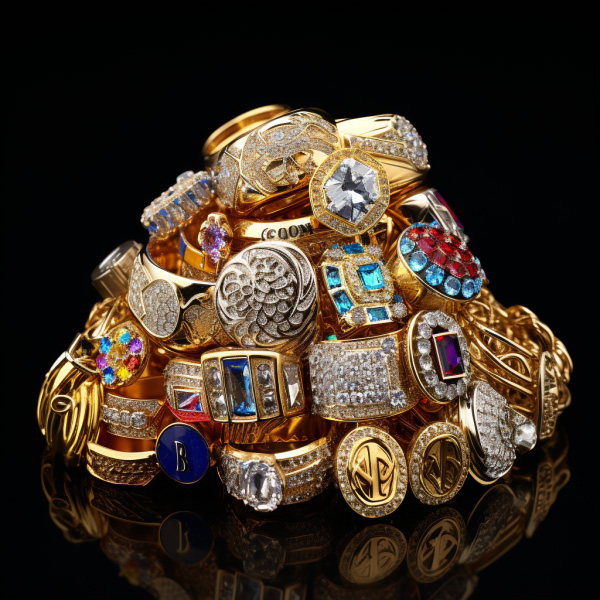 Cheap Custom Championship Rings Manufacturer – No Minimum Quantity
We offer top-quality, affordable custom championship rings with no minimum order requirement. We are the premier manufacturer of custom championship rings in the USA. Need it fast? Order your ring today and get it tomorrow!
Types of Championship Rings
Championship rings are not confined to a singular sport or level of competition but encompass a wide range of athletic disciplines and achievements. Here are some notable types of championship rings available across various sports:
In professional sports, championship rings are bestowed upon teams that emerge victorious in esteemed leagues, such as the NBA for basketball, NFL for football, MLB for baseball, NHL for ice hockey, and MLS for soccer. These rings represent the pinnacle of success and serve as a tangible symbol of excellence on the grandest stage of competition.
Collegiate championship rings encompass sports like football, basketball, baseball, and others and are awarded to college athletes and teams who triumph within their respective divisions and conferences.
Notably, NCAA championship rings are regarded as the epitome of achievement in collegiate athletics, signifying the highest prowess and dedication.
High school championships allow young athletes to earn championship rings commemorating their triumphs in various sports. From football and basketball to soccer, volleyball, wrestling, and more, these rings are enduring reminders of high school athletes' dedication, teamwork, and perseverance.
State championships, organized by different states or regions, bestow championship rings upon teams and individuals who showcase exceptional performance and dominate their local competition. These rings embody the pinnacle of achievement within specific geographical areas, representing the pride and skill of the victorious athletes.
At the national level, championships like the Olympic Games or international tournaments reward winners with championship rings. These rings transcend individual and team achievements, symbolizing athletic excellence and national pride as athletes represent their countries on the global stage.
Youth and amateur sports organizations also recognize their participants' accomplishments with championship rings. These rings, awarded in various sports, inspire young athletes to pursue their dreams with passion and determination. They instill a sense of pride and serve as motivation for continued growth and success.
Furthermore, championship rings span across a wide range of sports, including but not limited to baseball, basketball, football, golf, lacrosse, cheerleading, swimming, tennis, track and field, soccer, volleyball, wrestling, gymnastics, and more. Each sport has unique championship rings with designs, engravings, and symbols specific to the sport and the honored achievements.
It is essential to recognize that championship rings differ in design, size, and materials based on the sport and the organization presenting them.
However, regardless of the specific type, each championship ring represents the arduous journey, unwavering commitment, and remarkable triumphs in pursuing athletic excellence.
History of MLB, NBA, NFL & NHL
The most eminent four championship rings in North American professional sporting events are the NBA Championship ring, NFL's Super Bowl ring, NHL's Stanley and MLB's World Series ring.
Traditionally, rings are awarded to runners-up of championship games in popular leagues, such as Major League Baseball (MLB) and National Football League (NFL). For instance, World Series and Super Bowl are the best practice of it.
In American college basketball history, championship rings were awarded to the triumphant of the NCAA Division Men's Basketball Championship. For the last two decades, it has become a common practice between Canadian and American high schools to give championship rings to state champions in their respective sport to honor their achievement.
Major League Baseball (MLB)
Major League Baseball (MLB) is the biggest sporting event in North America. It was founded in 1876, and the American League was founded in 1901. Later, both merged in 2000. There are 30 teams, 1 in Canada and the rest in the US. Baseball is often considered the first professional sport in America and is typically called a national pastime.
National Basketball Association (NBA)
The National Basketball Association (NBA) is the premier basketball league in the world. It was founded in 1946 and adopted as the official NBA in 1949. Four teams from Antagonist Basketball Association joined NBA in 1976. Currently, there are 30 teams, one from Canada and the rest from the US.
National Football League (NFL)
The National Football League (NFL) was founded in 1920 to merge different teams from regional leagues. Currently, there are 32 teams, all in the US.
NFL games are popular and known to be the most attended leagues in the world regarding single-game attendance. The Super Bowl is one of the most-watched television events in U.S. history. However, NFL is the only single major league with no official presence in Canada.
National Hockey League (NHL)
The National Hockey League (NHL) is the only major league having Canadian origin. Founded in 1909, there are 31 member teams, 24 from the US and 7 from Canada. It is the most popular league in Canada and the northern US.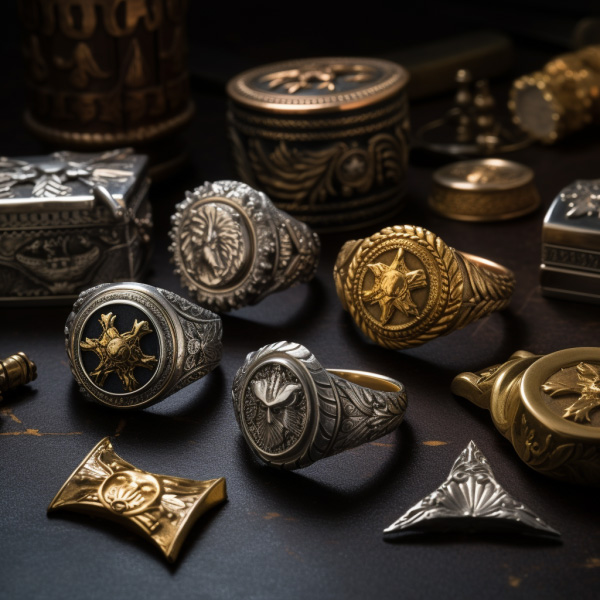 History of Championship Rings
The journey of the championship ring is an intriguing tale, spanning continents and various sports. An icon of triumph in American and Canadian sports culture, the championship ring, made from either white or yellow gold and often adorned with diamonds, represents more than a mere victory. It is a symbol of immense pride and accomplishment. The birth of these celebrated rings can be traced back to North America, where winning a championship held profound significance, compelling the creation of a unique token to distinguish these victors from others.
The championship ring's story finds its roots not in the shiny baubles we know today but in more humble trinkets like pocket watch fobs and pins. These were the souvenirs presented to the winners of the World Series before 1922. But the New York Giants, victorious in the 1922 World Series against the New York Yankees, were the first to receive what would eventually evolve into the modern championship ring. Not to be outdone, the Yankees started their tradition of awarding rings following their World Series win in 1927.
Over time, the gifting of these rings became an annual tradition in the 1930s. Each year, members of the victorious World Series team receive rings as tokens of their achievement. It's not just traditional sports either; in today's world, winners of competitions as diverse as video game tournaments, dance competitions, and even fantasy football leagues also receive these rings. American championship rings, traditionally crafted from white or yellow gold and adorned with diamonds, often feature the team logo, player's name and number, position, the year of the league, and the number of championships won, encapsulating the legacy of the team and the player within their designs.
Our Design Process: The Journey of Your Custom Championship Ring
The first step toward crafting your ultimate championship ring is an open conversation where we connect with you to grasp your vision. This dialogue informs the preliminary designs tailored to your unique ideas and inspirations.
Our skilled designers dive into the idea brainstorming stage following our initial talk. Utilizing your input, they create an exclusive design that truly captures the essence of your win.
After the initial design is drafted, we loop you back in for a design review. We work with you to ensure every detail matches your vision and are open to making any tweaks or modifications to guarantee the design meets your full satisfaction.
Once we get the green light on the design, our master craftsmen work, turning the design into a tangible piece of art with flawless attention to detail. Your ring transitions from a concept to a concrete representation of your achievement.
Before we ship your ring out, it goes through a rigorous quality inspection. Our QA team reviews each ring to ensure it meets our high standards for craftsmanship and design.
To cap it off, we ensure the prompt delivery of your championship ring, delivering the ultimate token of your victory right to your doorstep.
Designing and Manufacturing Rings Since the 1940s – America's First Choice
Embedded deeply in the rich heritage of late 19th-century Italian craftsmanship, Digital Jewelry has carved a niche in the heart of the USA. We stand tall as a renowned designer and producer of championship rings, demonstrating a constant commitment to superior quality and a vast selection of distinctive designs. Champions from all walks of life trust us as their partner in commemorating their hard-earned victories, honoring their triumphant journey with a tangible memento.
Our unique lineage stretches back over a century, inherited from Italian artisans who sought new opportunities on American shores, specifically through Ellis Island, NY. We hold fast to the mission ignited by those ancestors, which focused on breathing new life into Italian craftsmanship on a global stage. As a family-run business, we infuse every creation with timeless beauty, transforming cherished moments and treasured memories into meticulously designed, tangible art forms.
Digital Jewelry embodies the essence of true American grit – hard work, persistence, and patience. These virtues have been integral to our operations since inception and continue to drive us forward. As a result, our customers are treated to superior, first-rate products that are well worth their investment. When you choose Digital Jewelry, you're choosing a steadfast commitment to quality and a rich legacy that enhances your victory's significance, making us the first choice for champions across the USA.
Why Choose Us for Your Championship Ring?
At Digital Jewelry, perfection isn't just an aim; it's a guarantee. We are wholly committed to delivering the ultimate in baseball championship rings, from the initial design stage to the final polished product. Our unwavering attention to detail and relentless dedication to customer satisfaction makes us a leading name you can trust for custom championship rings.
We get it—each team and individual athlete has distinct preferences and requirements when it comes to their championship bling. That's why we offer an unmatched range of customization options that lets you modify every facet of your ring. Want your team's logo front and center? Done. Picking out specific gemstones to match your team colors? Consider it handled. Unique engravings to commemorate the season? We've got you covered. We go the extra mile to turn your vision into reality.
Why go through a middleman when you can get your championship rings directly from the source? As a U.S.-based manufacturer, we cut out unnecessary layers, allowing us to pass on significant savings to you. Our streamlined manufacturing process and state-of-the-art production techniques enable us to offer competitive pricing without compromising quality. When you choose Digital Jewelry, you're getting unparalleled value for your investment.
Choosing Digital Jewelry is more than just a purchase; it's a patriotic choice. We take immense pride in crafting all our baseball championship rings right here in the USA, using locally-sourced materials and employing a team of highly skilled artisans. Your purchase brings you a top-tier product and contributes to the growth and sustainability of the American economy.
Timely and Dependable Delivery
We know that when it comes to celebrating a championship win, timing is everything. That's why we offer an array of delivery options tailored to your specific needs. Whether you're up against a tight deadline or require expedited shipping, our team will work diligently to ensure your championship rings reach you promptly and in perfect condition.
When you choose Digital Jewelry, you're not just getting a ring but a lifetime keepsake that celebrates your hard-fought victory. From our design prowess to customer-centric approach, we stand head and shoulders above the rest. Make your championship moment truly unforgettable with Digital Jewelry.
The Talent and professionalism can not be beat! Shop small business and get Big results from this family owned business! Billy is Awesome!
Would recommend to anyone! Digital Jewelry sure my team was very well taken care of. THANK YOU!!