Football Chains: Custom Football Chain Necklaces & Cross Chains in USA

Football chains are custom-designed necklaces or cross chains that serve as symbolic representations of football championship achievements. These chains are crafted with precision and attention to detail, reflecting the hard work, dedication, and success of football teams, players, and coaches. They are stylish accessories and cherished moments that commemorate the triumphs and memorable moments of the game. Football chains can be personalized with names, team logos, dates, or other information to make them unique and special.
Significance of Football Chains
Football chains hold immense significance within the sporting community, tangible reminders of the challenges overcome, victories earned, and the camaraderie forged on the football field. They symbolize the dedication, passion, and excellence displayed by individuals and teams who have succeeded in the sport. Football chains are not just accessories; they carry sentimental value and represent the hard-earned accomplishments that become a source of pride for players, coaches, and fans.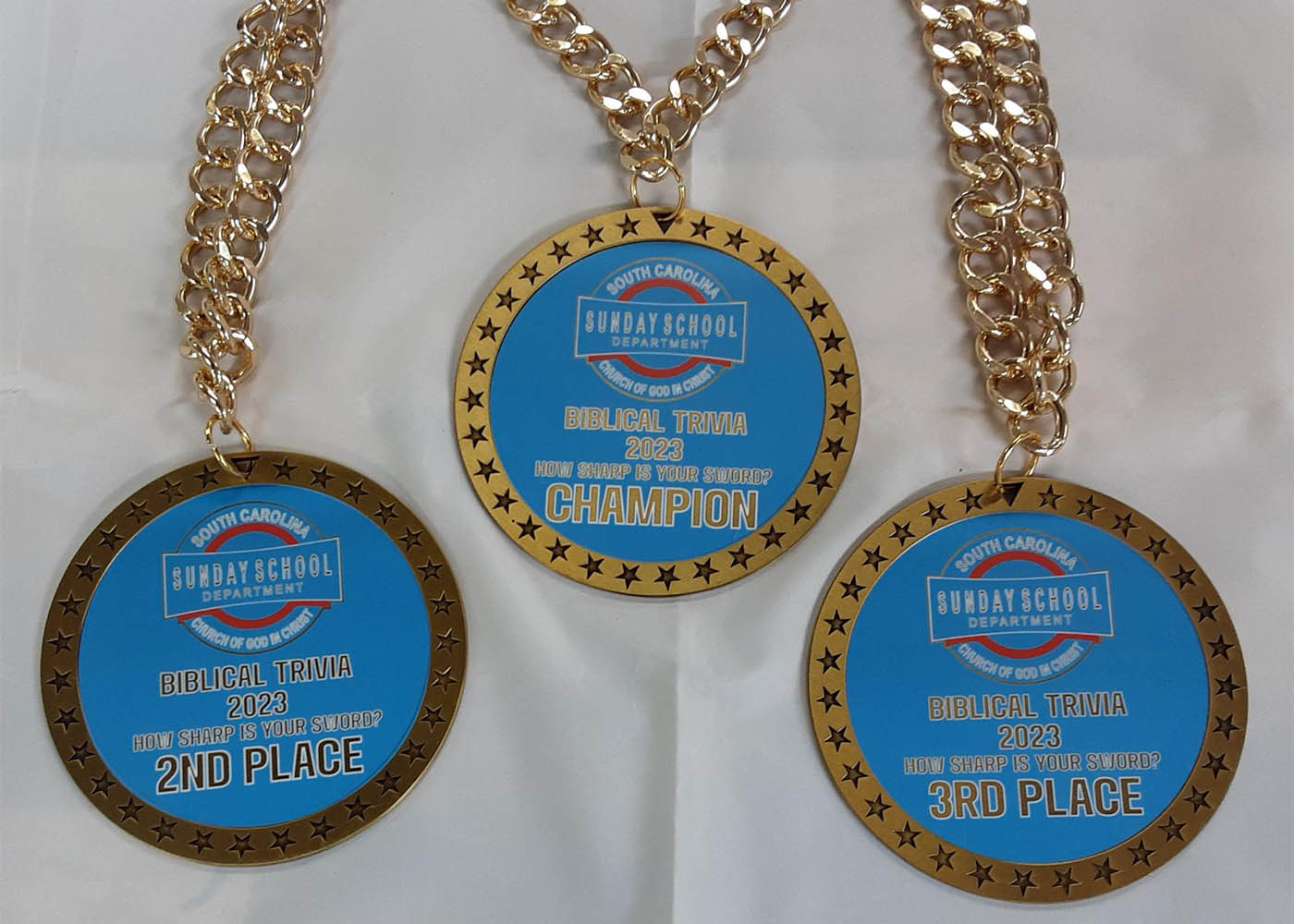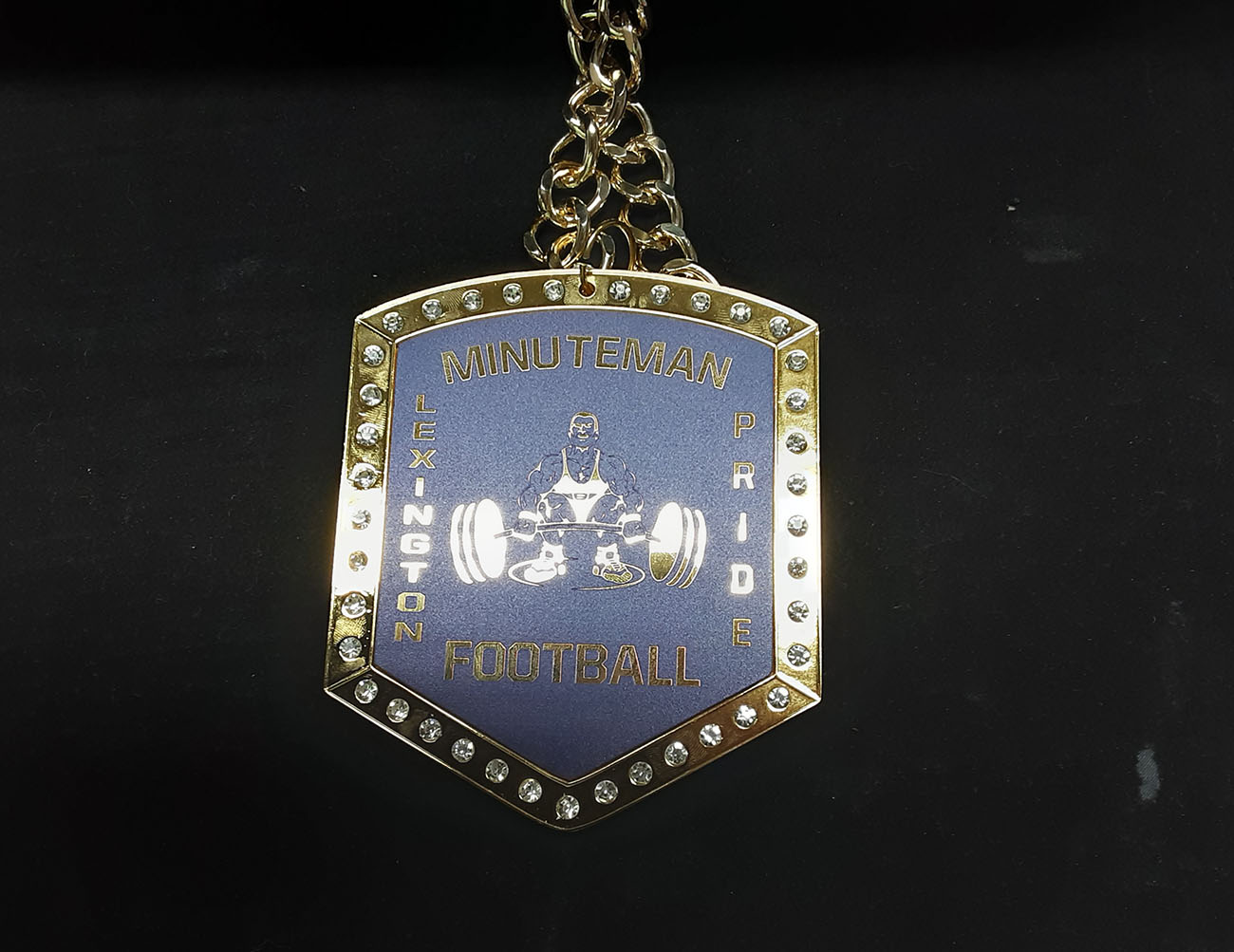 Our football chains are crafted using diverse, high-quality materials, ensuring durability, visual appeal, and a touch of luxury. We offer sterling silver, gold-plated brass, and zinc chains.
Each material has its unique characteristics and benefits. Sterling silver chains exude elegance and timelessness, while gold-plated chains add a touch of luxury and prestige. Brass and zinc chains blend durability and versatility, allowing for intricate detailing and customization. Our materials are carefully selected to ensure longevity and create football chains that stand the test of time.
Regarding styles, we offer a wide array of designs to cater to different tastes. From minimalist chains with subtle football motifs to bold and intricate pieces featuring elaborate football-inspired patterns and engravings, our collection offers something for everyone. We also provide customization options such as gemstone accents or colored details to match team colors or add a touch of personalization. We aim to offer football chains that celebrate achievements and serve as stylish and meaningful accessories for enthusiasts.
Personalize Your Football Chains

At Digital Jewelry, we understand the importance of personalization in football chains. We offer a range of options to make each chain unique and special. From engraving names, team logos, or jersey numbers to incorporating specific design elements that hold personal significance. Our customization options allow you to create a football chain that reflects your style and connection to the game.
Please choose from our premade chain templates and customize them with your desired information. You can also, share your design or ideas with us and our skilled team will work closely with you to create a football chain that surpasses your expectations. With our personalization options, you can proudly wear a football chain that tells your unique story and celebrates your achievements on and off the field.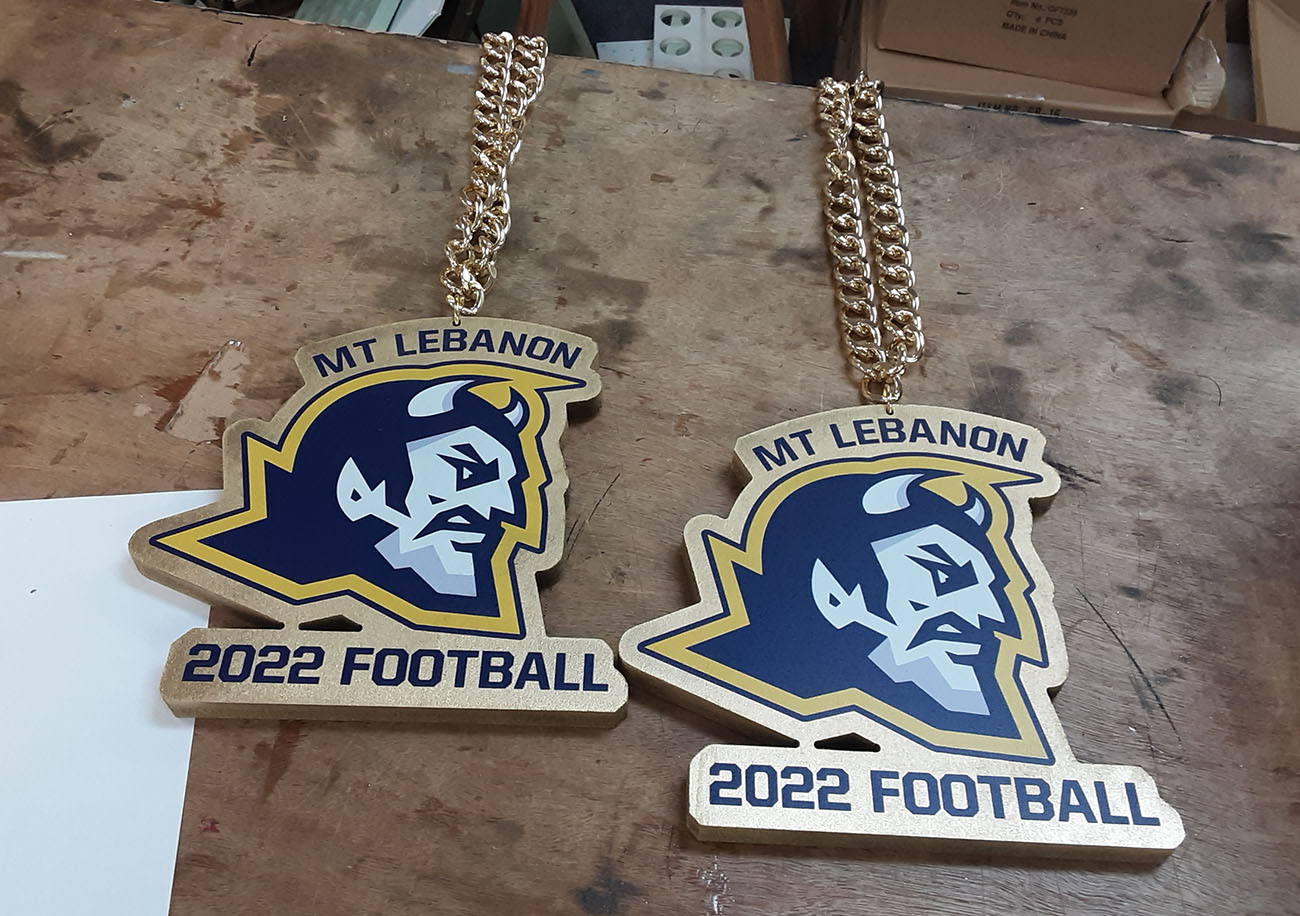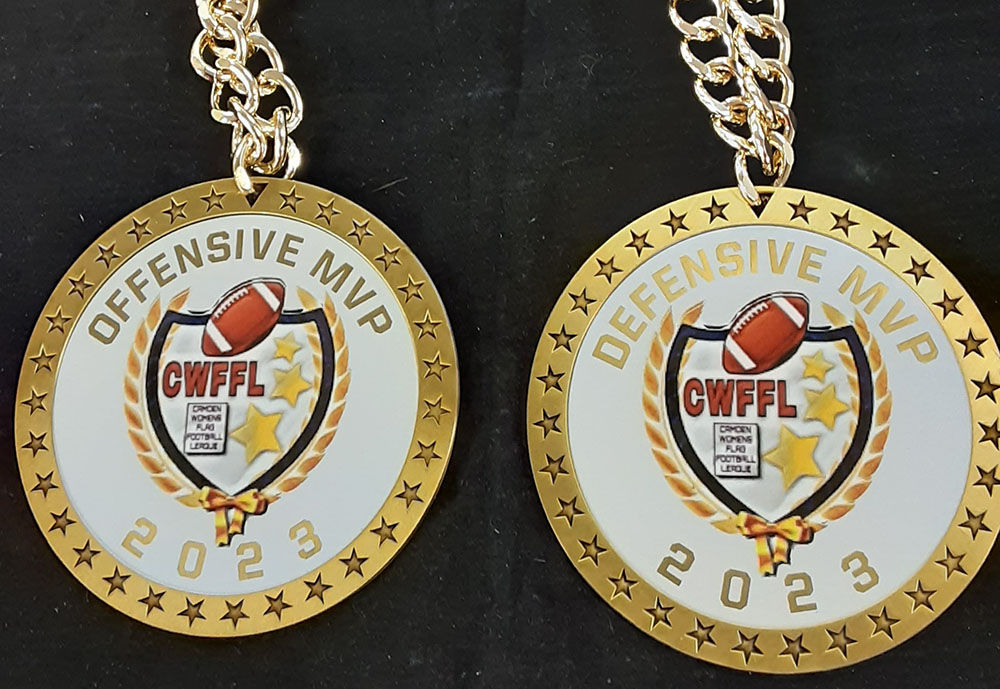 High-Quality Football Chains at Low Cost
At Digital Jewelry, we take pride in offering high-quality football chains at affordable prices. Our commitment to excellence ensures that every chain is meticulously crafted using premium materials and skilled craftsmanship. We can provide cost-effective solutions without compromising quality by eliminating middlemen and working directly with our factory. We aim to make these exquisite football chains accessible to everyone, allowing individuals, teams, and coaches to celebrate their achievements without breaking the bank.
Football Chains for All Sports

While football chains are specifically designed for enthusiasts, they can also be customized for various sports. Whether it's basketball, soccer, baseball, or any other sport, we can create custom chains that capture the essence of the game and honor athletes' accomplishments. Our versatile customization options make it possible to design unique chains that cater to individuals' and teams' specific needs and preferences across different sports.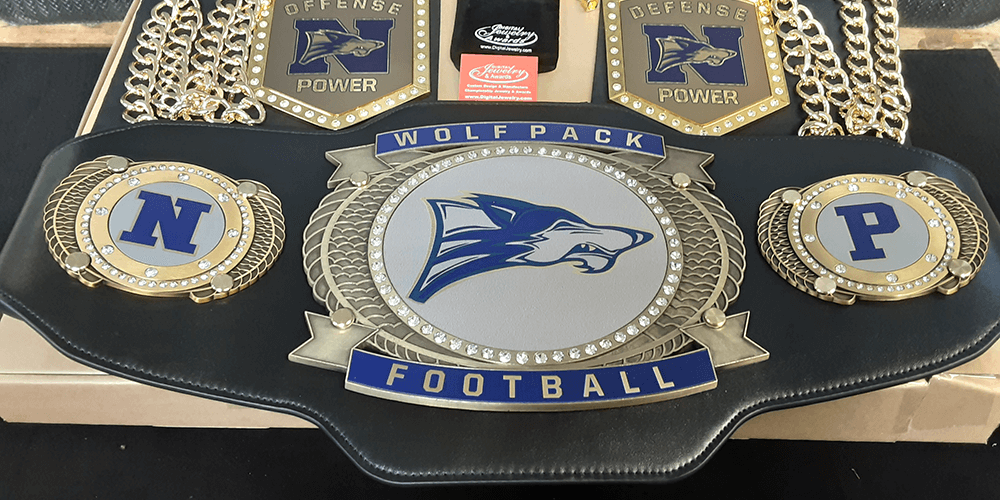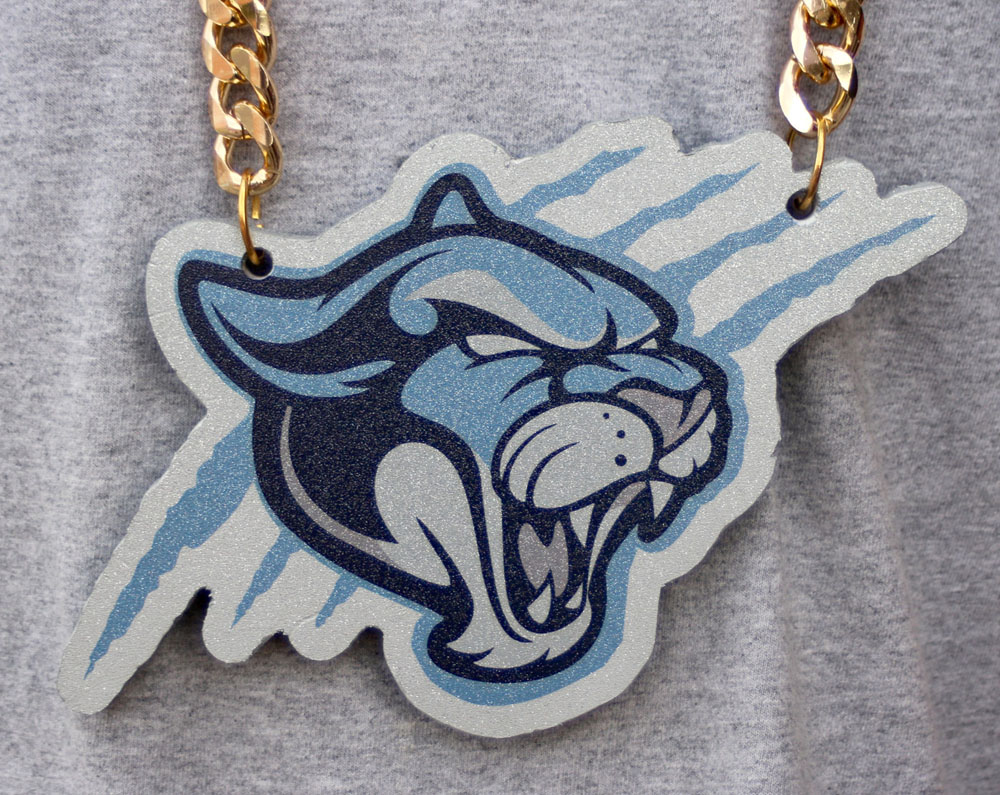 Football Chains for Everyone
Football chains are not limited to a specific gender or age group. They are designed to cater to everyone who shares a passion for the game, regardless of age or gender. We offer a wide range of football chains tailored to suit the style and preferences of men, women, boys, girls, and even coaches. Whether it's a sleek and masculine design for men, an elegant and feminine touch for women, or a playful and vibrant style for kids, there's a football chain that resonates with each individual's unique personality and connection to the sport.
Football Chains for Teams and Individuals

Football chains serve as remarkable symbols of unity and accomplishment for teams. They can be customized with team logos, names, or other details, creating a sense of pride and solidarity among players. For individuals, football chains act as personal reward, reminding them of their achievements and dedication to the sport. Football chains represent success and the unbreakable bonds formed through the game, whether it's a team celebrating a championship victory or an individual commemorating personal milestones.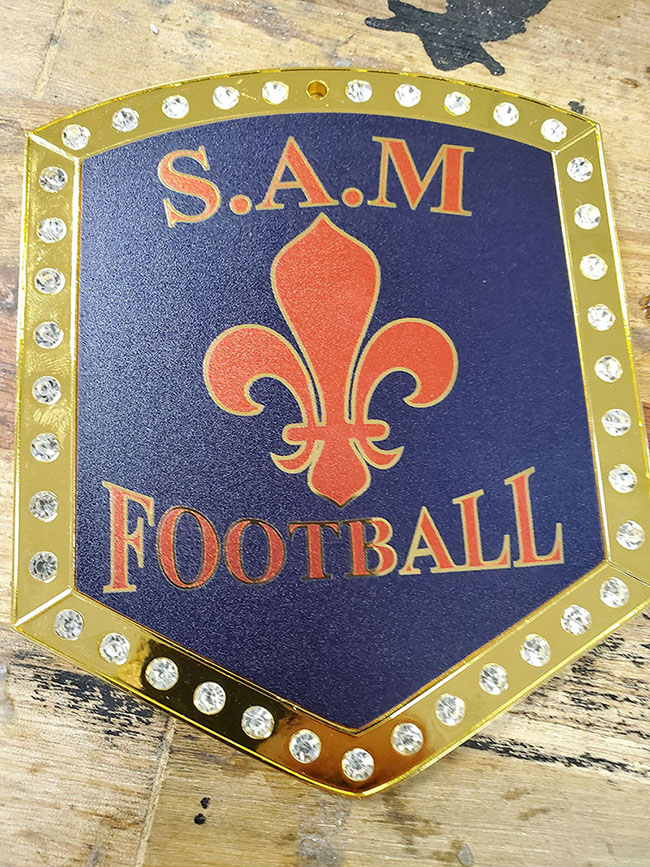 Football Chain Necklaces: Stylish and eye-catching, our football chain necklaces feature football-themed pendants or charms that let you proudly display your love for the sport. Personalize them with names, team logos, or other details for a unique touch.
Football Dog Tag Chains: Trendy and masculine, our football dog tag chains feature football-themed dog tags that can be customized with names, jersey numbers, or team logos for a personalized accessory.
Football Pendant Chains: Classic and timeless, our football pendant chains showcase your devotion to the game with a single football pendant that can be customized with initials, numbers, or other details.
These are just a few examples of the types of football chains we offer. Each chain is carefully crafted with attention to detail and quality, ensuring you receive a stunning piece that celebrates your love for the game. Personalize your chosen chain with engravings, customizations, or color options to make it unique. Our goal is to provide football chains that enhance your style and serve as cherished mementos of your football journey.
Fill out our form to get a free quick quote.
The Manufacturing Process: A Blend of Artistry and Technology
The creation of football chains is a meticulous process that involves a blend of artistry and technology. At Digital Jewelry, we follow a carefully curated manufacturing process to ensure the highest quality and precision in every chain produced. Here is a breakdown of our manufacturing process:
We begin the process with an initial consultation, where we engage in a dialogue with our clients to understand their vision, preferences, and specific requirements for their custom football chains. This step allows us to gather essential information and ideas to guide the design process.
Using the insights from the initial dialogue, our skilled designers delve into the creative realm, developing concepts and sketches for the football chains. We explore various design possibilities, considering chain style, pendant shape, engravings, and customization options. This stage allows clients to visualize the potential design and provide feedback for further refinement.
After the concept ideation, we present detailed virtual mockups and renderings of the custom football chains to the clients. This stage enables them to review and validate the design, ensuring it aligns with their expectations and vision. We welcome feedback and collaborate closely with clients to make necessary adjustments or enhancements until the design is perfect.
Once the design is approved, our expert craftsmen bring the football chains to life. They meticulously craft each chain, paying close attention to every detail and ensuring that the highest standards of craftsmanship are maintained. Using a combination of traditional jewelry-making techniques and modern technology, we create football chains that are not only visually stunning but also durable and long-lasting.
Before the football chains leave our workshop, they undergo rigorous quality assurance checks. Our dedicated team of professionals inspects each chain, meticulously examining its construction, finishing, and overall quality. We have strict quality control measures to ensure that every chain meets our exacting standards and surpasses customer expectations.
Once the football chains pass our quality assurance, we carefully package them to ensure safe transportation. We offer quick and reliable delivery options, ensuring the chains reach our clients promptly, ready to be worn and cherished.
We manufacture high quality chains for USA, Canada, Dubai and all around all the globe.
Fill our form to get a free quick quote for your football championship chain. We also provide free artwork.
Quickly customize your football chain neckalces with our templates. Not satisfied? Share your ideas or design with us for a complete custom football chain.
We proudly design and manufacture these football championship chains here in SC, USA.
When it comes to football chains, there are several reasons why Digital Jewelry stands out as the preferred choice:
Digital Jewelry is committed to delivering perfection in every aspect of our football chains. From design to craftsmanship, we strive for excellence, ensuring that every chain reflects the highest standards of quality and artistry. Our attention to detail, precision, and dedication to customer satisfaction set us apart.
Customization at Its Finest
We offer unparalleled customization options, allowing clients to create football chains that are truly unique and personalized. Whether it's engraving names, team logos, or incorporating specific design elements, we work closely with our clients to bring their visions to life. Our expertise in customization ensures that each chain is a one-of-a-kind masterpiece.
Factory Direct: Save Time and Money
By ordering directly from our factory, clients can save time and money. We eliminate the middlemen, ensuring competitive pricing and efficient production processes. Our streamlined approach enables us to offer cost-effective solutions without compromising on the quality and craftsmanship of our football chains.
We take pride in designing and manufacturing our football chains in the USA. By supporting local businesses and artisans, we contribute to the growth of our communities while upholding the highest standards of craftsmanship and quality. When you choose our football chains, you acquire a stunning piece of Jewelry and support American craftsmanship.
Quick and Reliable Delivery
We understand the excitement and anticipation that comes with receiving football chains. That's why we prioritize quick and reliable delivery to ensure our clients receive their chains on time. We have efficient shipping processes to ensure the chains reach their destination safely and promptly.
History of Football Chains

Football chains have a rich history that dates back to the early days of American football. They have been integral to the sporting culture, symbolizing achievement and recognition. The tradition of football chains can be traced back to collegiate football, where players and teams proudly wear chains to showcase their accomplishments on the field. Over the years, this tradition has evolved, and football chains have become highly sought-after accessories, not only for players but also for fans and enthusiasts who want to celebrate the spirit of the game.
Frequently Asked Questions (FAQs)
Can I customize my football chain with my team's logo?
Absolutely! We offer customization options that allow you to incorporate your team's logo, names, or any other personalized details onto the football chain.
What materials are used to make football chains?
We use various high-quality materials, such as sterling silver, gold plating, brass, and zinc, to craft our football chains. The choice of material depends on your preferences and budget.
Can I personalize the length and style of the football chain?
Yes, we offer customization options for the length and style of the football chain to ensure it perfectly suits your preferences and comfort.
How long does it take to receive my customized football chain?
The production and delivery times may vary depending on the complexity of customization and the current workload. We strive to provide timely delivery and will provide you with an estimated timeframe when you place your order.
Do you offer bulk discounts for football chains?
We offer bulk discounts for team orders or larger quantities. Feel free to contact us directly to discuss your specific requirements and pricing options.
Are your football chains suitable for both men and women?
Absolutely! Our football chains are designed to be suitable for both men and women. We offer a variety of styles and designs to cater to different preferences.
Can I order football chains for my entire team?
We welcome team orders and can provide customized football chains for your entire team. We can incorporate team logos, names, or other details to make them unique to your team.
Are your football chains made with durable materials?
We take pride in using high-quality materials and employing skilled craftsmanship to ensure our football chains are durable and long-lasting. They are designed to withstand everyday wear and maintain their beauty over time.
Can I order football chains for youth or kids?
Absolutely! We offer football chains for all age groups, including youth and kids. We understand the importance of celebrating achievements at every level and have designed specifically for younger players.
Can I preview my customized football chain before placing the order?
We provide detailed virtual mockups and customized football chain renderings for your approval. This allows you to visualize the design and make necessary adjustments before finalizing your order.
Do you ship internationally?
Yes, we offer international shipping to customers based on location outside of the USA. Please note that shipping times and fees may vary depending on the destination.
Can I order a football chain as a gift?
Absolutely! Our football chains make fantastic gifts for football enthusiasts and players. You can personalize them with the recipient's name or other details to make them a meaningful and memorable gift.
Can I return or exchange my football chain?
As each football chain is custom-made to your specifications, we generally only accept returns or exchanges if there is a manufacturing defect. However, if you encounter any issues or have concerns, don't hesitate to contact us, and we will do our best to assist you.
The Talent and professionalism can not be beat! Shop small business and get Big results from this family owned business! Billy is Awesome!
Would recommend to anyone! Digital Jewelry sure my team was very well taken care of. THANK YOU!!