Football Championship Rings for sale in the USA
Rekindle your moments of victory with our custom football championship rings, available across the United States. They are specially designed tokens of remembrance for football champions seeking to encapsulate their winning moments. Whether you're a rising star, a seasoned athlete, or a valued team member, these rings are a timeless testament to your moments of glory.
Our uniquely tailored football rings cater to many champions – from youthful contenders, individual athletes, and whole teams to men, women, boys, girls, high school students, college scholars, and even state and national victors in the USA. As a leading designer and manufacturer of bespoke football rings in the country, we prioritize quality and distinctiveness. All our football rings are American-made, and custom orders start at a wallet-friendly price.
Since 1955, we at Digital Jewelry have devoted ourselves to serving athletes and coaches, both within the United States and across the globe. By purchasing these football rings directly from our factory, you circumvent any intermediaries, saving time and money. We offer bulk discounts and impose no restrictions on minimum orders. Honor your triumph with a ring uniquely yours.
Championship Rings for Men, Women, Boys, Girls, Kids, Coaches, Players, and Teams
Xpress Championship Rings
Individual / Team Championship Rings
Minimum Quantity: No minimum quantity.
Description: Our Express Championship Rings are designed for minor volume league or team orders with quantity discount price points to provide you with the best value for your budget. All championship rings are fully customized to your desired specs.
Contact us today to confirm pricing and delivery times.
League Championship Rings
Usually based on 250 rings or more Typical delivery time is 21-45 days on new designs.
Minimum Quantity: 300 or more. (Lower quantities considered)
Description: These League Championship Rings are designed for higher volume league orders with quantity discount price points to provide you with the best value for your budget. All championship rings are fully customized to your desired specs.
Contact us today to confirm pricing and delivery times.
Individual/Team Championship Rings: Typically 7-21 days delivery time
Minimum Quantity: 1 ring or more
Description: Our Extreme Series Championship Rings line is designed for discerning, elite athletes. If you can imagine it, we create it! Individual MVP or National Champions. We can do it all for you at an affordable custom manufacturer price. Fully customized to your desired specs.
Contact us today to confirm pricing and delivery times.
Unraveling the Tradition of Football Championship Rings

Football Championship Rings extend beyond being mere ornaments. They are potent symbols of acknowledgment and triumph, awarded to the champions of various football leagues and tournaments. Embellished often with team logos, player names, and championship years, these rings serve as tangible keepsakes of victory, a daily reminder of the commitment, relentless effort, and robust team spirit that carried them to the zenith of success.
From fledgling players in youth leagues to professional football luminaries in significant tournaments, championship rings are a lasting tribute to the grit, dedication, and relentless pursuit of victory. They encapsulate the essence of success, allowing you to relive triumphant moments with each glance.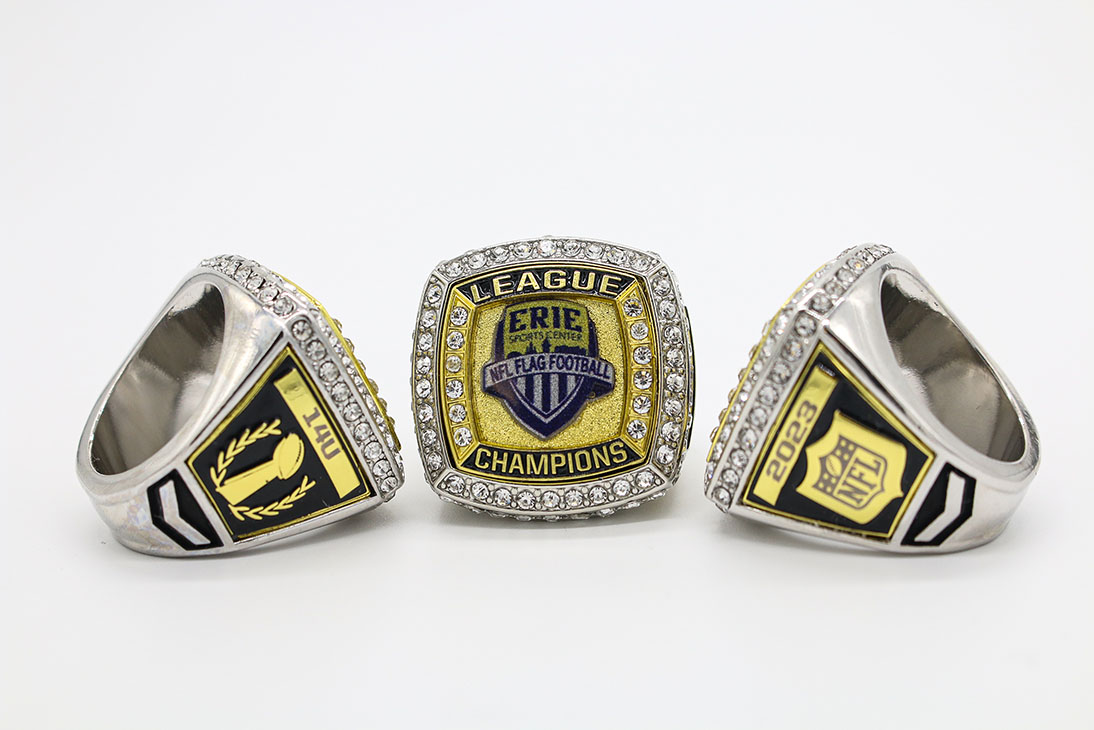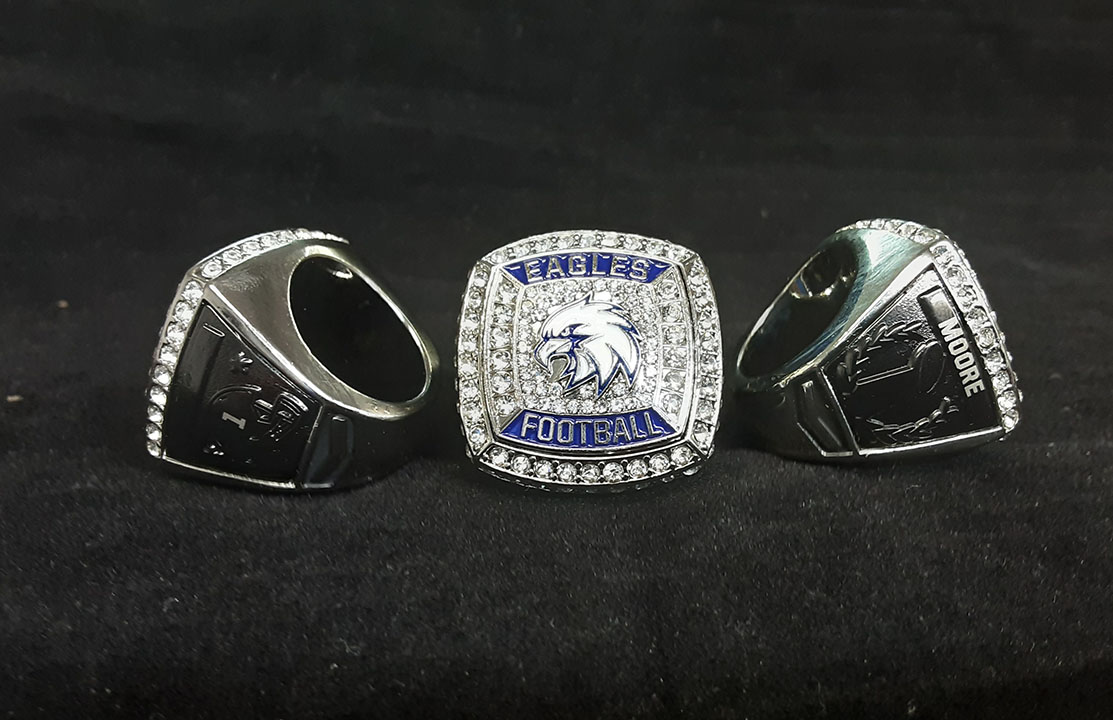 Design Your Football Ring Online

Our revolutionary online customization platform empowers you to design your football championship ring right from the comfort of your home. Personalize your ring by incorporating your name, your team's logo, or any design symbolic of your journey to the top. Each design is unique and personal—a testament to your victory, as distinct as your performance on the field.
This online platform allows you to integrate your unique vision into your physical symbol of success. Select from many professional templates, then let your creativity guide your choices of materials, colors, engravings, and symbols for your ring. Each element can be personalized to reflect your or your team's journey, fostering a deeper connection to your victory. Are you seeking a completely bespoke design? Share your unique concepts or design sketches, and watch as we bring them to life.
High-Quality Custom Football Rings at Wholesale Prices

At Digital Jewelry, we understand the importance of celebrating your victorious football championship in style while preserving those cherished memories. Hence, we offer high-quality custom football rings. These rings are more than just adornments. They are intricately crafted from premium materials and designed to reflect your unique victory journey, standing as a testament to your achievement.
However, we firmly believe that quality shouldn't equate to prohibitive prices. We strive to make these high-quality custom football rings accessible by offering them at wholesale prices. We strike a delicate balance between quality and affordability, setting us apart in the marketplace.
Our commitment to excellence extends from the raw materials used to the intricate detailing in the design; every facet of our rings exudes quality. Our skilled artisans utilize their years of experience to ensure each ring is flawlessly crafted, bearing the hallmark of excellence our brand is renowned for. Simultaneously, our business model lets us keep our prices competitive, offering you the best value for your money.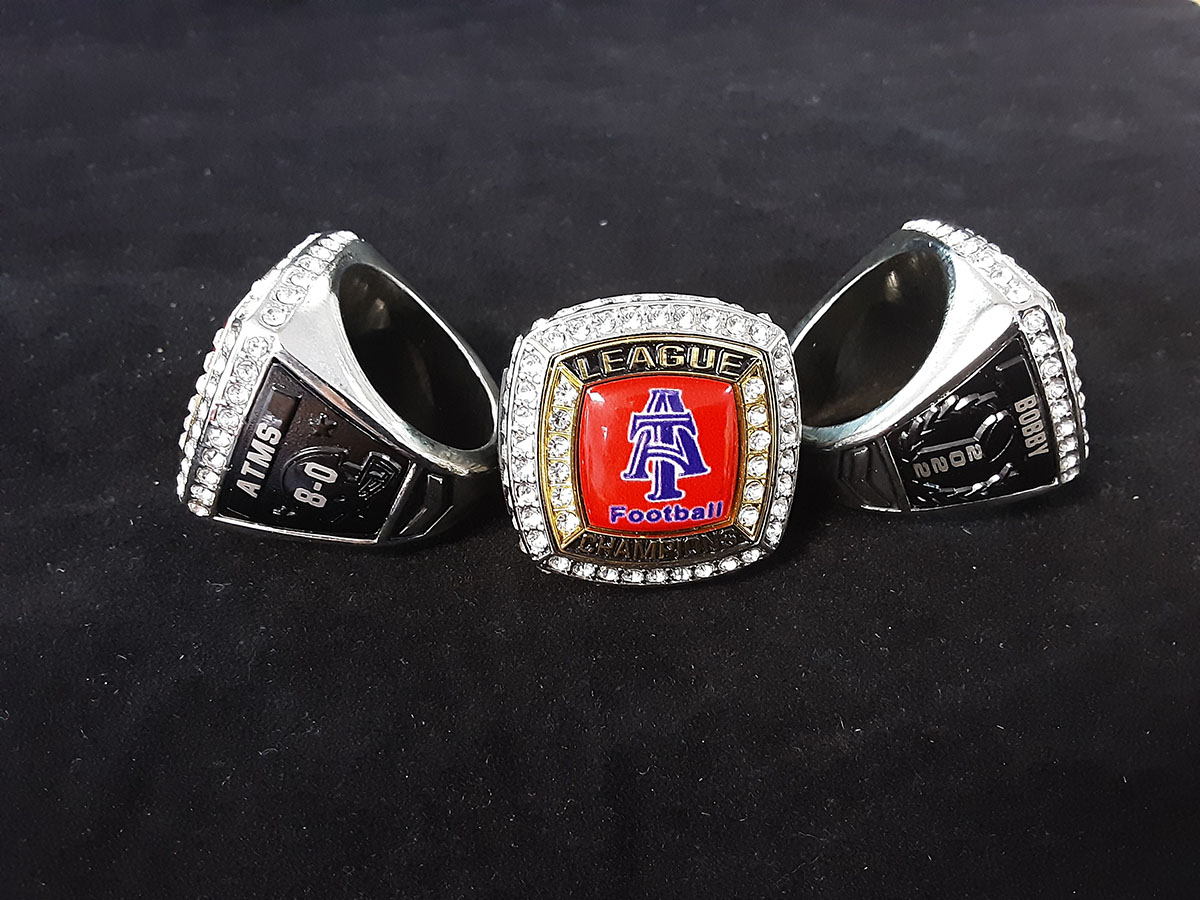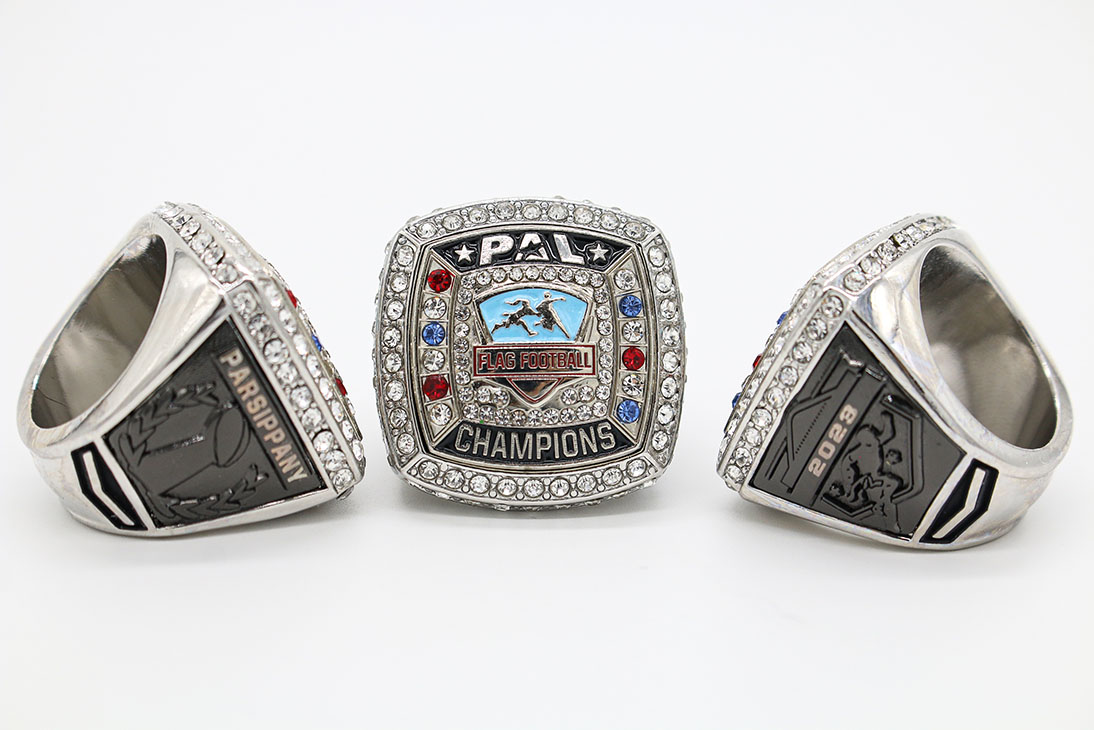 Custom Football Championship Rings: Alabama, Florida Gators, and College

Every team's victory journey is unique, whether it's the historic Alabama Crimson Tide, the energetic Florida Gators, or a spirited small college team. These journeys provide the essence of each championship ring we craft. Regardless of size or fame, every team deserves a ring encapsulating its unique story and hard-earned victories.
Imagine an Alabama ring with crimson stones and an elephant logo, a Florida Gators ring with a vivid gator displayed, and the championship year etched. For smaller college teams, we're committed to designing rings that celebrate your victories just as grandly.
We aim to create a championship ring representing your team's identity and victory, allowing each team member and fan to carry a piece of their team's glory.
Materials and Styles of Football Championship Rings
We offer various football championship rings in numerous materials and styles to accommodate diverse tastes. Every champion has a unique story and style and should thus have a special ring. To cater to these diverse needs, we offer rings in various high-quality materials, including sterling silver, 10k, 14k, or 18k gold, brass, and platinum.
Whether you prefer the timeless elegance of gold, the bold sophistication of silver, the antique allure of brass, or the modern charm of platinum, we have something for every champion. But our customization does not stop at materials. Our rings are available in a wide range of styles, from classic designs that echo the traditional style of championship rings to contemporary styles offering a fresh take on these timeless tokens of victory.
We cater to various tastes, from minimalistic to ornate designs. Whether you prefer rings adorned with dazzling gemstones or those with intricate engravings, each ring reserves Your Moments of Glory.
Preserving your moments of glory is crucial. These moments are fleeting, but your championship ring can help you relive them anytime. Let us help you create a perfect memory of your triumphant moments that you can carry with you always.
The choice is clear for those in the market for football championship rings in the United States. Digital Jewelry, a leading designer and manufacturer of custom football rings since 1955, provides a tangible symbol of victory and accomplishment that serves as a daily reminder of triumphant times.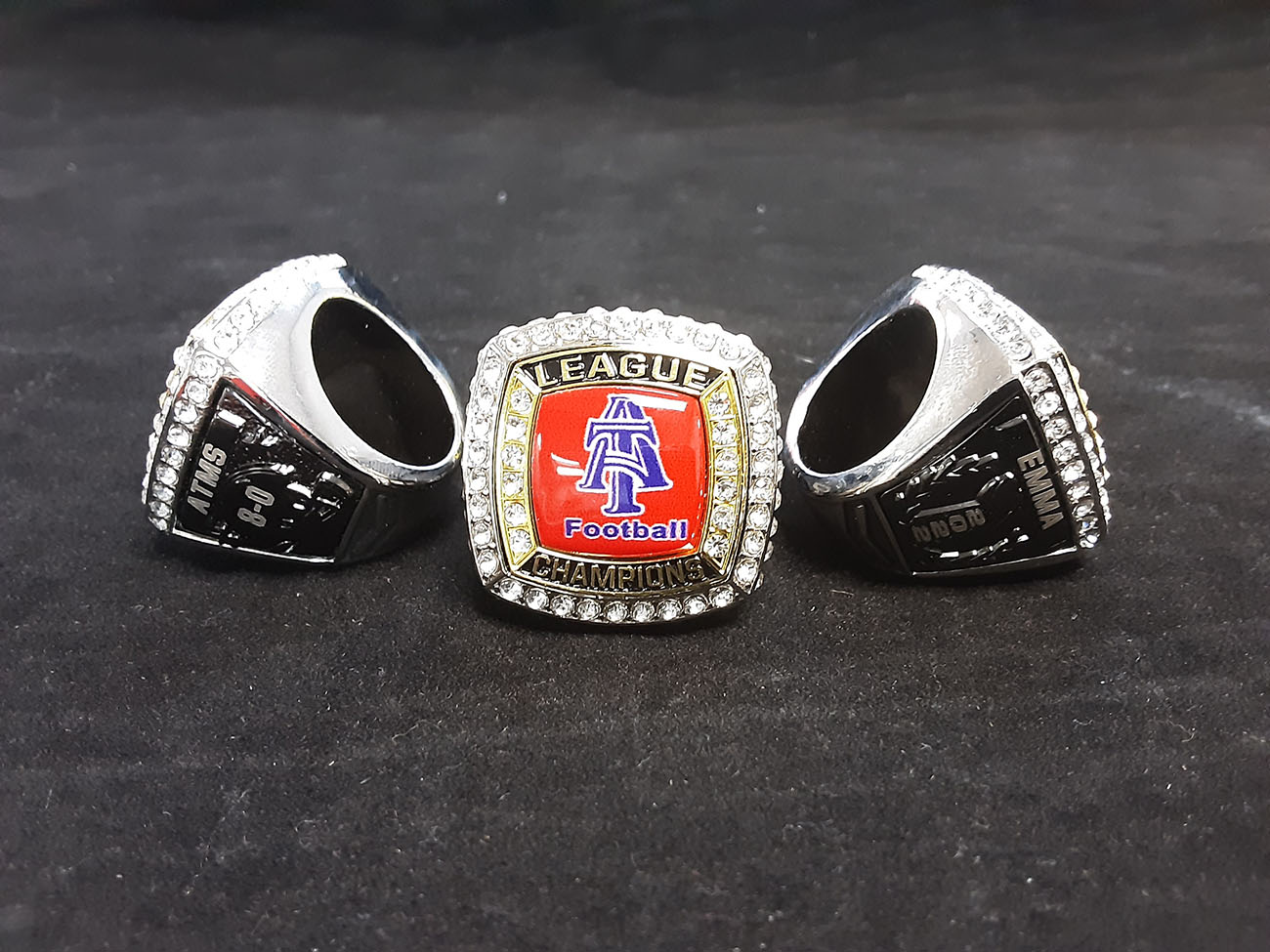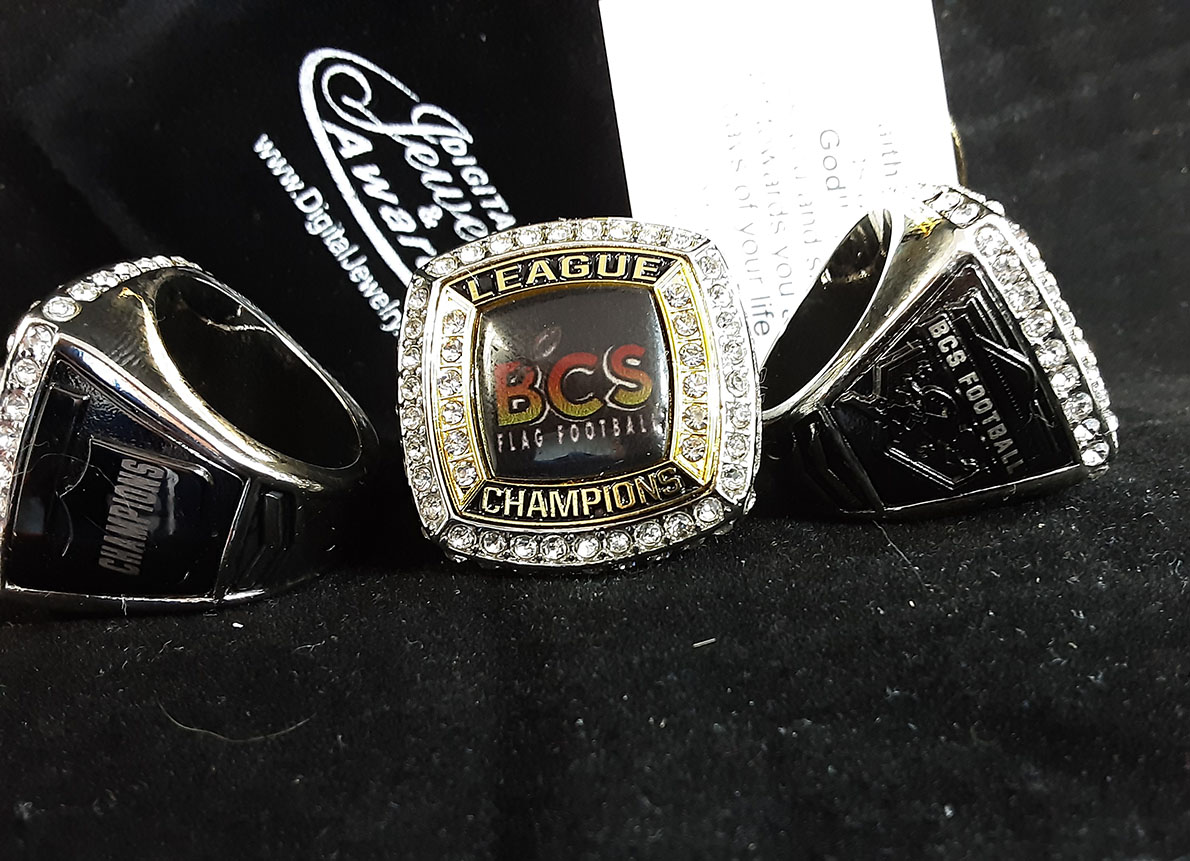 Football Championship Rings: A Tribute to Every Athlete

In a game like a football that effortlessly transcends borders and rallies individuals across diverse demographics, the exhilaration of victory becomes a shared sentiment. The thrills of a win, the bonding within a team, and the sheer delight that the sport brings deserve acknowledgment and celebration, irrespective of the magnitude of the victory. That's why we extend our bespoke football championship rings to everyone – from novices to seasoned professionals.
Whether you're an established athlete gracing national leagues, an emerging talent in a youth championship, a dedicated coach, or a zealous participant in a local league, your big or small victories hold importance. We acknowledge and celebrate this with rings designed for everyone – men, women, youth, boys, girls, children, coaches, and players. Crafted with meticulous attention to detail and uncompromising quality, each ring underlines the significance of every triumph, no matter how big or small.
Moreover, our offerings extend beyond the field. We provide specialized football-themed wedding and engagement rings for those who want to intertwine their love for football with their most cherished life moments. These unique pieces offer a distinctive way to express your passion for the sport, ensuring the game you love is forever etched in your precious moments.
Personalize Your Rings, Personalize Your Victory

Victory is a profoundly personal experience shaped by dedication, determination, and moments of hard-won success. A football championship ring should echo this uniqueness. Our platform offers many personalization options that allow you to sculpt your ring just as you envision it.
From imprinting your name, the year of your victory, and your team's emblem, to inscribing a cherished quote or a special message that encapsulates your journey, the possibilities for customization are boundless. Our seasoned designers and artisans devote their skills to manifest your vision into a tangible reality, guaranteeing that every facet of your ring resonates with your triumphant journey and the victory that crowned it.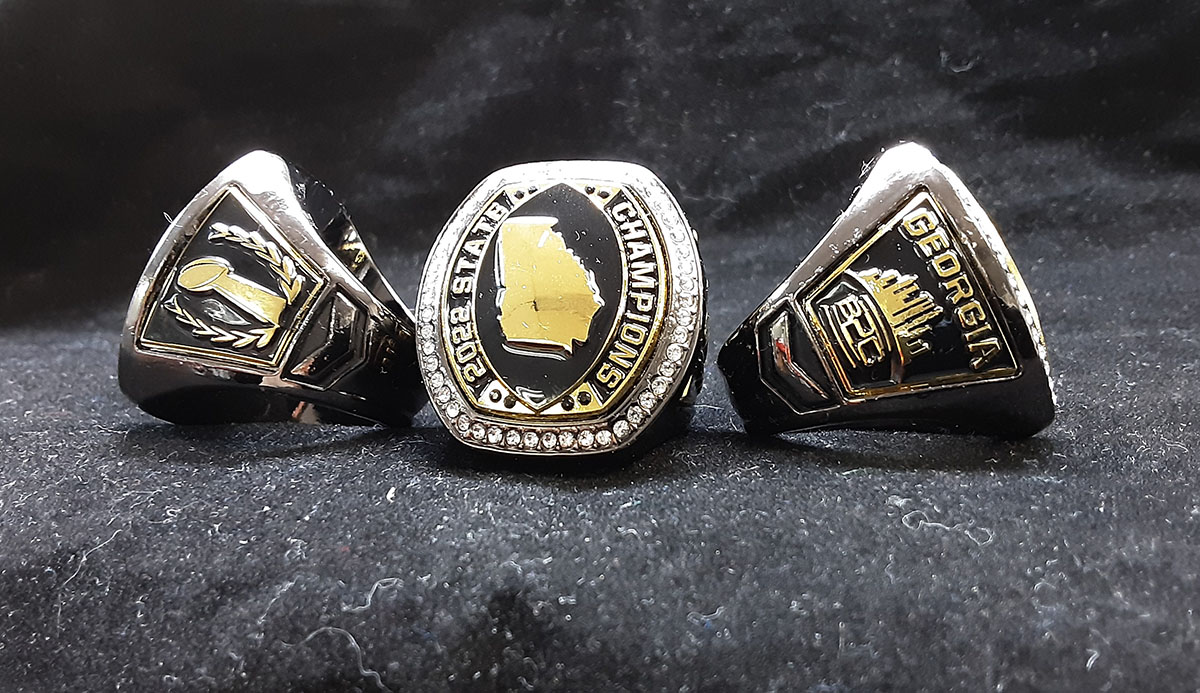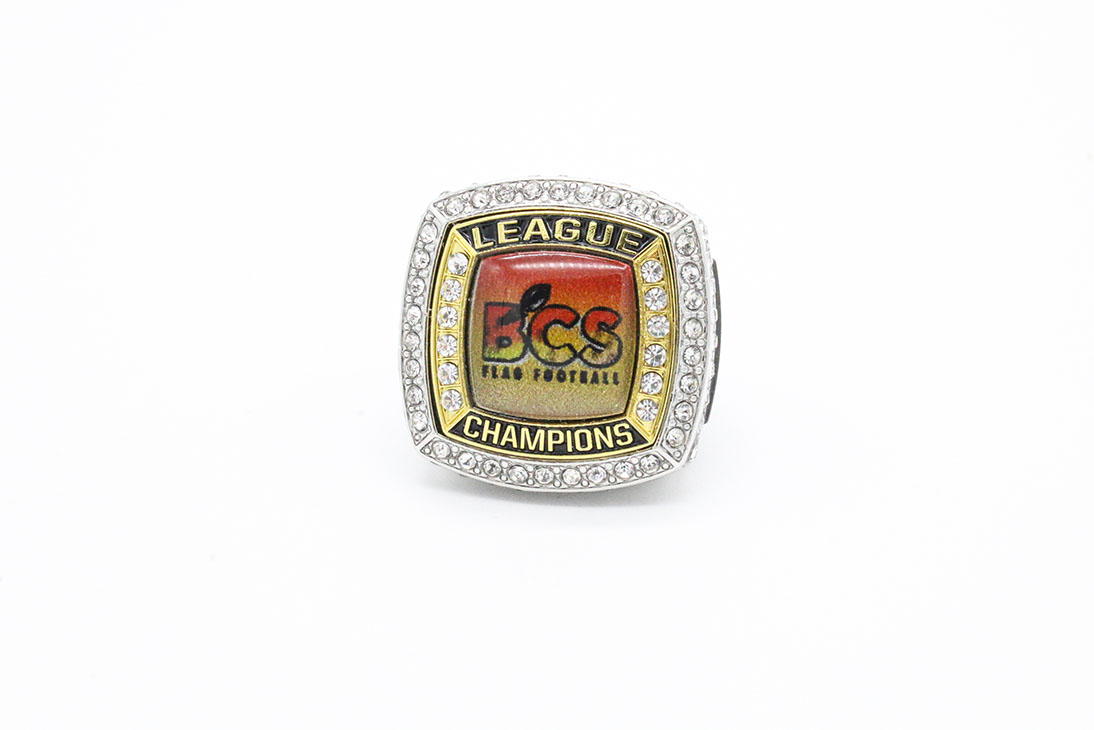 Football Championship Rings: Celebrating Team Spirit and Individual Excellence

Victories often stem from a synergistic combination of collective effort, harmonious teamwork, and strategic coordination in football. However, individual prowess and contribution carry equal weight and deserve recognition. Acknowledging this dual spirit of the sport, we offer football championship rings for both teams and single players.
For the star players who have exhibited exceptional skill and made significant contributions to their team's success, our rings serve as a memento of their achievements. Likewise, for teams who've triumphed through collective struggle, we provide rings that salute their spirit of camaraderie. Catering to orders ranging from single units to bulk requests for the entire team, we ensure every ring precisely represents the victory it stands for.
Fill out our form to get a free quick quote.
Merging Artistry with Technology: The Craftsmanship of Our Rings

We take pride in our manufacturing process, a harmonious blend of traditional craftsmanship and modern technology. We ensure our rings meet the highest aesthetic and quality standards by leveraging cutting-edge technology for precision cutting and detailed engraving. Simultaneously, our experienced artisans infuse a dash of traditional artistry into every ring, thus delivering a unique piece that withstands time and cherishes your victory.
Our commitment to quality doesn't end with the forging of the ring itself; it extends to the selection of materials that will physically represent your triumph. We source only the highest-grade metals and gemstones, ensuring your ring isn't just eye-catching but is built to last, requiring minimal maintenance and maximum admiration. Whether it's gold, silver, or platinum, you can trust that the materials encapsulate prestige and durability befitting your championship status.
In addition, our design process is highly collaborative, allowing for personalized elements that make your ring as unique as your journey to victory. We offer many customization options, from choosing metals and stones to engraving individual names, numbers, or even a memorable date. This ensures that every ring we create is not just a generic trophy but a personalized testament to your specific achievements and contributions. In essence, our manufacturing process is tailored to respect and honor the individual while celebrating the collective glory, resulting in a piece you will cherish as a personal memento and a symbol of team unity.
Our Design Process: Crafting the Perfect Rings

Our journey to crafting the perfect ring begins with an open dialogue, a space where we interact with you to understand your vision for the ring. This understanding shapes the initial designs based on your specific ideas or inspirations.
After the initial dialogue, our expert designers move to the concept ideation phase. Here, they use your input to craft a unique design, a visual narrative that encapsulates the spirit of your victory.
Once the concept is ready, we engage in design validation with you. We ensure that each detail aligns with your vision, and remain open to alterations and adjustments, committed to creating a design that satisfies your expectations fully.
Post design approval, our skilled artisans embark on carving your ring with impeccable attention to detail. The design transitions from mere concepts to a physical embodiment of your triumph.
Before we dispatch the ring to you, it passes through a stringent quality check. Our quality assurance team carefully inspects every ring to ensure it meets our exacting standards of craftsmanship and design.
Finally, we guarantee the timely delivery of your ring, bringing the tangible symbol of your victory right to your doorstep.
Your Personalized Football Championship Rings
We offer customizable football championship rings that cater to everyone. Please browse through our templates and let your creativity take charge.
A Unique Token for Fantasy Sports Teams
Celebrates your fantasy sports victory with our football championship rings. Personalize them with your team or player's name and logo.
Affordable Championship Rings for All
We believe in creating budget-friendly football rings without compromising quality. Our rings start at a pocket-friendly price.
Proudly Crafted in the USA
Based out of Columbia, SC, we take pride in designing and manufacturing these exquisite rings in the USA. We believe in supporting local artisans and delivering the highest quality products.
Why Choose Us? The Assurance of Perfection

Our commitment to delivering perfection is unwavering. From the design stage to the final delivery, we strive to excel in every process step. We offer an unparalleled level of customization, allowing you to exercise complete control over the design and materials of your ring.
We promise to offer you the best value for your money, combining high-quality rings at competitive prices. Our dedicated customer service team is always at your disposal, ready to answer any queries and address your concerns, making the entire process smooth and hassle-free. The trust and satisfaction of numerous champions across various leagues vouch for our commitment to quality, attention to detail, and passion for commemorating victories in the most memorable way.
Capture your championship moment in a keepsake that's as exceptional as your performance, only with Digital Jewelry.
Unwavering Commitment to Quality
When you choose Digital Jewelry, you're choosing a brand that lives and breathes excellence. We're fully invested in delivering top-notch football championship rings from the drawing board to the final polish. Our meticulous attention to detail and steadfast focus on customer satisfaction make us the go-to name in custom championship rings.
The Sky is the Limit for Customization
Every team and player is unique, and we understand that your championship ring should be too. That's why we offer a broad range of customization features, allowing you to design every ring element. From showcasing your team's logo to selecting unique gemstones and even adding personalized engravings, we pull out all the stops to make your vision come alive.
Straight-from-the-Factory Savings
Why pay more when you can get top-quality rings directly from us? Based in the United States, we cut out the middleman, delivering cost savings straight to you. Our efficient, streamlined production process ensures you get competitively priced football championship rings without skimping on quality. With Digital Jewelry, you get more bang for your buck.
Choosing Digital Jewelry is a nod to American craftsmanship at its finest. We are proud to design, manufacture, and source all our football championship rings in the USA, using top-quality, locally sourced materials. Your purchase secures you a high-calibre ring and supports the American workforce and economy.
Fast and Reliable Shipping
Timing is crucial when celebrating victory, and we get that. That's why we offer various speedy and trustworthy shipping options to get your football championship rings to you when needed. Whether you're working against the clock or need rush shipping, we've got you covered, ensuring your rings arrive on time and in pristine condition.
History of American Football and Football Rings
American football, with its roots dating back to the 19th century, has significantly evolved. This evolution extends to the tradition of awarding football rings, initially, gold or silver bands, given to championship team members. Over time, these rings have become elaborate insignia featuring team logos, player names, and even championship game scores.
This tradition, predominant in professional leagues like the NFL, has gradually trickled down to colleges, high schools, and youth leagues. Today, a football championship ring symbolizes victory, hard work, and the team spirit necessary to clinch championships. Irrespective of the league or the player's experience, these rings hold a special place in the hearts of football players, narrating their unique stories of victory.
First American Football Match
The first American football match was a historic event that paved the way for a sport loved by millions today. The game's evolution is reflected in the design and style of football rings, which have come a long way since their inception.
Preserve Your Memories with Customized Football Championship Rings
Our customized football championship rings are far more than just glittering jewelry pieces. They serve as lasting keepsakes that encapsulate the essence of your hard-fought triumphs. Every time your eyes catch the sparkle of your championship ring, you'll be teleported back to the turning point in the game, the ecstasy of the win, and the triumphant sounds of your supporters. These rings provide an everlasting frame for the moments defining your unique football path.
The value of wearing these rings extends far beyond personal accolades; they act as your silent but eloquent storytellers. Imagine going into life's next challenge—a job interview, a business meeting, or a personal endeavor—with that symbol of success on your finger. This ring isn't just an accessory; it's a wellspring of courage, a tactile reminder of what you can achieve when your back is against the wall. It's a physical affirmation of your dedication, resilience, and the collective victory you and your team achieved on the field.
Further, these rings are more than a memento of a single season; they become a cornerstone of your enduring legacy. As heirlooms that could very well be passed down through generations, these rings bear the weight not just of metal and gemstones but of stories, struggles, and triumphs. They are more than material possessions; they are your history encapsulated in a form that transcends time. When you choose one of our customized football championship rings, you're doing much more than celebrating a specific achievement—you're immortalizing a series of moments and victories that will continue to inspire you, and possibly future generations, in all walks of life.
Frequently Asked Questions (Common Queries Uncovered)
Football championship rings can be overwhelming, but we're here to help. Our FAQ section addresses your most pressing questions, from design options and customization to maintenance and legacy preservation. Get all the information you need to make an informed decision about these treasured keepsakes.
What Exactly is a Football Championship Ring?
A football championship ring is more than just a piece of jewelry. It is a commemorative emblem presented to football players and their guiding coaches upon clinching a championship. These distinctive rings often feature elements such as the team's logo, individual players' names, the year of victory, and other unique symbols or engravings that tell the tale of the triumphant journey to glory.
How Can I Personalize My Football Championship Ring?
Customizing a football championship ring is an exciting and creative process. You can select the material from gold, silver, brass, and platinum. You can also inscribe names, the year of victory, or an inspirational quote. Further, symbols or logos, including your team's emblem or a symbolic representation of your victorious journey, can be incorporated.
Do You Cater to Individuals and Teams Alike?
Indeed, we do. We offer rings tailored to individual football heroes who have shined throughout the season and teams that have secured victory through joint efforts. No matter your story, we can design a ring that immortalizes your achievements.
What Materials Are Utilized in Crafting the Rings?
We craft our rings using various top-notch materials, including but not limited to silver, gold, brass, and platinum. Each material imparts unique characteristics to your ring, ensuring it's a badge of victory and a cherished accessory.
What is the Estimated Timeline for Crafting a Custom Football Championship Ring?
The timeline varies, contingent upon the design's complexity and the order's size. Nevertheless, we strive to complete the designing and manufacturing process within a few weeks.
What is the Pricing for a Custom Football Championship Ring?
The pricing of a custom football championship ring depends on the materials used, the intricacy of the design, and various other factors. However, thanks to our factory-direct model, we bypass mediators and ensure competitively priced, superior-quality rings.
Is it Possible to Order Rings for the Entire Team?
Absolutely! We are equipped to manage orders of all sizes, from a single unit to bulk orders for an entire team. Rest assured; each ring is meticulously designed to mirror your team's ethos and the collective victory you've earned.
Can You Replicate a Ring from a Previous Championship?
Yes, we can meticulously recreate rings from past championships. We would require comprehensive information about the original ring, including photographs and details about inscriptions or distinctive design elements.
How Should I Maintain My Football Championship Ring?
To ensure your ring's luster lasts, clean it regularly using a soft cloth and mild soap. Please keep it away from harsh chemicals and abrasive surfaces to prevent damage. Professional cleaning at regular intervals can also help maintain its pristine condition.
Do You Have a Return or Exchange Policy if the Ring Isn't a Perfect Fit or If I'm Dissatisfied?
We have a fair return and exchange policy. If you're not completely satisfied with your ring or don't fit perfectly, you can return it to us within a specified period for an exchange or refund. Please refer to our return and exchange policy for detailed information.
The Talent and professionalism can not be beat! Shop small business and get Big results from this family owned business! Billy is Awesome!
Would recommend to anyone! Digital Jewelry sure my team was very well taken care of. THANK YOU!!