High School Championship Rings for Sale in the USA

Remember that adrenaline-filled game when your high school team emerged victorious? Commemorate that victory with our high school championship rings! We offer customized rings designed and manufactured right here in the USA. With our history dating back to 1955, our Italian craftsmanship roots provide an edge in creating stunning championship jewelry. These rings are more than just an accessory; they're a token of achievement, embodying the hard-fought triumphs and unforgettable memories of your high school years.
High school championship rings are an integral part of sports culture, celebrated by both boys and girls. They represent victories, challenges, teamwork, and perseverance that players pour into their sport. For those who have earned a championship ring, it becomes a cherished keepsake, a tangible memento of the glory days in high school sports.
We understand that these rings mean a lot more than a piece of jewelry; they hold high school nostalgia, experiences, and memories. Your high school championship ring, tailored to your preferences, should symbolize all the positives you've experienced throughout your high school sports journey. This memorable item helps relieve those magnificent days and bask in the joyous aura of high school championship glory.
Championship Rings for Men, Women, Boys, Girls, Kids, Coaches, Players, and Teams
Xpress Championship Rings
Individual / Team Championship Rings
Minimum Quantity: No minimum quantity.
Description: Our Express Championship Rings are designed for minor volume league or team orders with quantity discount price points to provide you with the best value for your budget. All championship rings are fully customized to your desired specs.
Contact us today to confirm pricing and delivery times.
League Championship Rings
Usually based on 250 rings or more Typical delivery time is 21-45 days on new designs.
Minimum Quantity: 300 or more. (Lower quantities considered)
Description: These League Championship Rings are designed for higher volume league orders with quantity discount price points to provide you with the best value for your budget. All championship rings are fully customized to your desired specs.
Contact us today to confirm pricing and delivery times.
Individual/Team Championship Rings: Typically 7-21 days delivery time
Minimum Quantity: 1 ring or more
Description: Our Extreme Series Championship Rings line is designed for discerning, elite athletes. If you can imagine it, we create it! Individual MVP or National Champions. We can do it all for you at an affordable custom manufacturer price. Fully customized to your desired specs.
Contact us today to confirm pricing and delivery times.
Custom High School Championship Rings at Low Cost

We offer a wide variety of designs for custom high school championship rings. Whether you're a champion, a fan, a parent, or a coach looking to encourage young players, you're in the right place! Our customization process is straightforward, with options to choose from pre-existing templates or share your unique design concepts with us.
We've simplified the customization process, allowing you to design your ring within minutes. We only need your team logo, player names, and any other text you want to include. If you have a unique vision, we are open to customization. Share your creative ideas, and our team will meticulously craft them into reality.
Our production facility, based in South Carolina, USA, ensures direct purchase from the factory, helping you save up to 50%. We are committed to meeting any deadline; order today and have your rings as soon as tomorrow. Celebrate your victories with our high-quality custom championship rings designed to instill confidence in our young athletes. Our dedication to excellent craftsmanship dates back to the late 1940s, making us a trusted choice for quality championship jewelry in America.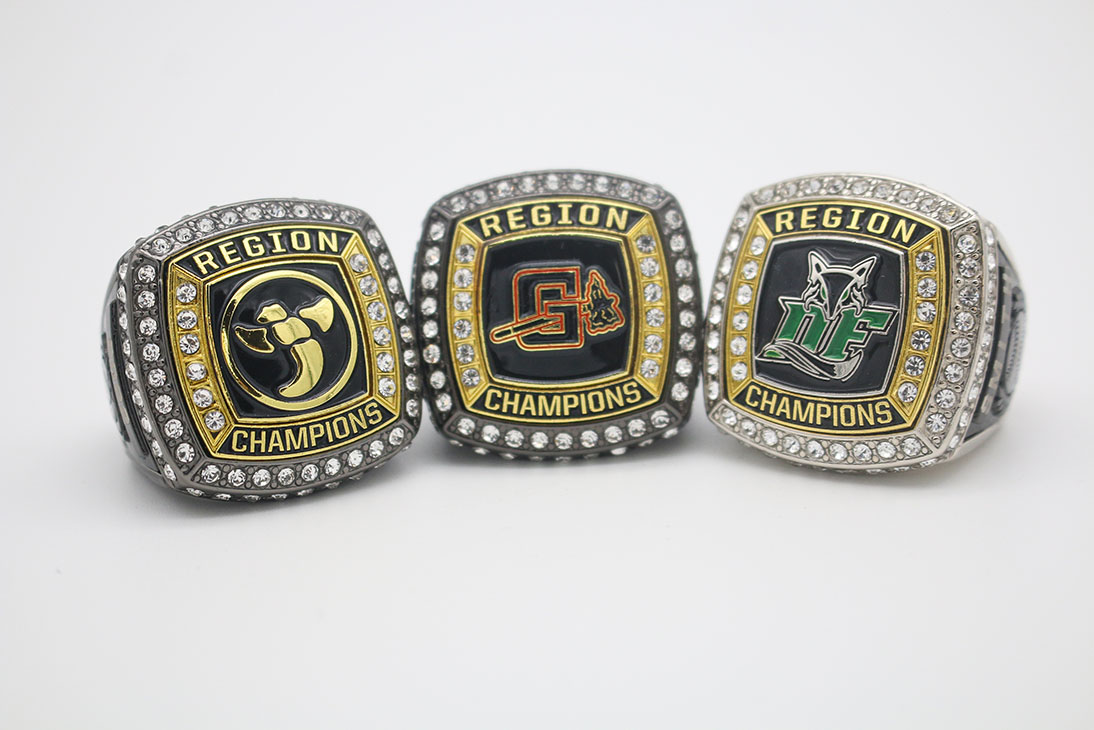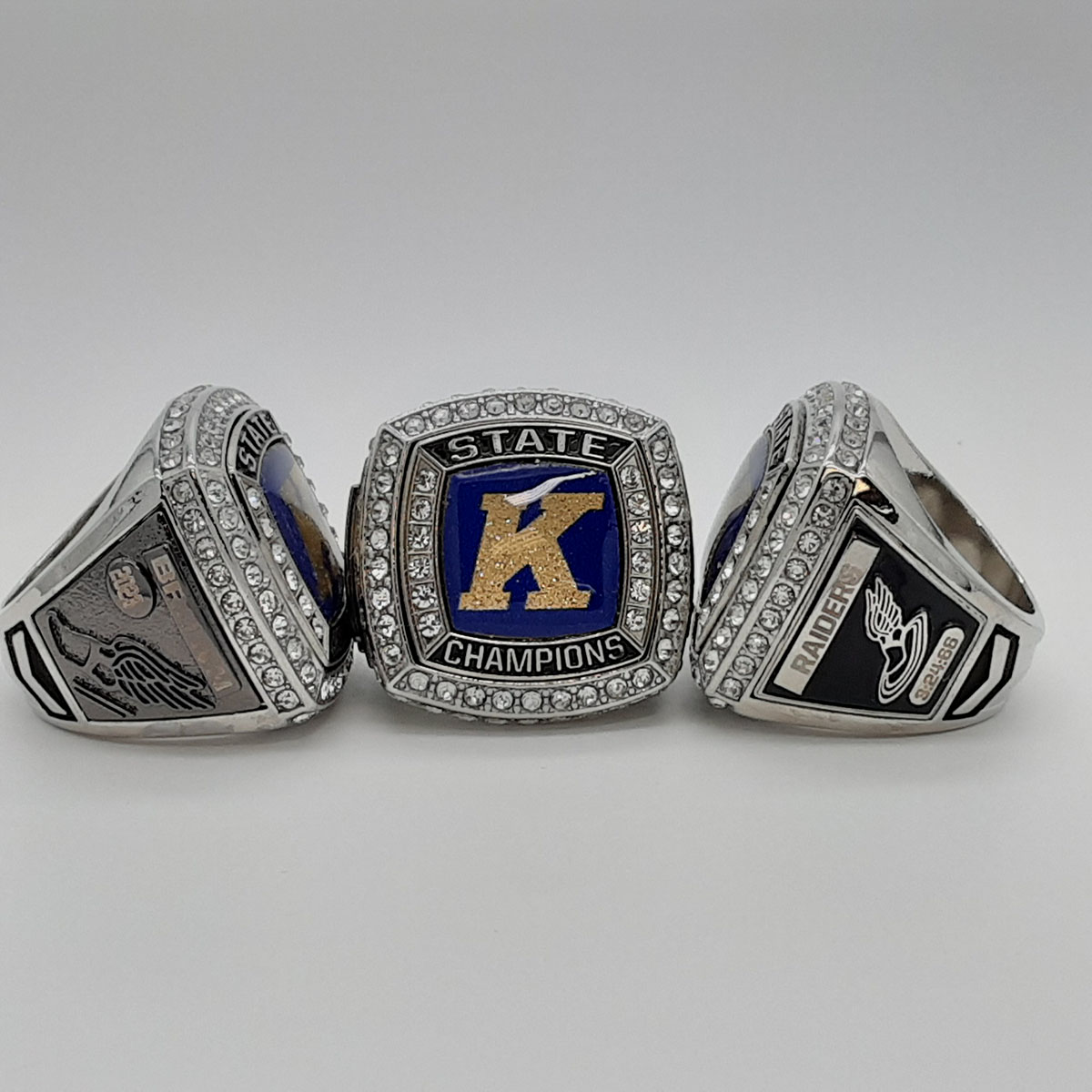 High School Football State Championship Rings

Your journey to the top deserves a monumental tribute. High School football state championship rings commemorate not just the ultimate victory but every pass, tackle, and touchdown that made it possible. Digital Jewelry is proud to offer top-quality materials such as marine-grade stainless steel, avoiding lesser alternatives like iron. Our ring variants include the following:
The gold champion ring.
Gold bling ring.
Fantasy champion ring.
Finalist ringtricolor.
Trucolor ring.
Silver bling ring.
The much-coveted high school football state championship ring.
These rings can be adorned with colored gems such as black, blue, green, pink, purple, red, silver, or yellow zircons. With a keen focus on providing high-value rings without compromising quality, we assure you that these glory tokens are built to last and shine brilliantly for years to come.
Significance of High School Rings

High school championship rings hold profound significance in the hearts of young athletes. These aren't just ornaments; they symbolize hard work, dedication, teamwork, and success. They represent the sweat and toil, the hours of rigorous training, and the unbeatable spirit that led a team or an individual to the pinnacle of victory. These rings become a lifelong keepsake, a cherished memento that athletes can look back upon with pride.
Not just the winners, these rings also inspire upcoming athletes. The glint of these well-crafted pieces serves as a reminder of what can be achieved with determination and effort. They fuel dreams, motivating young players to surpass their potential and strive for the top. Moreover, high school rings also foster a sense of unity and camaraderie among team members, strengthening bonds and amplifying team spirit.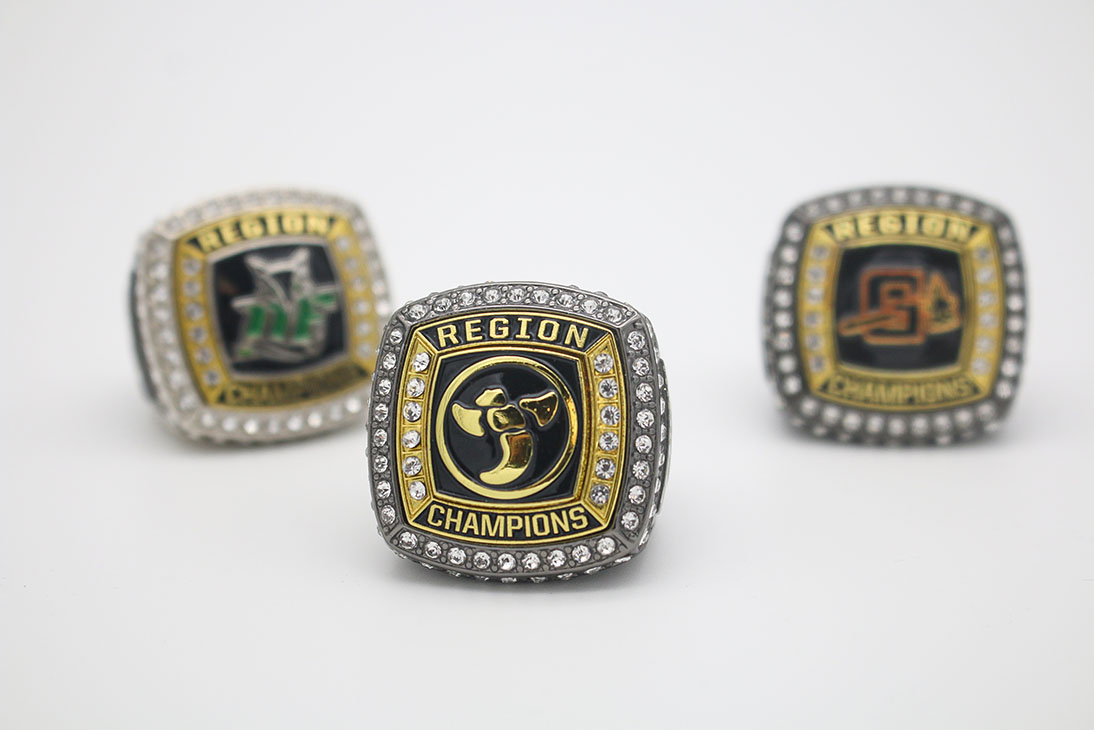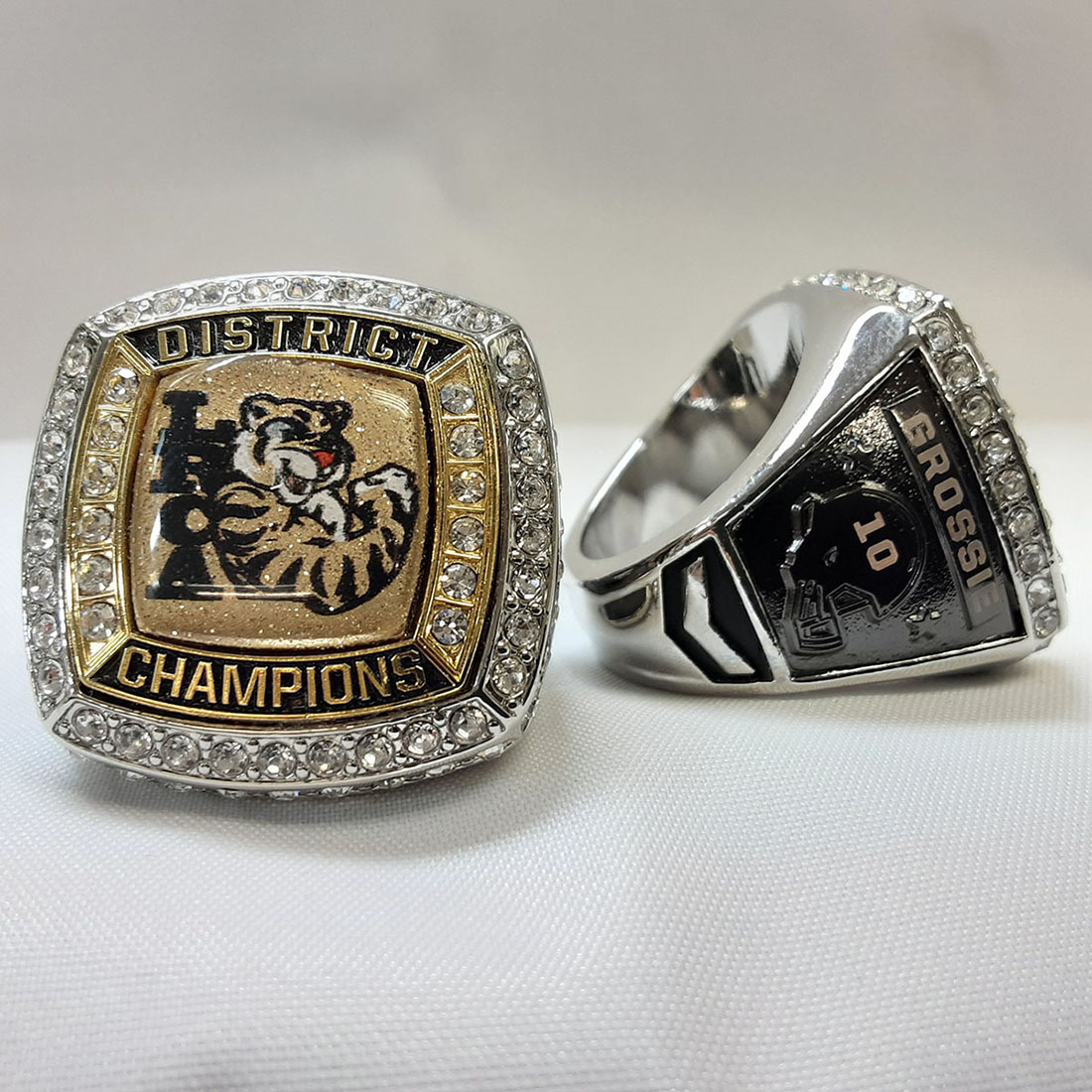 High School State, Division, District, Inter School/College, and National Rings

We understand that victories come in all sizes and forms. Whether it's the high school state championship or a district match, every triumph is worth celebrating. That's why we offer a broad range of championship rings tailored to fit every level of competition. Our collection includes state, division, district, inter-school/college, and national rings designed meticulously to celebrate your unique achievement.
These different rings not only represent various levels of competition but also symbolize the growth and evolution of a player or a team. They narrate the journey, from local matches to state-level tournaments and sometimes even national championships. Each ring in our collection serves as a milestone, marking a particular stage of this fascinating journey in the world of sports.
High School Rings for All Sports
We cater to a wide range of sports, including but not limited to baseball, football, and basketball. Each sport has its unique spirit and dynamics, and we make sure our rings reflect the essence of each game. We understand the different nuances that distinguish one sport from another, and we incorporate these elements into our ring designs.
So, whether it's the slam dunk of a basketball match, the home run in a baseball game, or the touchdown in a football tournament, our rings resonate with the distinct character of each sport. Regardless of their sport, every athlete deserves a token that appropriately celebrates their victory.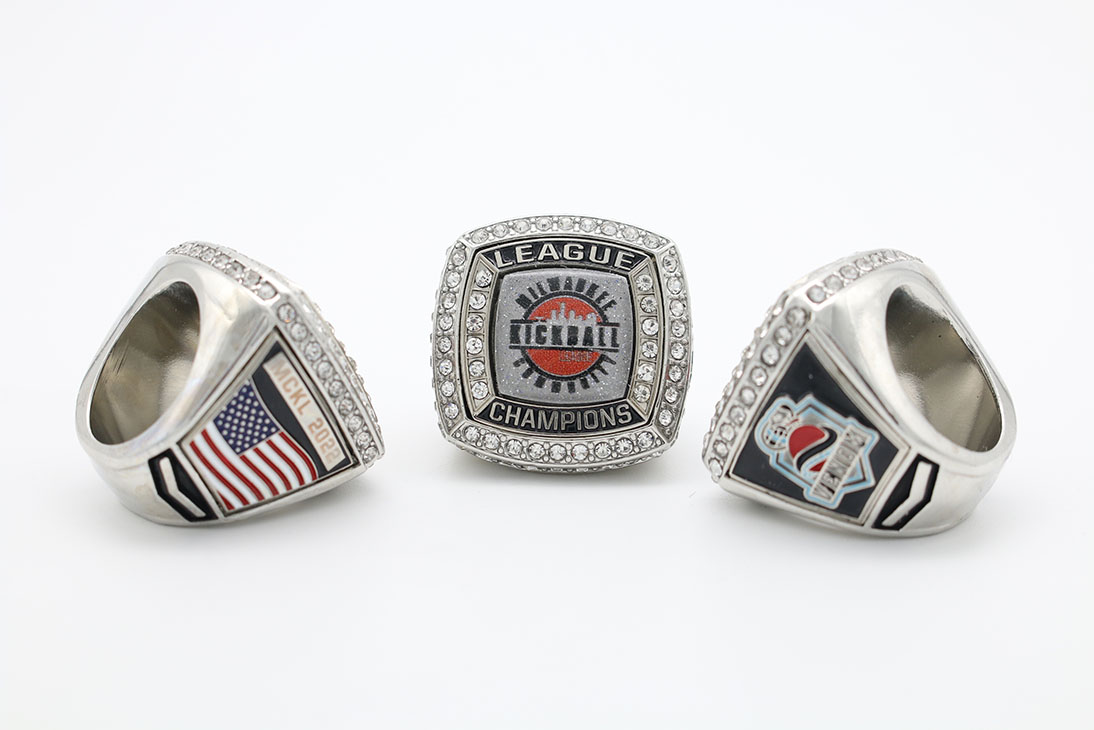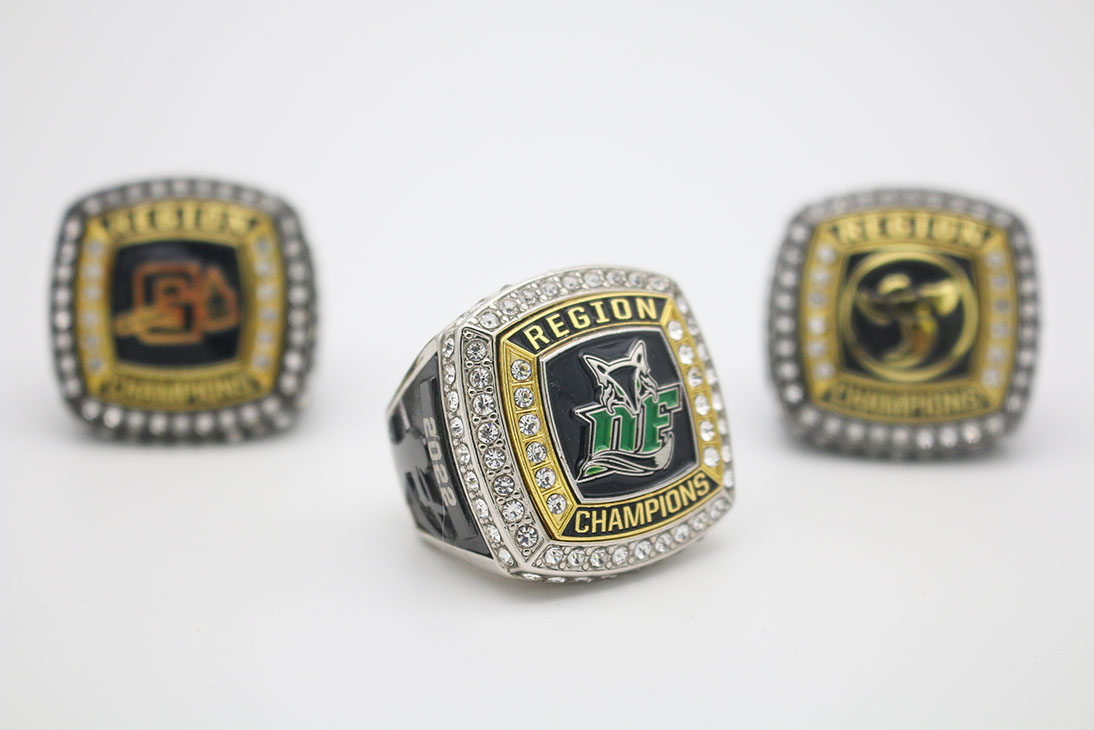 Materials and Styles of High School Rings

We provide a diverse palette of options regarding the materials and styles of our rings. Our collection includes rings of premium quality raw materials such as marine-grade stainless steel, gold, and silver. We maintain quality and ensure that every piece stands the test of time, retaining its shine and appeal.
In terms of style, our offerings range from the classic and elegant to the modern and trendy. We have gold champion rings for the traditionalist, gold bling rings for the fashion-forward, and even fantasy champion rings for the dreamers. Additionally, we offer rings adorned with gems in a spectrum of colors, ensuring that something suits every taste.
High-Quality High School Champion Rings: Commemorating Success

High-quality high school champion rings encapsulate the essence of athletic victories. More than accessories, they symbolize the dedication and accomplishment of the athlete, mirroring their journey to success in a tangible form. Each ring is crafted from premium materials like marine-grade stainless steel and decorated with selected gems, standing the test of time, much like the triumphs they represent.
Our rings are not one-size-fits-all; they can be personalized to reflect the champion's journey. This includes the team logo, the athlete's name, and the championship year. Despite their high quality, our rings remain affordable due to our factory-direct model. In short, our high school champion rings are crafted to perfection, allowing champions to wear their hard-earned success with pride and honor.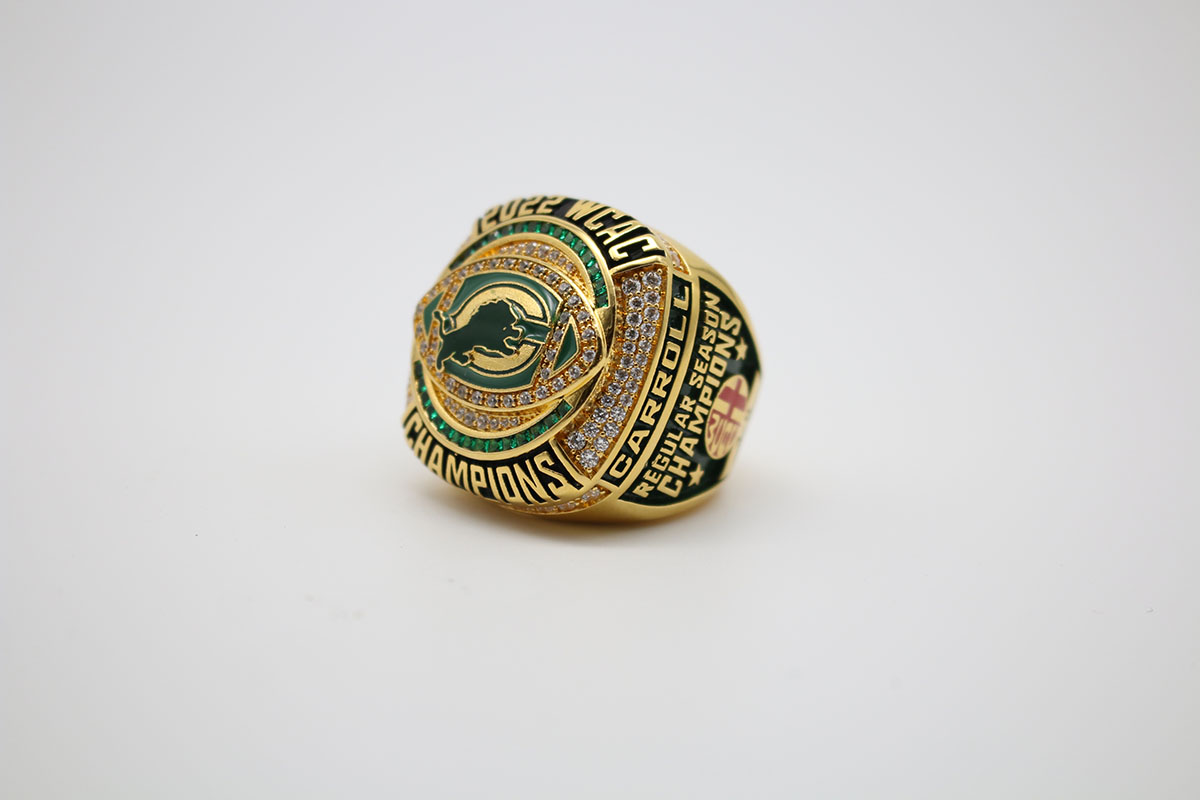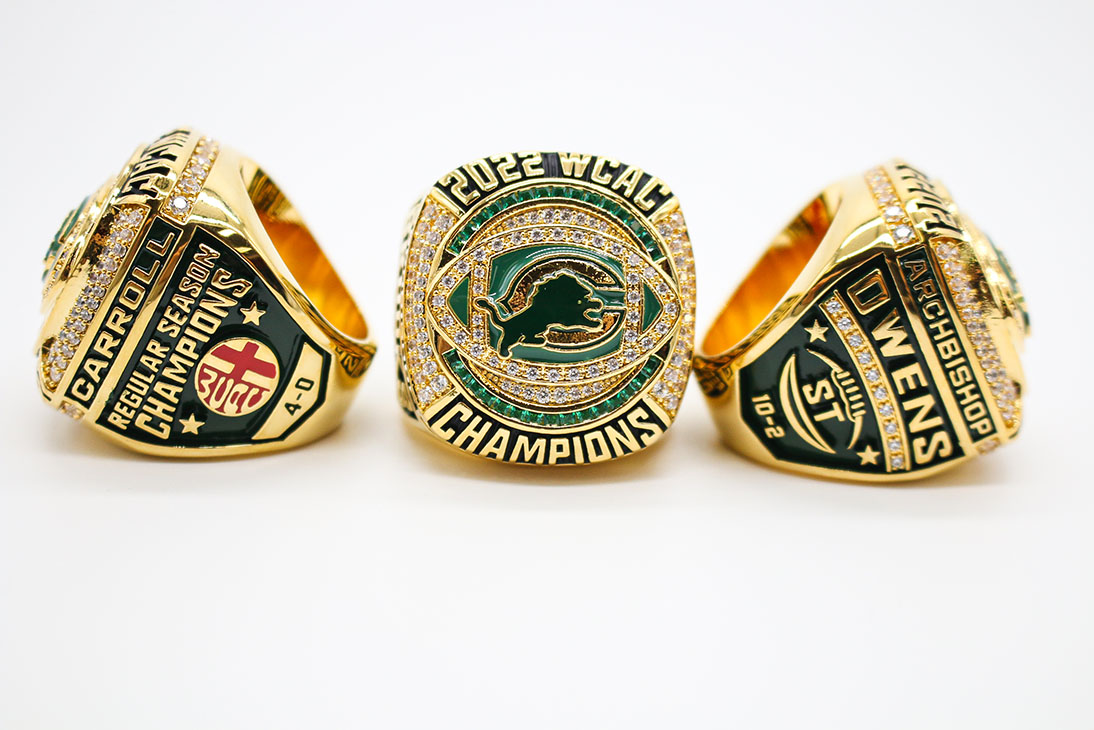 Custom High School Rings for Everyone: Men, Women, Girls, Boys, Kids, Coaches, Players, Fans, Cheerleaders, Classmates, and Graduates
Every participant in the sporting journey deserves a token of remembrance. Whether you are a player, coach, fan, cheerleader, or even a classmate, we have custom rings for everyone. Men, women, girls, boys, and even kids can find something that resonates with their style and preference in our expansive collection.
For those graduating, we also offer an extraordinary range of rings that encapsulate the bittersweet moments of bidding farewell to high school. These graduation rings are thoughtfully designed to represent the joys of achievements, the bonds forged over the years, and the promise of a future filled with new opportunities.
Personalize Your High School Rings

We offer extensive customization options to make your high school ring your own. We can do it all if you want to engrave your name, embed your team's logo, or add a personal message. We work closely with you to understand your vision and translate it into a piece of jewelry that perfectly reflects you and your journey.
Not just that, we also let you choose from a range of materials, colors, and designs for your ring. You can select the type of gems, the ring's color, and even the band's style. We are committed to making your ring a unique memento you'll cherish forever.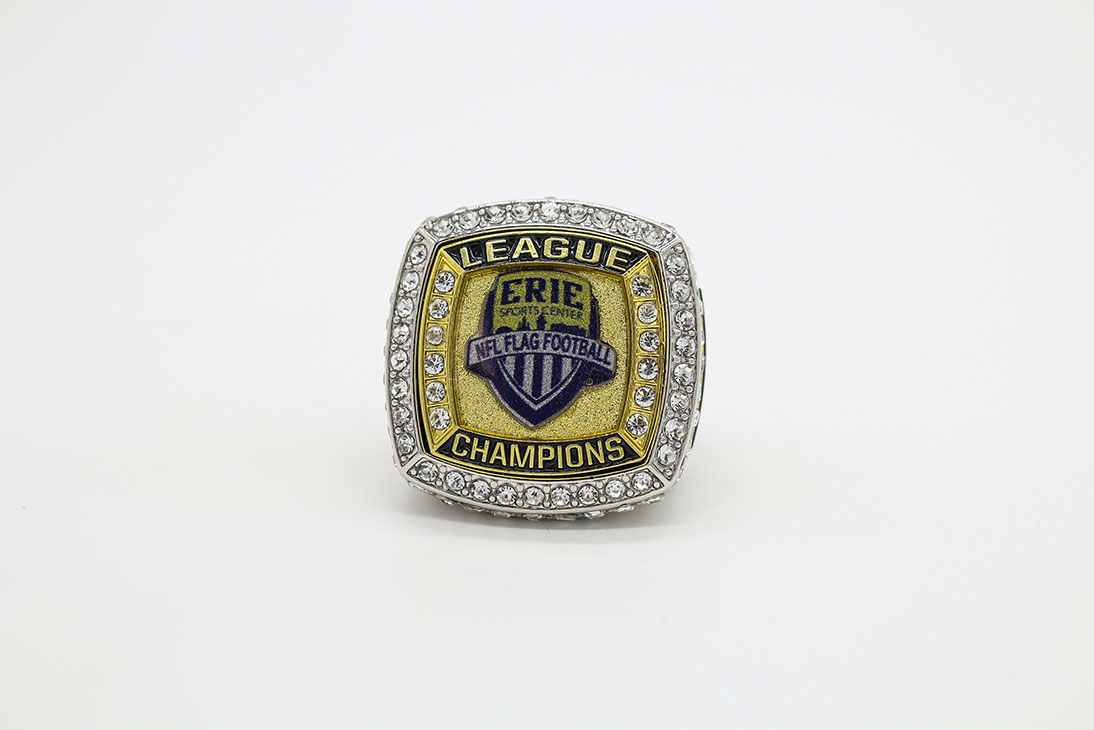 High School Rings for Single Players and Teams

Whether you're an individual player who has won a championship or part of a winning team, we have the perfect ring for you. For individual players, our rings can symbolize personal achievements, growth, and the fruits of relentless hard work. For teams, our rings serve as a testament to teamwork, camaraderie, and collective triumph.
In terms of pricing, we offer affordable options for everyone. Our ring prices vary based on customization and quantity, and we also offer special discounts on bulk orders. We understand that getting premium quality products at affordable prices is crucial, so we provide wholesale prices, ensuring our rings are accessible to everyone.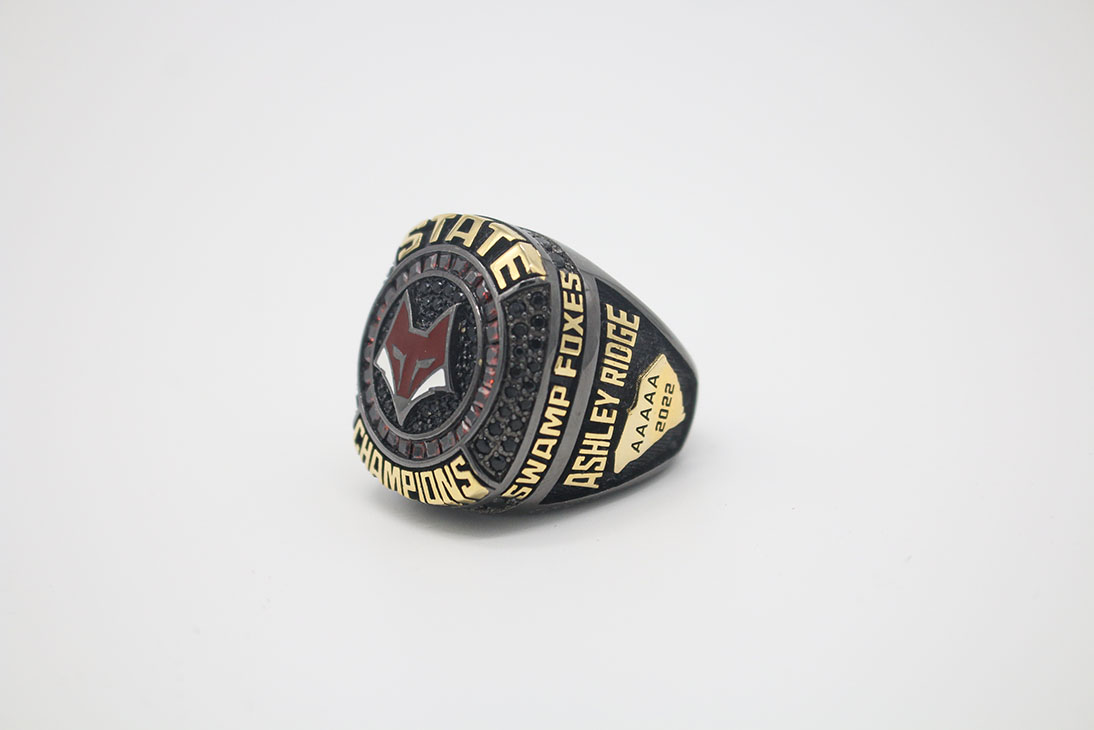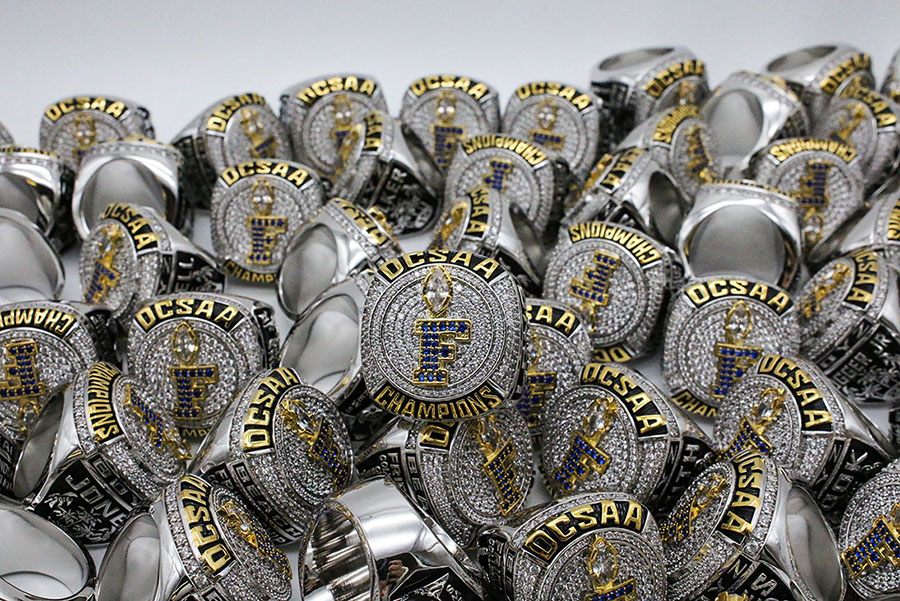 History of High School Rings

High school rings have a rich history that dates back to the mid-20th century. Initially, these rings were simple and modest, meant to symbolize one's graduation from high school. However, with time, these rings evolved, and today, they are not just symbols of academic achievements but also a token of success in extracurricular activities, including sports.
Over the years, high school rings have become more elaborate and customized. They now include unique elements representing the wearer's personality, interests, and achievements. From humble beginnings, these rings have now become a significant part of high school culture, embodying the spirit, achievements, and memories of this critical stage in one's life.
Fill out our form to get a free quick quote.
Our Design Process: Crafting the Perfect Rings

We kick-start your ring journey with an exciting dialogue. It's all about you! Your needs, your vision, and your high school victories. Whether you have a clear idea or a rough sketch, we listen, understand, and incorporate your input into our design process.
With your vision as our guide, our creative wizards sketch a unique ring concept that captures your high school spirit. We create a design that embodies your success story, merging your ideas with our creative touch.
Next, you validate the design. We welcome tweaks and adjustments because we want your ring to be perfect. Your satisfaction drives us; we ensure every detail aligns with your vision.
After your approval, our artisans sculpt your ring with utmost precision. They bring your design to life, crafting a tangible token of your high school victory, a piece to cherish forever.
Every ring undergoes a rigorous quality check. Our team ensures your ring meets our high standards, delivering you nothing less than a flawless masterpiece.
Finally, we bring your victory to your doorstep with a swift and safe delivery. You've waited for this moment, and we ensure it's unique.
Purchase your custom championship rings direct from the factory and save by cutting out middle-man markup costs.
Get a free quick quote for your inquiries. Simply fill out a quick quote form or Call Us Today at (803)760-7099. We respond to all quotes during regular working hours.
As a custom ring manufacturer, we understand how important it is that you receive both quick and complete customization. You can choose from our current templates for faster turnaround times. We deliver exactly what you request — with no minimum order!
Remember, Digital Jewelry uses only top-quality raw materials such as marine-grade stainless steel instead of iron. We provide high-quality rings and will never compromise on quality. That is our legacy and our promise to you.
Our dedication to perfection shines at every step. From our initial conversation to the final delivery, we're committed to delivering excellence. Your high school ring is a tribute to your journey and victories, and we ensure it's nothing short of perfect.
Customization at Its Finest
We offer unmatched customization. You're in the driver's seat for your ring's design, material, and gems. We assist you in creating a unique ring that radiates your triumphs.
Factory Direct: No Middlemen

No middlemen mean lower costs for you and uncompromised quality. We operate factory-direct, ensuring you get premium rings without breaking the bank.
Best Value for Your Money

We guarantee value for money. High-quality rings at competitive prices mean you can celebrate victories without stretching your budget.
Dedicated Customer Service

Questions? Concerns? Our dedicated customer service team is always ready to help. We make your ring journey smooth and hassle-free.
Champions trust us. Our reputation reflects quality, attention to detail, and passion for commemorating victories. Choose us, and you're in the company of winners.
Frequently Asked Questions
Who pays for high school state championship rings?
The cost of high school state championship rings is typically covered in various ways. It often depends on the specific rules and traditions of the school or sports league. Sometimes, the school or sports league may cover the cost as part of the championship celebration. In other instances, individual athletes or their families may be responsible for purchasing the rings. Sometimes, fundraising activities are carried out to cover the cost.
How much are high school state championship rings worth?
The worth of a high school state championship ring can vary greatly, depending on factors such as the materials used, the level of detail in the design, and the amount of customization. However, it's important to note that the sentimental worth of these rings is often considered priceless.
How much does a high school championship ring cost?
The cost of a high school championship ring can range from a basic design to a more elaborate and customized piece. The price varies based on the materials used, the complexity of the design, and the level of customization involved. We offer high-quality rings at competitive prices, ensuring you get the best value for your money.
What are high school rings made of?
High school rings are typically made from various metals, including marine-grade stainless steel, gold, and silver. The choice of material often depends on personal preferences, budget, and the level of detail desired in the design. Some rings are adorned with gemstones or crystals for added aesthetic appeal. Our company offers a variety of high-quality materials for your ring to ensure it stands the test of time while also representing your achievement in the best possible way.
What materials are used in your high school rings?
Our high school rings are crafted from premium materials like marine-grade stainless steel, gold, and silver. We also offer rings adorned with different varieties of gemstones.
Can I customize my high school ring?
Absolutely! We offer extensive customization options. You can choose the design, material, and color and even engrave your name, team logo, or a personal message on your ring.
Do you offer rings for all types of sports?
Yes, we cater to various sports, including baseball, football, basketball, etc.
What is the significance of high school rings?
High school rings symbolize hard work, dedication, teamwork, and success. They are a lifelong keepsake, representing the sweat, toil, and unbeatable spirit that led to victory.
Do you offer rings for both individual players and teams?
Yes, we offer rings for both individual players and teams. We understand the unique significance of individual and team achievements, and our rings are designed to reflect that.
Do you offer rings for non-athletes too?
Everyone involved in the sporting journey deserves a token of remembrance. We offer custom rings for fans, cheerleaders, classmates, and even for those graduating.
The Talent and professionalism can not be beat! Shop small business and get Big results from this family owned business! Billy is Awesome!
Would recommend to anyone! Digital Jewelry sure my team was very well taken care of. THANK YOU!!