Fantasy Football Rings: Custom Rings for Fantasy Champions in the USA

Celebrate your hard-fought victory in fantasy football with custom fantasy football championship rings from Digital Jewelry. Our rings are manufactured in South Carolina, USA workshops and are crafted from skilled craftsmanship and refined aesthetics. Our commitment to quality is unwavering, and with prices starting at a low cost, we maintain a perfect balance between affordability and elegance.
With our factory-direct selling approach, we promise you top-notch quality without a hefty price tag. Our reputation precedes us as athletes, coaches, and fantasy sports enthusiasts from the USA, Canada, and across the globe. Trust us with their championship mementos. Backed by our traditional Italian craftsmanship and the latest technology, we bring uniquely beautiful fantasy football rings to life. Make your championship even more special by personalizing these rings with your name, logo, or any other text that encapsulates your victory saga.
Championship Rings for Men, Women, Boys, Girls, Kids, Coaches, Players, and Teams
Xpress Championship Rings
Individual / Team Championship Rings
Minimum Quantity: No minimum quantity.
Description: Our Express Championship Rings are designed for minor volume league or team orders with quantity discount price points to provide you with the best value for your budget. All championship rings are fully customized to your desired specs.
Contact us today to confirm pricing and delivery times.
League Championship Rings
Usually based on 250 rings or more Typical delivery time is 21-45 days on new designs.
Minimum Quantity: 300 or more. (Lower quantities considered)
Description: These League Championship Rings are designed for higher volume league orders with quantity discount price points to provide you with the best value for your budget. All championship rings are fully customized to your desired specs.
Contact us today to confirm pricing and delivery times.
Individual/Team Championship Rings: Typically 7-21 days delivery time
Minimum Quantity: 1 ring or more
Description: Our Extreme Series Championship Rings line is designed for discerning, elite athletes. If you can imagine it, we create it! Individual MVP or National Champions. We can do it all for you at an affordable custom manufacturer price. Fully customized to your desired specs.
Contact us today to confirm pricing and delivery times.
What are Fantasy Football Rings?

Fantasy football rings are more than just jewelry; they are tangible symbols of victory, celebrating the triumphs in fantasy football leagues. These rings are testaments to the strategic intelligence, relentless dedication, and sheer grit it takes to emerge victorious in a fantasy football league. Crafted to encapsulate individual or team accomplishments, these rings can be personalized with unique names, logos, and championship years.
Fantasy football rings bear the essence of victory, and their design and details can mirror the unique journey of the winner or the winning team. They become cherished mementos of a season of challenges, victories, and, ultimately, the crowning as a champion.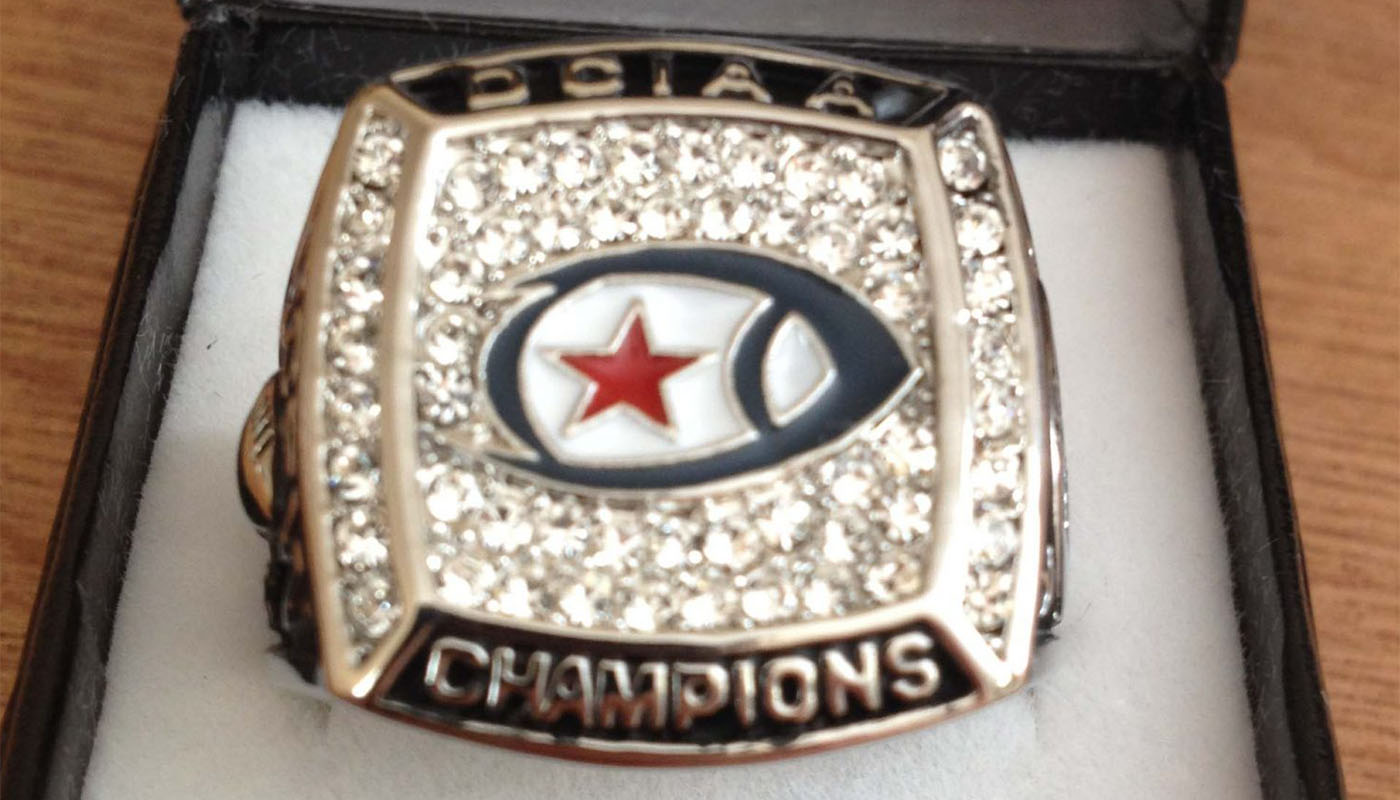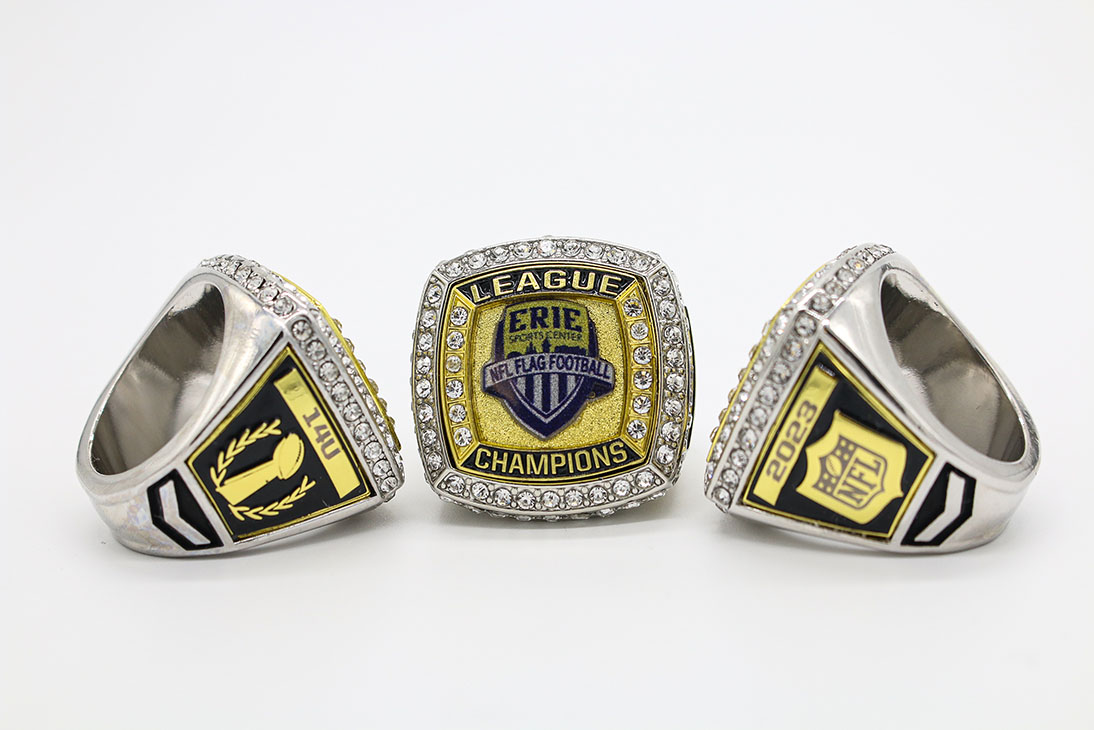 Significance of Fantasy Football Rings

Fantasy football rings hold immense significance in the domain of fantasy sports. They symbolize a champion's unwavering commitment, strategic insight, and ultimate triumph. These rings are tangible reminders of the hard work, time, and meticulous management of running a winning fantasy football team.
These rings go beyond being just pieces of jewelry. They symbolize the spirit of sportsmanship, competitiveness, and a shared passion that binds the community of fantasy football fans together. As tangible memorabilia of shared experiences and memories from a fantasy football season, these rings become irreplaceable keepsakes. They capture the essence of the competitive spirit, encouraging players to aim higher and strive harder in the following seasons.
Digital Jewelry lets you make your championship ring uniquely yours. We offer comprehensive customization options to allow your ring to tell your victory story. From adding your name, team logo, and the year of your championship, to any text that holds significance to your victory journey, you can personalize it all.
Beyond that, you can customize the color and type of your ring's metal, finish, and even the stones used. Our designers will guide you to ensure your vision is accurately created. Your ring will serve as a perfect embodiment of your unique journey and hard-earned championship.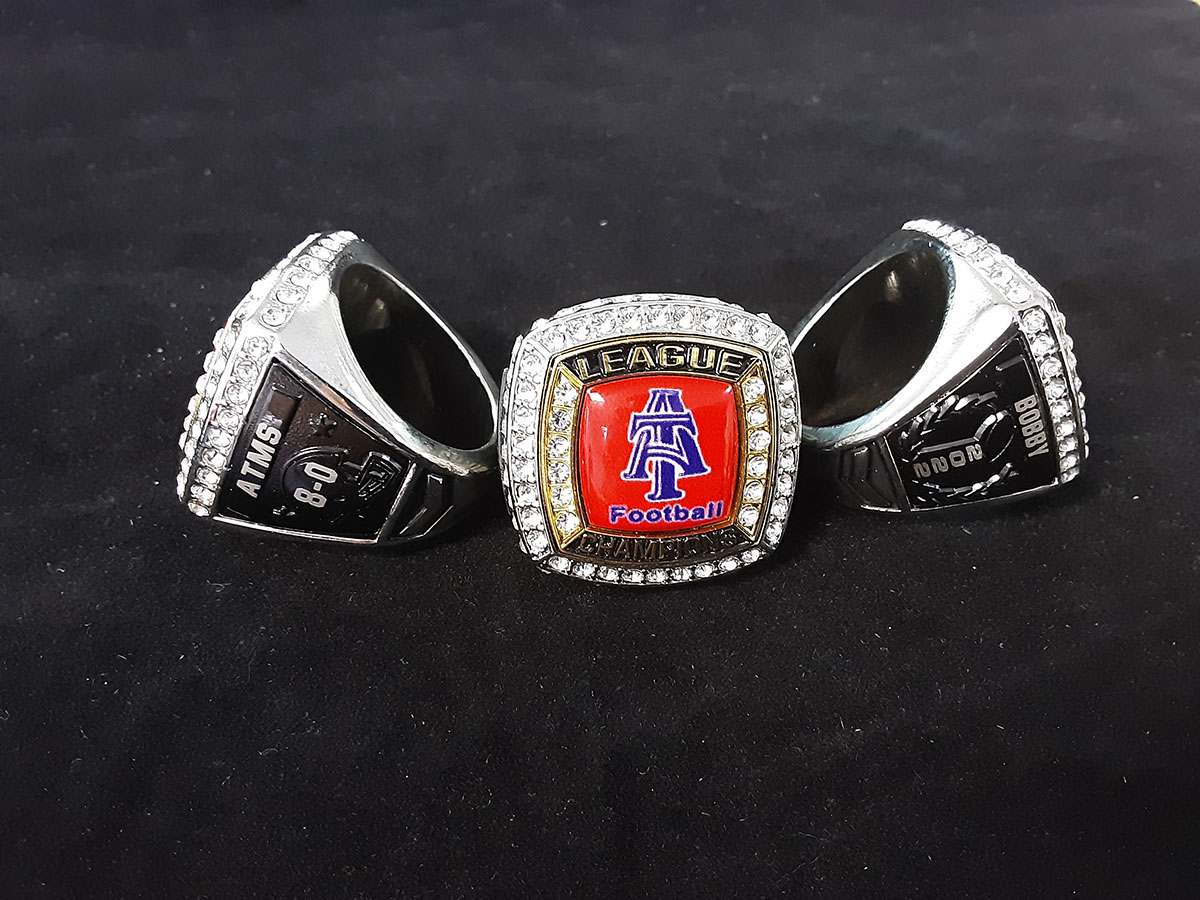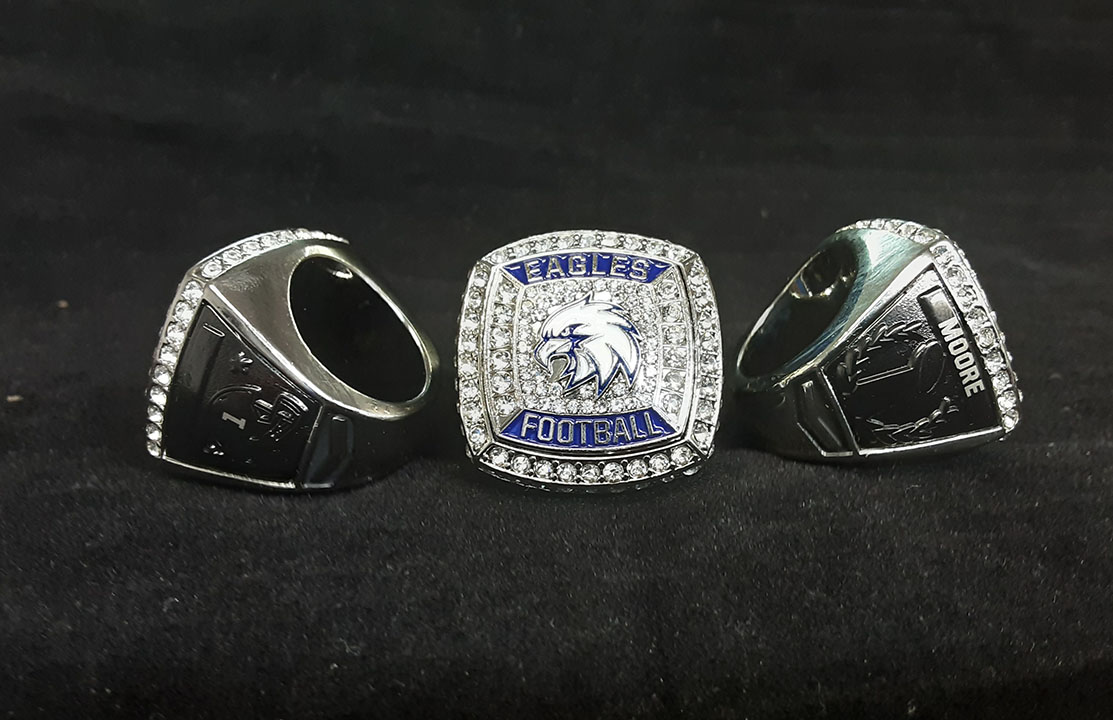 High-Quality Custom Fantasy Football Rings at Low Cost

At Digital Jewelry, we are committed to offering premium quality fantasy football rings without burning a hole in your pocket. Our factory-direct selling model ensures you get the best quality at the most affordable prices. Our rings are crafted with high-quality raw materials, ensuring durability and aesthetics.
Moreover, we offer bulk discounts for larger orders, making it even more budget-friendly for teams and leagues to celebrate their victories with our custom rings. Our commitment to providing cost-effective solutions without compromising quality sets us apart in the industry.
Materials and Styles of Fantasy Football Rings

Digital Jewelry provides extensive materials and styles for your fantasy football rings. Our options range from classic metals like gold and silver, offering a timeless elegance, to more contemporary choices like durable titanium and stainless steel, reflecting a modern and sleek aesthetic.
We also offer unique styles, from simple and elegant designs to more complex and detailed ones. Our modern designs capture the essence of the current trends, while our intricate designs bring a touch of vintage charm. You may opt for a smooth, polished band's stylish simplicity or engraved details' detailed complexity. You can embellish your ring with precious stones for a truly luxurious touch. Our vast range lets you select the material and style that best reflects your victory.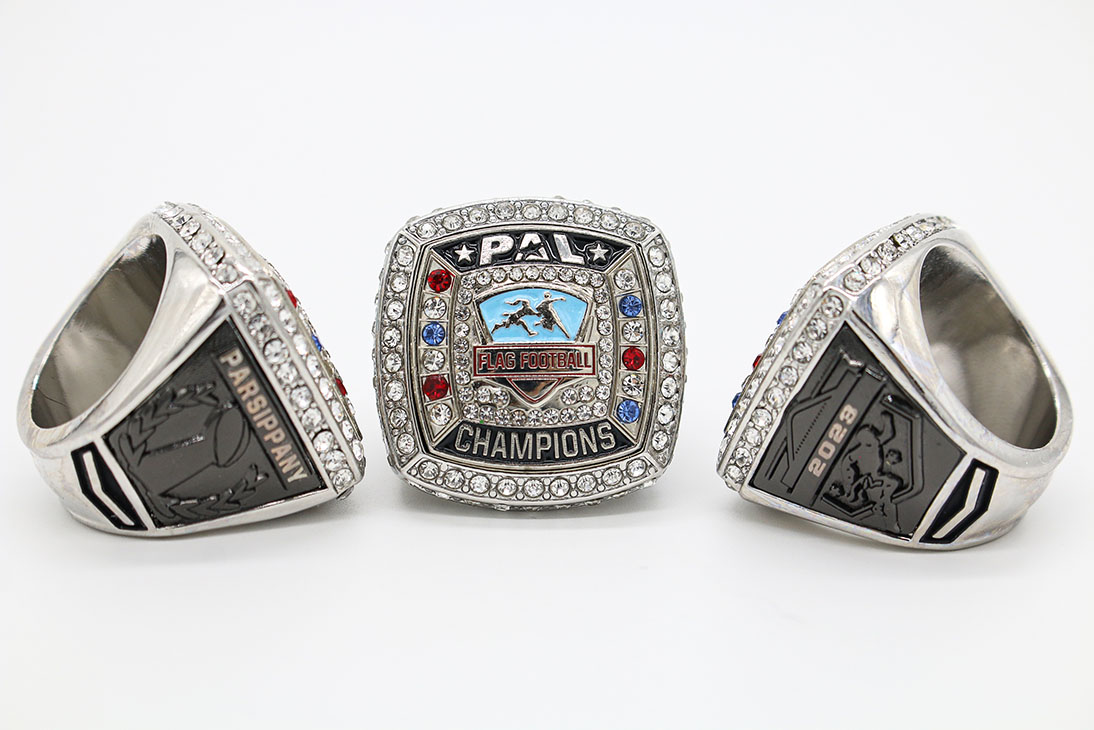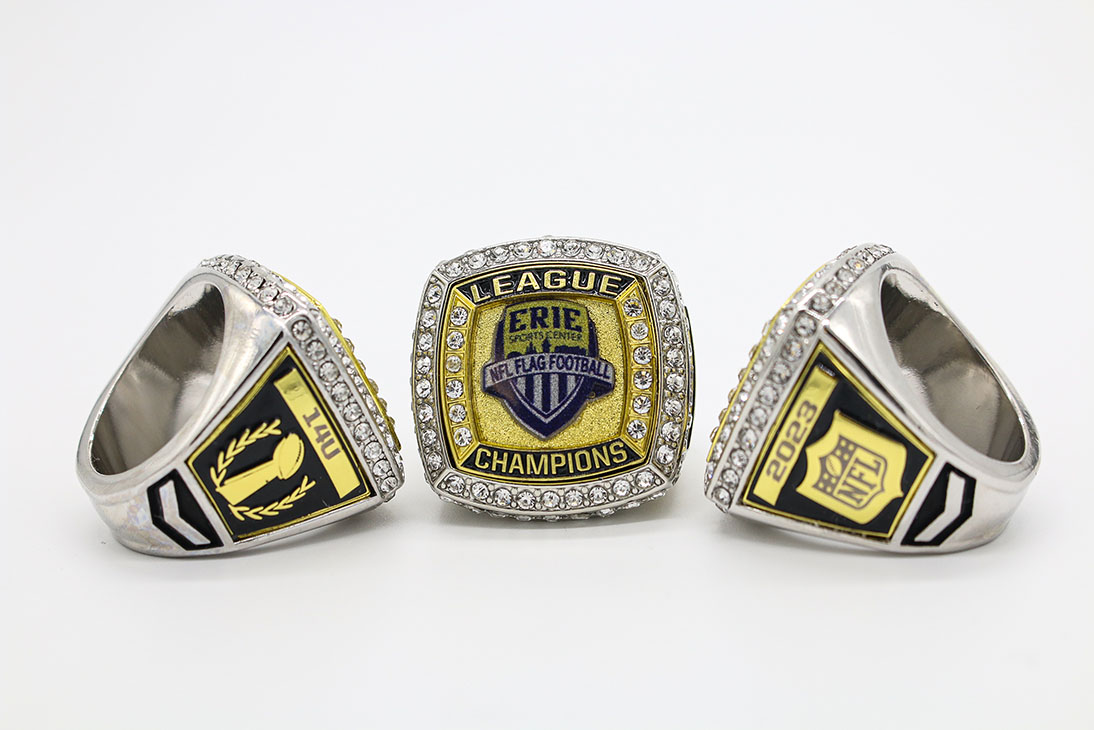 Fantasy Football Rings for everyone (men, women, girls, boys, kids, coaches, players)

Digital Jewelry caters to a broad spectrum of fantasy football enthusiasts. We firmly believe that everyone deserves to enjoy the euphoria of a well-deserved win. Therefore, we provide an expansive range of fantasy football rings that cater to all genders and age groups.
Our collection ensures that men, women, girls, boys, kids, coaches, and players can all find something that resonates with them. Understanding the differences in taste and preferences across different demographics, our collection is as diverse as our audience. From subtle, minimalist designs for those who prefer understated elegance to bold, intricate designs for those who like to make a statement, our rings cater to every style preference.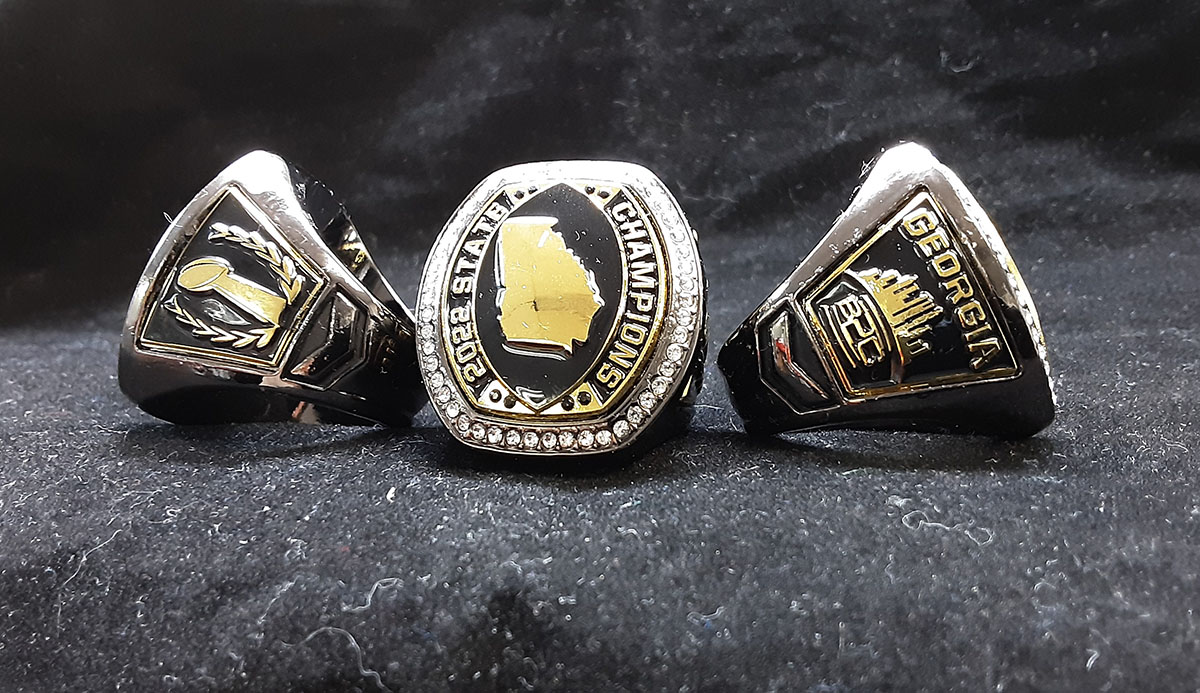 Fantasy Football Rings for Single Players and Teams

Fantasy football victories can come from individual players who have meticulously managed their teams to success and groups who've worked together to achieve glory. At Digital Jewelry, we offer custom-made rings for single players and teams.
For single players, our rings are a trophy for your dedicated strategic planning and tireless effort throughout the season. For teams, our rings are a symbol of unity, collaboration, and collective success. Each team member's name can be engraved on the ring or the team motto that served as your rallying cry. Each ring can be made in different sizes, ensuring it's a perfect fit for everyone – a fitting token of your hard-earned victory.
Fantasy Football is a $70 Billion Market.
The fantasy football industry is a titan in the global market, with an estimated value oscillating between $55 to $70 billion annually. Its astounding popularity is evidenced by the millions of participants who dedicate around three hours weekly to manage their fantasy teams during the 17-week season.
Major platforms such as Yahoo Sports, ESPN, DraftKings, and FanDuel have contributed massively to the widespread popularity of this virtual sport. The emergence and rise of fantasy football have revolutionized the sports industry, making it a significant player in the global market.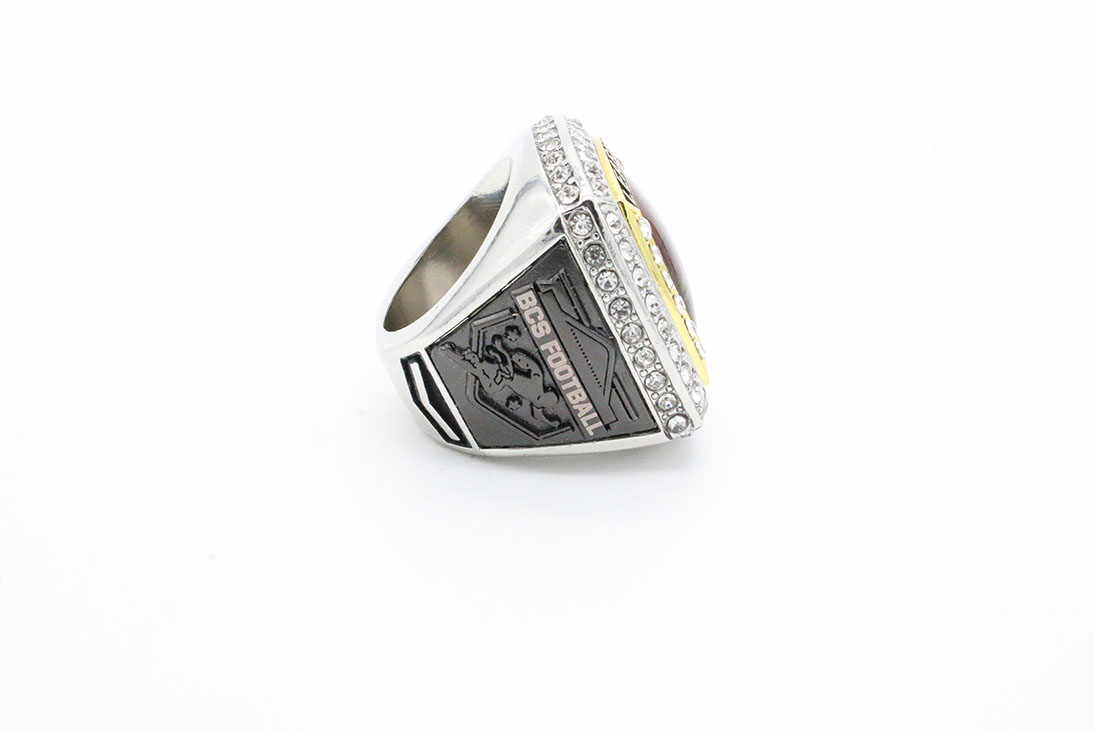 Fill out our form to get a free quick quote.
Manufacturing Rings with a Blend of Artistry and Technology

Creating our superior fantasy football rings is a careful fusion of artistic skill and advanced technology. At Digital Jewelry, we employ a holistic manufacturing process that guarantees the utmost excellence in each ring we craft. Our expert artisans work hand in hand with state-of-the-art technology to create stunning designs, perfectly crafted and polished to precision. This harmonious blend of traditional artistry and modern technology enables us to produce rings that are not only high-quality but also unique masterpieces in their own right.
Our Design Process: Crafting the Perfect Rings

We initiate a dialogue with our clients to understand their requirements, preferences, and ideas for their fantasy football rings. This step allows us to gather all the necessary information to bring their vision to life.
After the initial dialogue, our team of experienced designers works on creating unique and innovative concepts for the fantasy football rings. We explore different design possibilities, considering the client's input and the latest trends in jewelry design.
We present the design concepts to the client for validation once the design concepts are ready. This stage involves a collaborative process, where the client can provide feedback and make any necessary adjustments or additions to the design.
Our skilled artisans bring fantasy football rings to life with the approved design. They meticulously work on every detail, ensuring precision and superior artistry throughout manufacturing.
Our dedicated quality assurance team meticulously inspects each ring to ensure it meets our rigorous quality standards. From the materials used to the craftsmanship, we leave no stone unturned in delivering flawless and exceptional fantasy football rings.
Once the rings pass our stringent quality checks, we carefully package and deliver them to our clients. We prioritize quick and reliable delivery, ensuring you receive your custom fantasy football rings promptly.
We use top-quality raw materials to ensure high-quality products. We make these rings right here in Columbia, SC, USA.
We provide free quotes and artwork for all orders. Free samples are also provided for bulk orders.
Our custom fantasy football rings start at a low cost. We provide discounts for bulk orders.
We are located in Columbia, SC, USA. We proudly manufacture these rings here in the USA.
At Digital Jewelry, we are committed to delivering perfection in every fantasy football ring we create. We go above and beyond to ensure our clients receive a ring that surpasses their expectations. Our attention to detail, craftsmanship, and dedication to quality make us the ideal choice for your custom fantasy football rings.
Customization at Its Finest
We understand that personalization is vital when it comes to fantasy football rings. That's why we offer a comprehensive range of customization options. From selecting materials and styles to adding personalized engravings and designs, we allow you to create a ring representing your championship victory.
Factory Direct: Save Time and Money
You can eliminate the go-between by choosing Digital Jewelry and buying your fantasy football rings directly from the factory. This direct approach allows us to offer competitive prices without compromising on quality. Additionally, it saves you time and money by streamlining the ordering process and ensuring efficient delivery.
We take pride in being a company rooted in the USA, and all our fantasy football rings are proudly designed and manufactured here. Our commitment to quality, ethical practices, and supporting the local economy sets us apart as a trusted provider of custom fantasy football rings.
Quick and Reliable Delivery
We understand the excitement of receiving your fantasy football rings promptly. Our efficient delivery system ensures that your rings are shipped promptly. We strive to ship small orders the next day, while larger bulk orders are typically shipped within 7-15 business days, depending on the complexity and quantity of the design.
History of Fantasy Football Rings

The concept of fantasy football, and its derivative, fantasy football rings, were birthed in the early 1960s in Oakland, California. This game-changing innovation is attributed to Wilfred "Bill the Gill" Wikenback, an Oakland businessman and minor Oakland Raiders football team stakeholder.
Wikenback created the blueprint for the organizational structure and rulebook for the game, leading to the formation of the Greater Oakland Professional Pigskin Prognosticators League (GOPPPL). The first fantasy football draft took place in August 1962, marking the beginning of a new era in sports fandom.
The player's desire for a physical token of victory grew as the game gained popularity. This led to the creation of fantasy football rings, akin to real-life championship rings, awarded to the winners of fantasy football leagues. These rings have become integral to the fantasy football culture, symbolizing victory and pride.
Today, fantasy football and the rings that symbolize their victories are a testament to a tradition that has united sports enthusiasts worldwide for over half a century. The story of its past remains etched in each championship ring, a timeless tribute to the origins and growth of this much-loved game.
Frequently Asked Questions (FAQs)
Curious About Fantasy Football Championship Rings? We've Got You Covered! Check out our FAQs for all the inside info you need to design the ultimate ring. Learn how to keep it sparkling and ensure it stands the test of time. Find everything you need to select a fantasy football championship ring that perfectly reflects your gridiron glory!
What are fantasy football rings?
Fantasy football rings are custom-made rings awarded to the champions of fantasy football leagues. They serve as a tangible symbol of victory and commemorate the accomplishments of the winning team or individual.
Can fantasy football rings be personalized?
Yes, fantasy football rings can be personalized according to your preferences. You can add your name, team logo, championship year, or any other text or design elements that hold significance to you. Personalization options allow you to create a unique and meaningful ring.
Are fantasy football rings available for both individuals and teams?
Fantasy football rings are available for individual players and teams. Whether you won the championship as a single player or as part of a team, you can find custom fantasy football rings that suit your achievement.
What materials are fantasy football rings made of?
Fantasy football rings can be made of various materials, including traditional metals like gold, silver, and bronze, as well as contemporary options like titanium and stainless steel. The choice of material depends on your personal preference and budget.
How long does receiving a custom fantasy football ring take?
The delivery time for custom fantasy football rings depends on factors such as the complexity of the design and the quantity ordered. Generally, small orders can be shipped within a day or two, while larger bulk orders may take 7-15 business days to process and deliver.
Can I order fantasy football rings in bulk?
Yes, bulk orders of fantasy football rings are possible. If you have a league or team that wants to order rings for multiple players, you can inquire about bulk discounts and discuss your requirements with the ring manufacturer.
Are fantasy football rings only available in the USA?
While many fantasy football ring manufacturers are based in the USA, they often offer international shipping, allowing customers worldwide to order these rings. It's best to check with the specific manufacturer to confirm their shipping policies.
Can I see a preview of the design before ordering?
Many fantasy football ring manufacturers provide virtual mockups or artwork for customers to preview their ring designs before placing an order. This allows you to visualize how the final product will look and make any necessary adjustments.
Are fantasy football rings only for professional leagues?
No, fantasy football rings are available for all leagues and competitions, from casual leagues among friends to organized amateur and professional leagues. Regardless of the level of competition, fantasy football rings can be customized to celebrate the champions of any league.
The Talent and professionalism can not be beat! Shop small business and get Big results from this family owned business! Billy is Awesome!
Would recommend to anyone! Digital Jewelry sure my team was very well taken care of. THANK YOU!!