Youth Championship Rings for Sale in the USA
We proudly present our collection of youth championship rings in a nod to the young athletic achievers across the country. These rings cater to high school and college students and budding athletes who've made their mark in the sporting world. Our repertoire includes customized rings for teams and solo players, affirming our status as America's leading designer and manufacturer of tailor-made youth championship rings. These rings span many sports disciplines, including softball, football, baseball, basketball, and the Super Bowl.
Our enduring commitment to blending traditional Italian craftsmanship with cutting-edge American design sets us apart. Since our inception in 1955, we have dedicated ourselves to creating pieces that mirror the excellence and resilience that athletes embody. We provide top-tier yet affordable youth championship rings, all manufactured here on home grounds.
Our quality assurance comes with the stamp of our heritage. The foundation of Digital Jewelry relies on the fusion of 21st-century technological advancements with the timeless Italian craftsmanship that originated in the late 19th century. Our founders, the descendants of an Italian artisan who arrived in America via Ellis Island in the 1940s, uphold this legacy. They continue fulfilling "The American Dream" while expanding their global horizons.
Championship Rings for Men, Women, Boys, Girls, Kids, Coaches, Players, and Teams
Xpress Championship Rings
Individual / Team Championship Rings
Minimum Quantity: No minimum quantity.
Description: Our Express Championship Rings are designed for minor volume league or team orders with quantity discount price points to provide you with the best value for your budget. All championship rings are fully customized to your desired specs.
Contact us today to confirm pricing and delivery times.
League Championship Rings
Usually based on 250 rings or more Typical delivery time is 21-45 days on new designs.
Minimum Quantity: 300 or more. (Lower quantities considered)
Description: These League Championship Rings are designed for higher volume league orders with quantity discount price points to provide you with the best value for your budget. All championship rings are fully customized to your desired specs.
Contact us today to confirm pricing and delivery times.
Individual/Team Championship Rings: Typically 7-21 days delivery time
Minimum Quantity: 1 ring or more
Description: Our Extreme Series Championship Rings line is designed for discerning, elite athletes. If you can imagine it, we create it! Individual MVP or National Champions. We can do it all for you at an affordable custom manufacturer price. Fully customized to your desired specs.
Contact us today to confirm pricing and delivery times.
Youth Championship Rings for Teams and Single Players

We celebrate the victories of young champions by offering custom-made youth championship rings. Whether you're a solo player or part of a team, our rings are a testament to your triumphs. The cornerstone of our creations is our experienced craftsman team, whose Italian roots add an undeniable flair to their skills.
We take immense pride in our materials—top-quality metals, AAA-rated cubic zircons, 925 sterling silver, and copper coated with 10k/14k gold or rhodium. Furthermore, we indulge in original diamonds and pure gold for those special requests. These rings are not just accessories but tokens of respect towards our youth and scholar athletes' commitment to sportsmanship. It's a nod to their discipline, teamwork, and boosted self-esteem through sports.
We take pride in our extensive collection, which includes custom rings for various sports, including softball, baseball, basketball, football, and the Super Bowl. Crafted exclusively for young athletes and teams in high schools and colleges across the USA, these rings are a fitting tribute to their prowess.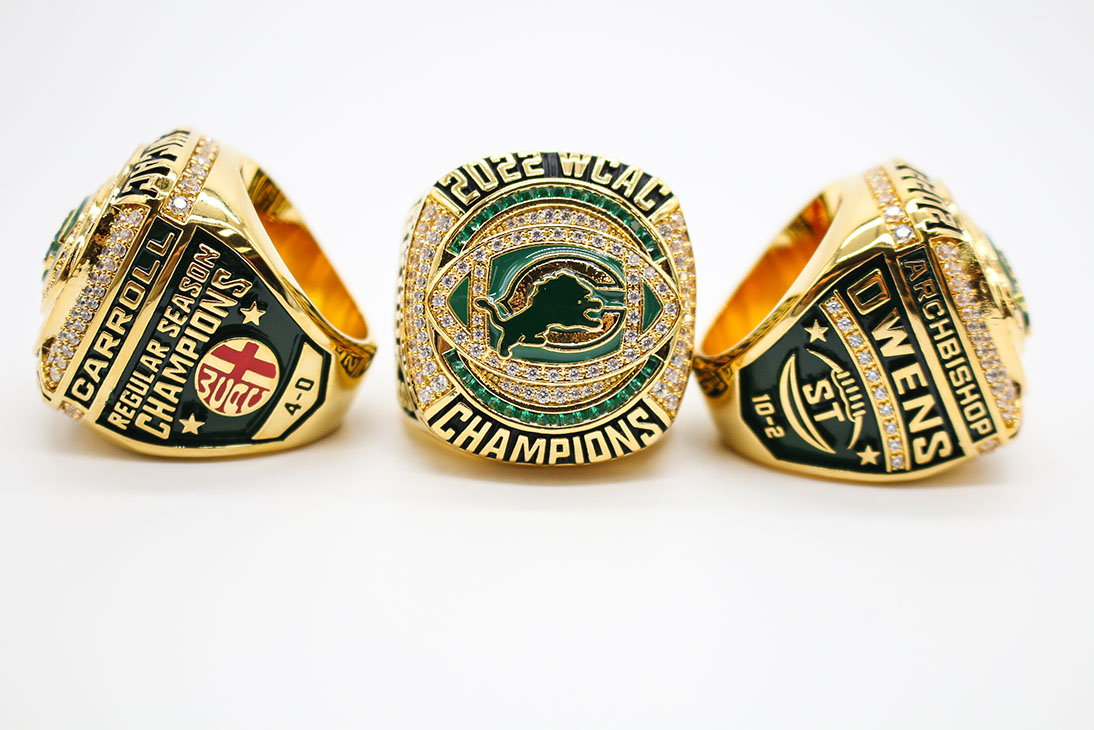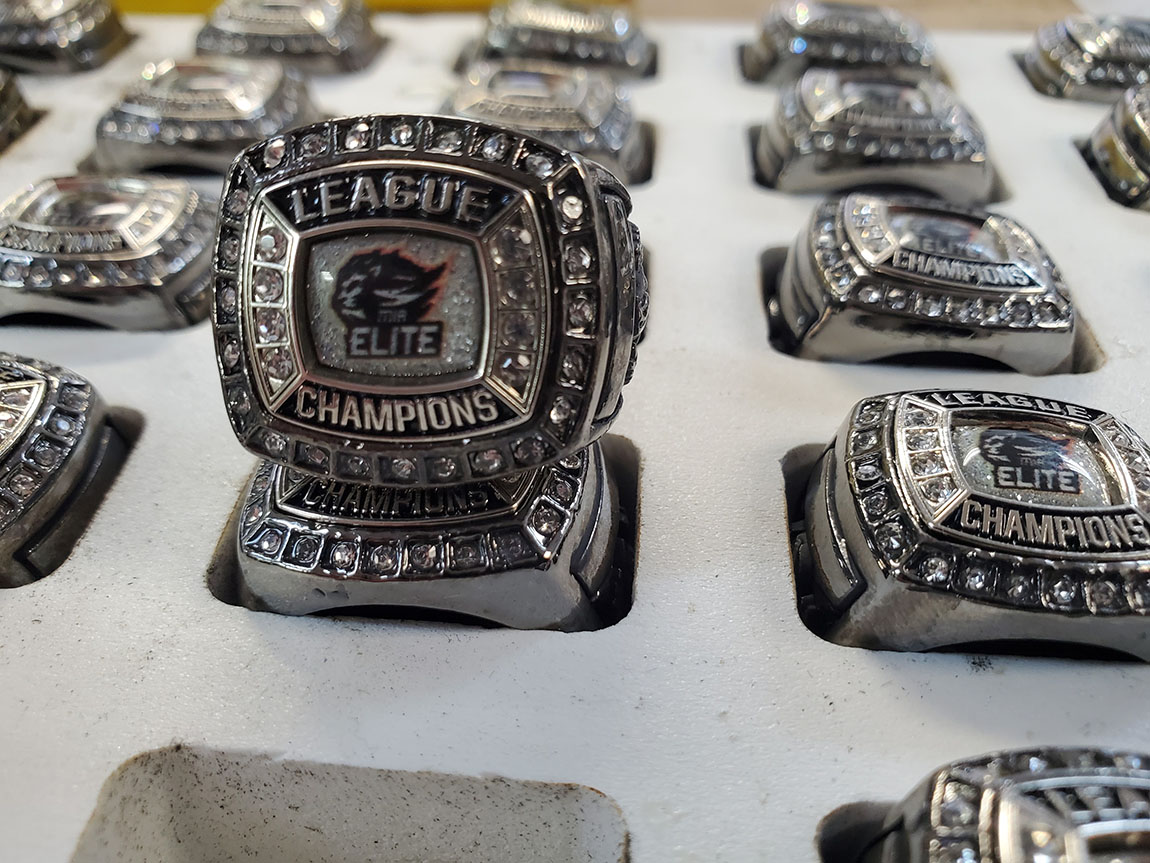 Cherishing Memories with Youth High School and College Championship Rings

Championship rings embody more than victories; they encapsulate cherished memories and experiences. Keeping this sentiment alive, we offer custom-made championship rings specially designed for young athletes, high school teams, and college squads. Single-ring orders are also welcome, with the bonus of bulk discounts on team orders. Don't hesitate to reach out to us at 803-760-7099.
Our service offers both quick custom and complete custom rings. Please choose from our pre-designed templates, share your unique idea, and watch us bring it to life. With the most extensive collection of custom youth championship rings in the USA market, we save you the trouble of scouring through Amazon, eBay, and AliExpress. We promise a quick solution, saving time and money while delivering a high-quality youth ring.
We recommend incorporating exquisite stones like Ruby, Sapphire, and Diamond to ensure your ring holds a special place in your heart. Our expert team invests their skills and passion into crafting a flawless product that you can treasure forever.
How to Design Youth Championship Ring?
Crafting the perfect ring begins with choosing an ideal shape and design complemented by appealing color combinations. We focus on creating a visually stunning product that represents the pinnacle of your achievement. For a deeper insight into our design process, Watch the Video. Providing custom rings is not merely a business to us—it's an opportunity to work alongside our young athletes to craft something unique and special that marks their journey.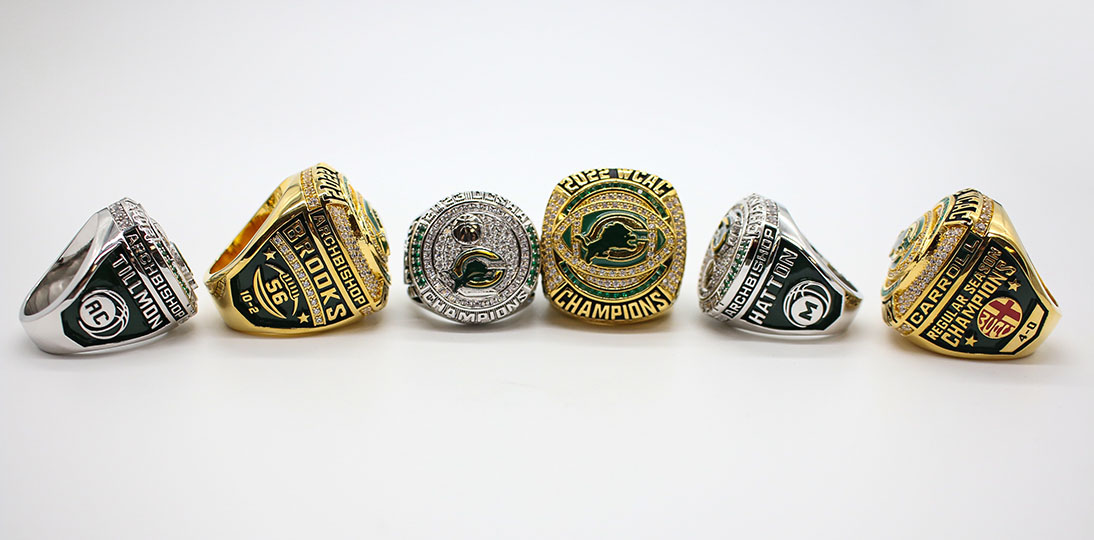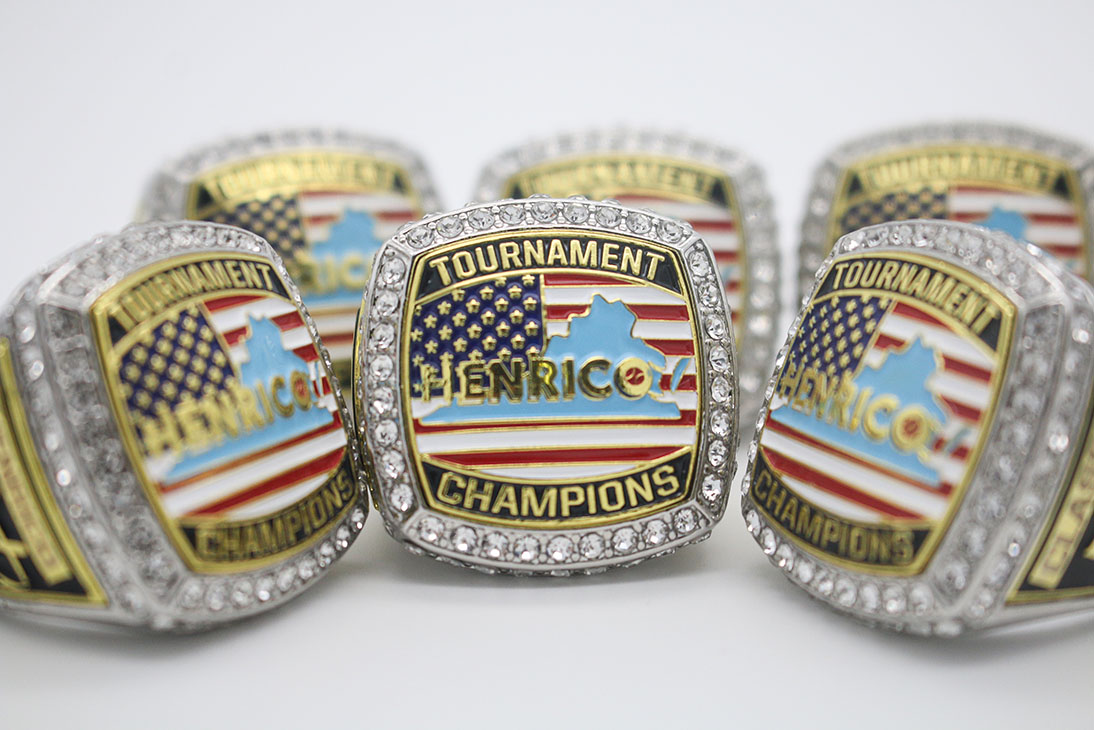 The Profound Significance of Youth Championship Rings

The role of youth championship rings transcends the boundaries of mere adornment, evolving into tangible tokens of accomplishments, commitment, and perseverance. For young athletes, these rings embody their journey of triumphs and challenges as a testament to their determination and grit. Youth championship rings are more than jewelry; they're a rite of passage, an emblem of recognition that cements their status as champions.
These rings celebrate the athletes' hard work, discipline, and sportsmanship. Every championship ring serves as a potent reminder of the victory they've achieved, whether on a school field or a college stadium. As the rings gleam in the sunlight, they echo the athletes' glory, forever encapsulating the moment when their hard work translated into success.
Materials and Styles in Youth Championship Rings

Our youth championship rings are a harmonious blend of traditional craftsmanship and innovative designs. The creation begins with carefully selected materials, including AAA-rated cubic zircons, 925 sterling silver, and copper coated with 10k/14k gold or rhodium. For an added touch of luxury, we also offer original diamonds and pure gold upon request.
These premium materials shape the rings' style, further defined by their intricate designs and patterns. With many traditional and contemporary styles, we ensure that each ring aligns with the wearer's unique taste and preferences. Regardless of the design, every ring we produce carries a common theme of excellence and grandeur, reflecting the commendable achievement of the young champion.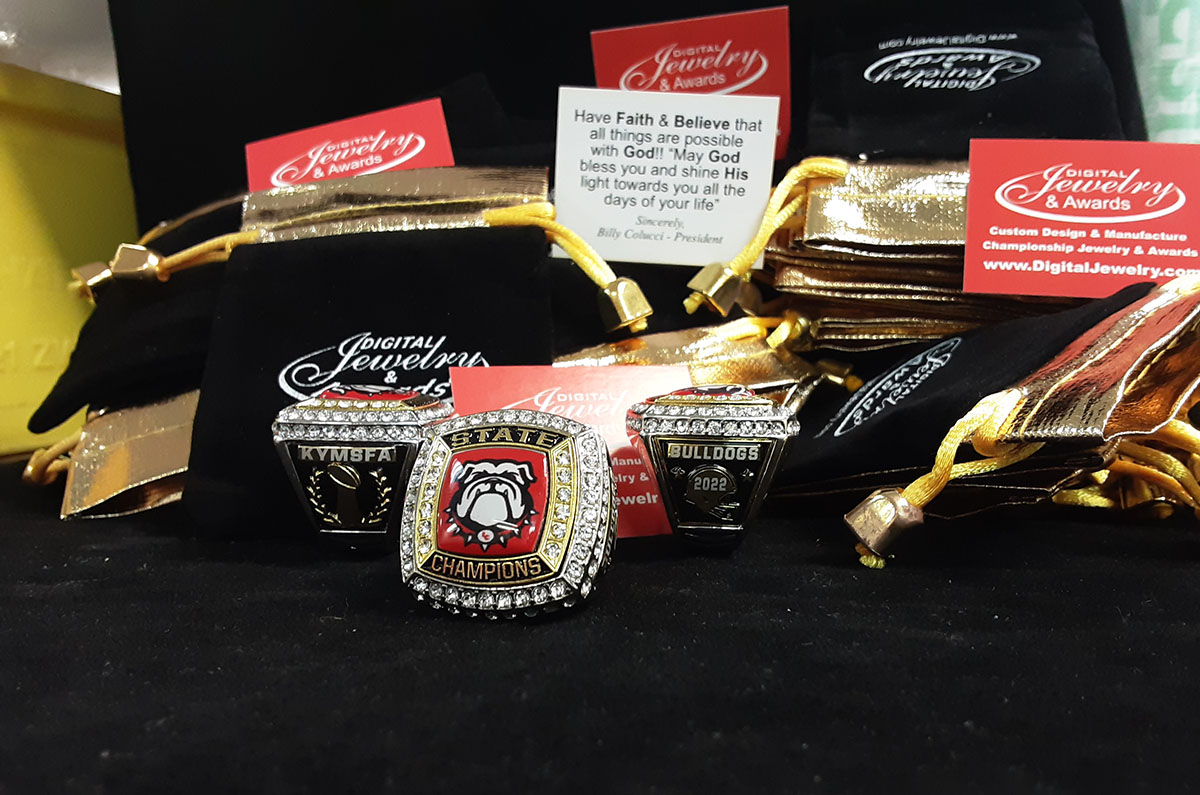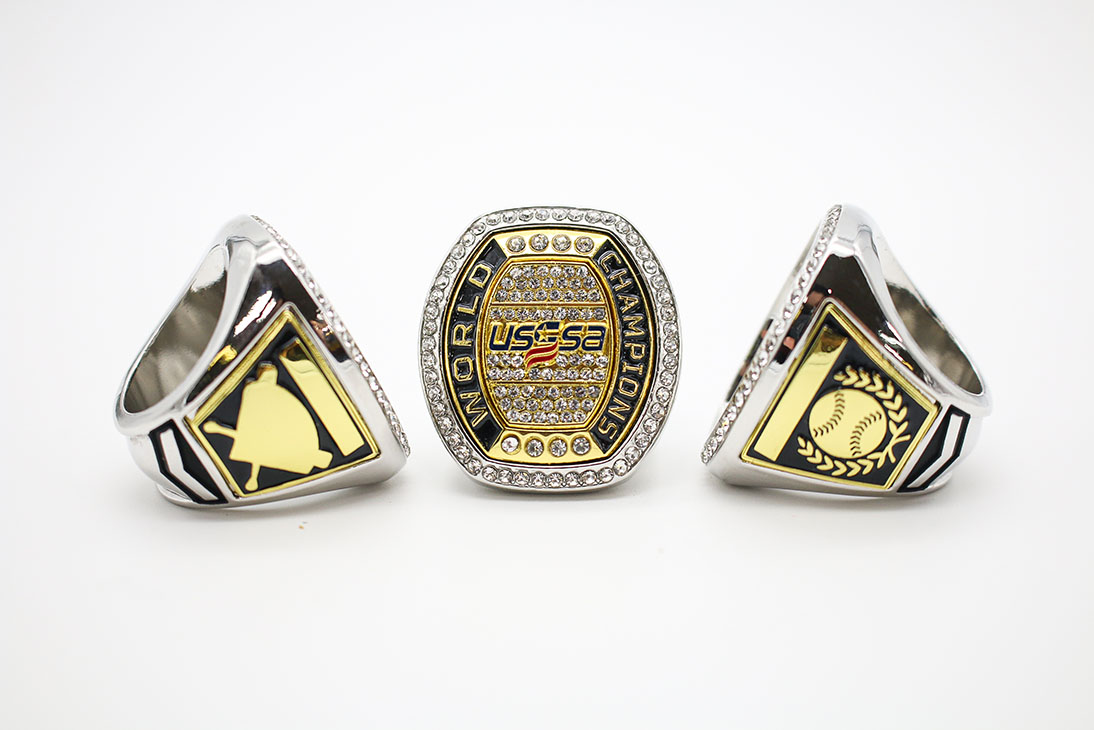 Custom Youth Championship Rings: Celebrating Victories Across All Sports

Whether you're basking in the glory of a home run in baseball, a touchdown in football, a clutch shot in basketball, or the adrenaline rush of the Super Bowl, we've got you covered. Our custom youth championship rings celebrate athletes across all disciplines.
We understand the uniqueness of each sport and tailor our designs accordingly. The baseball rings might feature intricate stitching detail, while the basketball rings could highlight the ball's texture. Our Super Bowl rings often symbolize the epic clash on the field, while the football rings encapsulate the strength and strategy involved in the game.
Our team works diligently to capture the spirit of each sport in the design, paying homage to the skill and determination of young athletes.
Personalized Youth Championship Rings

Every championship ring should be as unique as the victory it symbolizes. Our personalization process allows young athletes to infuse their rings with individuality and character. From choosing the style and materials to deciding on the inscriptions and stone placements, athletes can create rings representing their journey and achievement.
We encourage our clients to share their vision with us, even if it means deviating from our pre-designed templates. This personalized approach makes each ring a distinct piece that captures the essence of the wearer and the sport they excel in.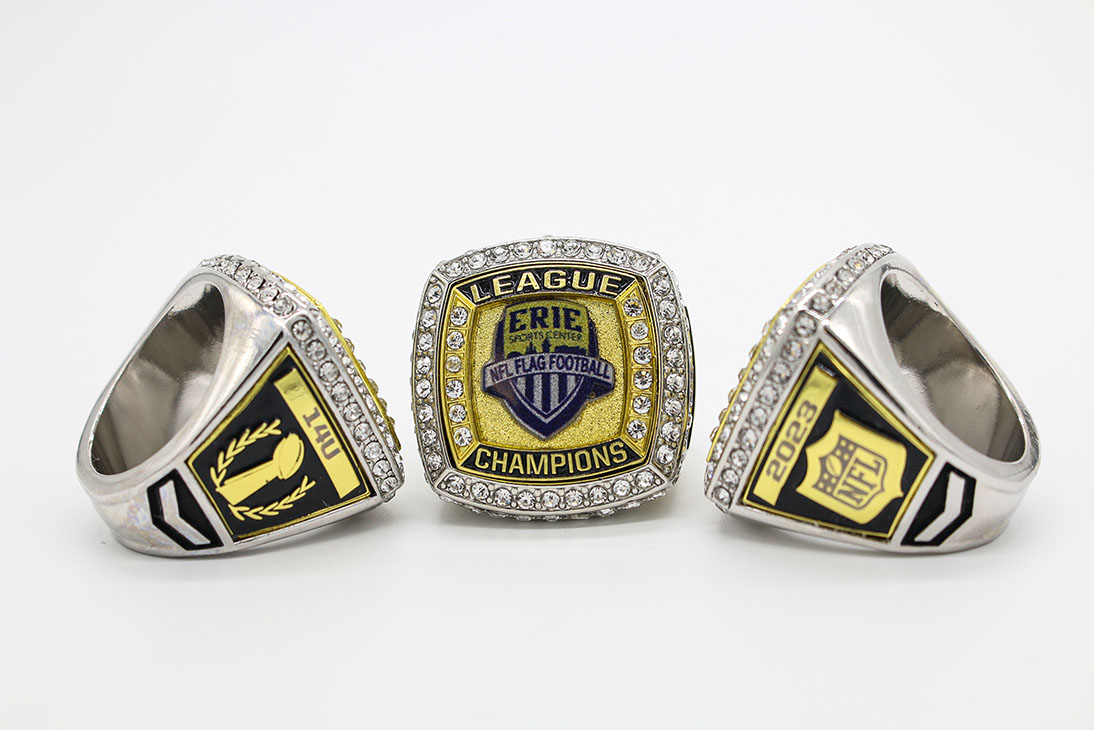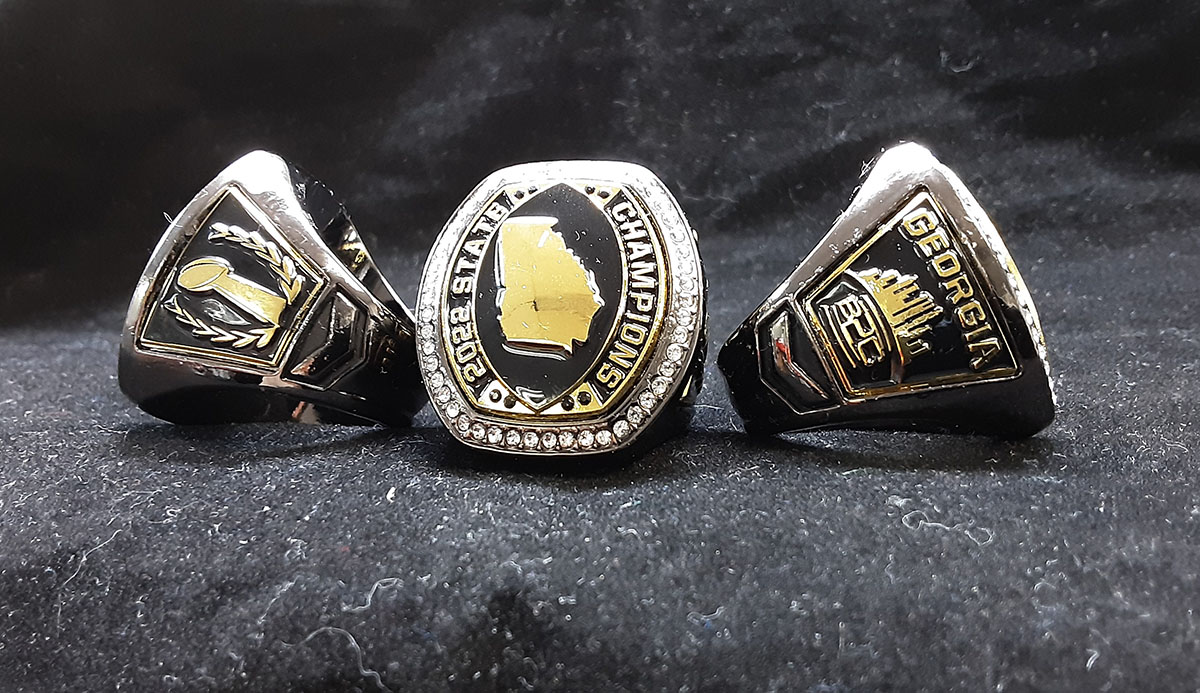 Affordable Excellence: High-Quality Youth Championship Rings at a Low Cost

We understand that quality should never be compromised for cost. Therefore, we strive to provide high-quality youth championship rings at affordable prices. Our promise of value for money ensures that every young champion can own a top-tier, durable ring that encapsulates their victory without straining their budget.
Our rings never fall short on quality or style despite their reasonable prices. They're meticulously crafted to reflect the wearer's achievement and are designed to stand the test of time. From the materials used to the final finishing touch, every step in creating our rings is executed with precision and care. The result is an affordable yet high-quality championship ring that young athletes can wear with pride.
The tradition of presenting championship rings to athletes, including youth players, traces its roots back to professional sports in the early 20th century. It was a symbol of victory and achievement that was initially reserved for professional athletes. As youth sports began to garner more attention and respect, awarding championship rings extended to younger athletes, becoming a cherished ritual in high school and college sports.
Over time, the designs of these rings have evolved, reflecting the changing trends and growing emphasis on personalization. What began as simple bands with engraved team names have now transformed into intricate jewelry featuring team logos, player numbers, and replica stadiums. Despite these changes, the essence of youth championship rings remains unchanged, continuing to honor young athletes' dedication, teamwork, and triumphant victories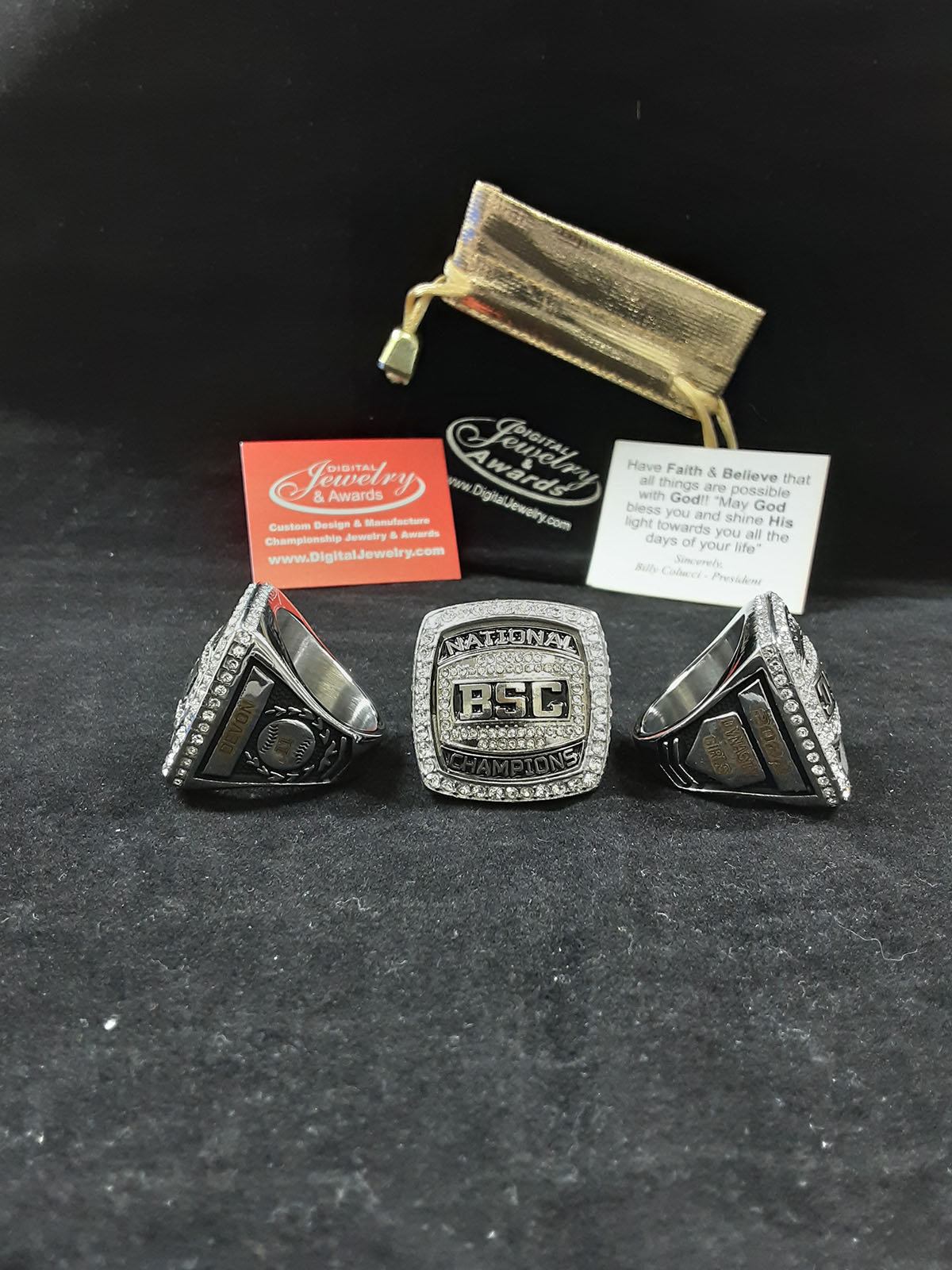 Fill out our form to get a free quick quote.
The Journey to Your Perfect Ring: A Detailed Glimpse into Our Design Process

Our journey to crafting the perfect ring for you commences with an initial dialogue. Here, we delve into understanding your envisioned design, the particularities you prefer, and the requirements you deem essential. This conversation forms the foundation for creating a championship ring harmoniously with your aspirations.
Creative Conceptualization
Our adept designers take the helm after gathering your insights, painstakingly developing a unique concept that embodies your triumphant spirit. This innovative and customized approach warrants that every ring's design is as distinctive as its narrative.
Following the completion of the initial concept, we join forces with you for design validation. Believing in the power of collective creation, we are receptive to your suggestions for modifications to ensure the final design mirrors your vision flawlessly.
Once the design meets your approval, our skilled artisans spring into action, etching your championship ring with immaculate precision and attention to detail. Their masterful craftsmanship transmutes the design from an idea to a tangible emblem of your victory.
Each ring undergoes a rigorous quality assurance check before leaving our studio to ensure it upholds our strict standards. Every tiny detail is examined meticulously, underscoring our unwavering commitment to quality.
The concluding step in our process is the punctual delivery of your symbol of victory. Whether it's a small or large order, we ensure efficient delivery within the promised timeframe.
Exceptional Quality Youth Replica Rings
Our youth replica rings are meticulously fashioned from elite-grade materials, delivering a piece that radiates class and refinement.
Complimentary Design Renderings
Benefit from our immediate, cost-free quotes and complementary digital design sketches that pair perfectly with each estimate.
Economical Youth Championship Rings
We're devoted to crafting a sweet spot between cost-effectiveness and superior quality. Experience our attractive rings and maximize our abundant discounts on large orders.
Each of our youth replica championship rings is a testament to committed artistry, proudly originating from our manufacturing hub in South Carolina, USA.
Why Place Your Trust in Us?

Our commitment to perfection resonates through each process stage, from ideation to delivery. Our foremost aim is to present you with a ring that mirrors the enormity of your achievement.
Excellence in Customization
Our service revolves around narrating your unique journey, providing you with many customization options. From design to the choice of materials, you hold the reins while we assist you in creating a ring that genuinely symbolizes your victory.
No Middlemen, Direct from Our Factory
Our direct-to-consumer business model eliminates the intermediaries, cutting costs and accelerating the process, ensuring your victory symbol reaches you in no time.
Unparalleled Value for Money
We offer premium quality products at competitive prices, ensuring you receive the best value. Our rings act as enduring tokens of your victory without straining your budget.
Committed Customer Service
Our devoted customer support team is always prepared to answer your questions, address your concerns, and guarantee a seamless, hassle-free experience.
The trust that champions across various leagues place in us speaks volumes about our quality, attention to detail, and dedication to commemorating victories in the most memorable manner possible.
Frequently Asked Questions (FAQs)
Got questions about youth championship rings? We've got you covered! Check out our FAQs to learn about how to design your ring, take care of it, and keep it looking great for years to come. Find all the info you need to pick the perfect ring that celebrates your big win!
What materials are used in your Youth Championship Rings?
Our Youth Championship Rings are made from various materials to suit different budgets. They include AAA-rated cubic zircons, 925 sterling silver, copper coated with 10k/14k gold or rhodium, and when requested, we can even craft rings using original diamonds and pure gold.
Can I order a single Youth Championship Ring, or must it be a bulk order for a team?
You can order a single Youth Championship Ring. While we offer discounts for bulk orders, we understand the importance of recognizing individual achievements and allowing single-ring orders.
How can I customize my Youth Championship Ring?
Our customization options are vast and flexible. You can choose from our pre-designed templates and tweak them as per your preference, or you can bring your unique design idea to us, and we'll make it a reality. You control design, material, finishing, color combinations, and more.
How long does receiving my custom Youth Championship Ring take?
The delivery timeline can vary depending on the complexity of the design and the quantity of your order. However, we always strive to meet your timelines and will communicate expected delivery dates during ordering.
What sports do your Youth Championship Rings cater to?
We cater to a wide range of sports including, but not limited to, baseball, football, super bowl, basketball, softball, etc. No matter the sport, we aim to provide a fitting tribute to young athletes' hard work and victories.
What is the cost of a Youth Championship Ring?
The cost can vary based on the level of customization, material chosen, and quantity of the order. We're committed to offering high-quality rings at competitive prices and work with you to create a ring that fits your budget.
Do you provide rings for both high school and college athletes?
Yes, we create custom Youth Championship Rings for high school and college athletes. Our goal is to commemorate the achievements of athletes across all age groups and levels of play.
The Talent and professionalism can not be beat! Shop small business and get Big results from this family owned business! Billy is Awesome!
Would recommend to anyone! Digital Jewelry sure my team was very well taken care of. THANK YOU!!